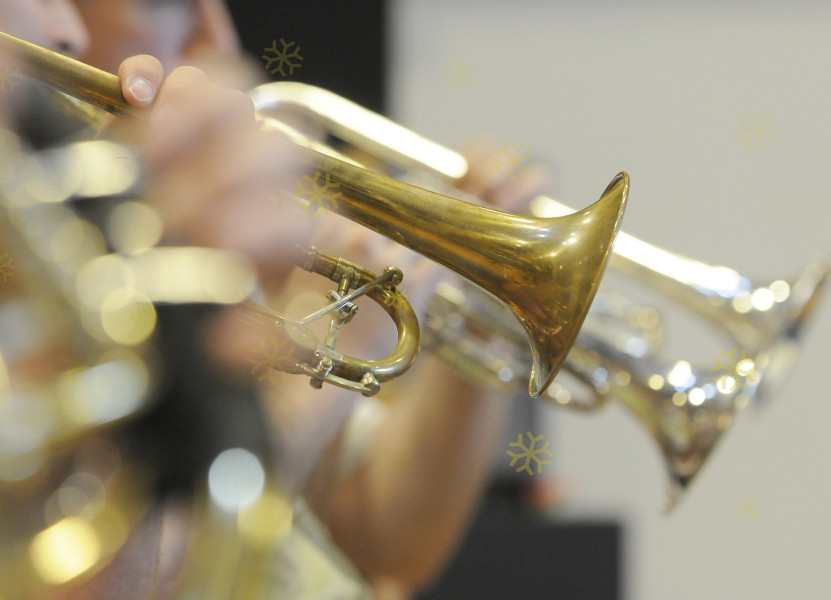 Adventskalender im Foyer: Das 2. Fensterchen
© Bettina Stöß
Advent calendar in the foyer: The 2nd door
Chamber music, recitations, talks: Christmas Brass
Information about the work
approx. 25 minutes
Presentations in German
Cast
Trumpet

Horn

Trombone

Tuba

Host
Cast
Trumpet

Horn

Trombone

Tuba

Host
the content
Brass players from the orchestra of the Deutsche Oper Berlin form a brass band. Well-known and popular American Christmas Carols will be played. These classic standards will put you in a good mood at the beginning of December and will encourage you to enjoy the pre-Christmas season, which should at least remain an inner celebration even if it is clouded by the pandemic. "We wish you a Merry Christmas!"

****

Our Advent calendar is already a tradition. From Monday to Friday, between 1 and 23 December, there is singing, music and also talking about art and music in the Rang-Foyer or on Götz-Friedrich-Platz. The concerts begin at 5 p.m. and admission is free.

Experience members of the Deutsche Oper Berlin ensembles - singers and scholarship holders, chorus soloists and musicians - together with guests who, like Reinhard Naumann, have close ties to the house. The foyers of the Deutsche Oper Berlin thus become places where younger and older generations, opera lovers and opera newcomers meet.

At the weekends and on Christmas Eve, online prize draws are held on the homepage of our website.