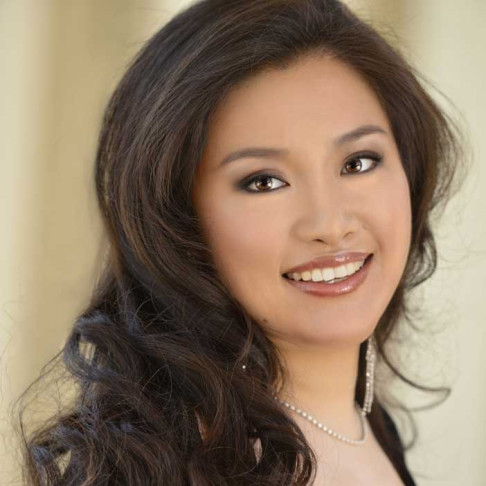 Guanqun Yu
©
Die Chinesin Guanqun Yu gehört zu den vielversprechendsten Sopranistinnen der jüngeren Generation und ist regelmäßig an internationalen Opernhäusern zu Gast.

Bereits während ihres Studiums in Shandong und später Shanghai sang sie im Rahmen des dortigen Opernstudios Pamina / DIE ZAUBERFLÖTE und Gilda / RIGOLETTO sowie vielumjubelte Konzerte bei wichtigen öffentlichen Veranstaltungen. Sie besuchte Meisterklassen bei Renee Fleming, Carlo Bergonzi und Eva Marton und verschaffte sich letztlich mit dem Sieg des ersten Platzes bei dem renommierten Belvedere Gesangswettbewerb Gehör über die Grenzen Chinas hinaus.

Im September 2008 wurde Guanqun Yu Mitglied des Opernstudios des Teatro Comunale di Bologna und hatte so die Gelegenheit, viele Rollen aus dem vorrangig Italienischen Repertoire auf der dortigen Opernbühne zu singen. Im Juni 2010 debütierte sie in Honeggers JEAN D´ARC unter Bertrand de Billy im Musikverein Wien. Es folgten unter anderem Mimì / LA BOHEME beim Pacific Festival in Sapporo unter der Leitung von Fabio Luisi und Donna Elvira / DON GIOVANNI in Bologna. Im Frühjahr 2012 sang sie Lina in der Neuproduktion STIFFELIO am Teatro Regio in Parma, die auch auf DVD erschienen ist.

Eingeladen von der Metropolitan Opera gab Guanqun Yu im Herbst 2012 ihr viel gerühmtes Debüt in New York als Leonore / DER TROUBADOUR, welche sie im Sommer bereits beim Verdi Festival Teatro Giuseppe Verdi in Busseto gegeben hatte. Im selben Jahr wurde sie Preisträgerin des Placido Domingo Operalia Wettbewerbs und sang dann auf Domingos Wunsch an seiner Seite die Lucrezia in Verdis I DUE FOSCARI im Palau de les Arts Valencia. Noch in der gleichen Saison kehrte sie als Desdemona / OTELLO unter Zubin Metha dorthin zurück. Im Sommer 2013 debütierte sie als Gräfin Almaviva / DIE HOCHZEIT DES FIGARO am National Centre for the Performing Arts in Beijing sowie als Anna / NABUCCO, ebenfalls an der Seite von Placido Domingo. In der Saison 2013/2014 kehrte Yu als Fiordiligi / COSI FAN TUTTE an die Metropolitan Opera New York sowie als Maria / SIMON BOCCANEGRA nach Valencia zurück; außerdem debütierte sie als bravouröse und viel beachtete Einspringerin an der Deutschen Oper Berlin als Desdemona / OTELLO.

In der vergangenen Saison gab sie Fiordiligi / COSI FAN TUTTE und Desdemona / OTELLO an der Oper Köln, debütierte als Nedda in DER BAJAZZO am Staatstheater Klagenfurt sowie als Rosina an der Los Angeles Opera in den miteinander verbundenen Produktionen GHOSTS OF VERSAILLES und DIE HOCHZEIT DES FIGARO. Weiters war sie als Liù / TURANDOT bei den Bregenzer Festspielen und als Maria / SIMON BOCCANEGRA an der Oper Frankfurt sowie an der Semperoper Dresden zu hören.

Zukünftige Engagements führen Guanqun Yu u. a. nach Berlin (DER BAJAZZO), Zürich (LA BOHEME), Marseille (COSI FAN TUTTE) und erneut zu den Bregenzer Festspielen. Zudem wird sie als Gräfin in DIE HOCHZEIT DES FIGARO in München debütieren.
Schedule