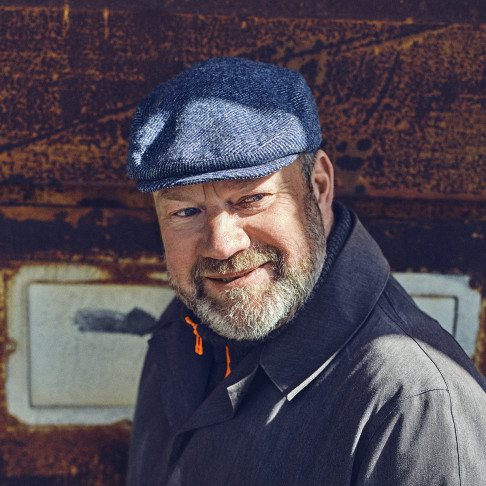 Johan Reuter
© Emil Lyders
2020 übernimmt Johan Reuter kurzfristig die Partie des Wotan in der Neuproduktion DIE WALKÜRE an der Deutschen Oper Berlin.

2021 wird er in PARSIFAL und UN BALLO IN MASCHERA in Kopenhagen gastieren und sein Partiedebüt als Telramund in LOHENGRIN an der Wiener Staatsoper geben. In Neapel und an der Staatsoper Unter den Linden in Berlin gastiert er als Jochanaan / SALOME, in Amsterdam wird er in einer Neuproduktion von PETER GRIMES zu hören sein.

2022 übernimmt er in Paris die Titelpartie in WOZZECK, 2023 wird er u. a. in San Francisco als Barak in DIE FRAU OHNE SCHATTEN zu erleben sein.

Zu den wichtigsten Stationen der letzten Jahre zählen u. a. SALOME am Theater an der Wien, DAS RHEINGOLD unter Vladimir Jurowski in Moskau, in München unter Kent Nagano, in Berlin und unter Christian Thielemann bei den Bayreuther Festspielen, WOZZECK an der Deutschen Oper Berlin unter Donald Runnicles und unter Esa-Pekka Salonen in Dortmund und Los Angeles, Enescus OEDIPE in Amsterdam und London, Hans Sachs / DIE MEISTERSINGER VON NÜRNBERG in Beijing, AUS EINEM TOTENHAUS in London, ELEKTRA an der Wiener Staatsoper und in München, Barak / DIE FRAU OHNE SCHATTEN in Budapest, Kopenhagen, London, New York, Berlin, Zürich und Amsterdam, Henzes ELEGIE FÜR JUNGE LIEBENDE am Theater an der Wien, DER FLIEGENDE HOLLÄNDER in Helsinki, Hamburg, Kopenhagen, Berlin und Madrid, LULU in New York und in Kopenhagen, MASKARADE konzertant in Amsterdam und szenisch in Kopenhagen, DIE WALKÜRE in Toronto, NABUCCO an der Deutschen Oper Berlin, Braunfels' SZENEN AUS DEM LEBEN DER HEILIGEN JOHANNA konzertant bei den Salzburger Festspielen, VEC MAKROPULOS in New York unter Jiri Belohlavek und bei den Salzburger Festspielen unter Esa-Pekka Salonen, DAS RHEINGOLD und SIEGFRIED unter Adam Fischer in Budapest, TRISTAN UND ISOLDE konzertant in Berlin unter Marek Janowski, DIE ZARENBRAUT unter Mark Elder, Theseus in der Uraufführung von Harrison Birtwistles THE MINOTAUR, ELEKTRA, SALOME und WOZZECK (Warner/ Harding) in London, ARABELLA in Wien, THE RAKE'S PROGRESS unter Christopher Hogwood und Gurlitts WOZZECK in Madrid, LE NOZZE DI FIGARO am Theater an der Wien und in Berlin, MACBETH in Lissabon, ZAIDE und ALCESTE unter Ivor Bolton bei den Salzburger Festspielen, Schischkov in Janaceks AUS EINEM TOTENHAUS unter Marc Albrecht in Paris und Madrid, WOZZECK in Essen (Schaaf / Soltesz), DON GIOVANNI in Frankfurt, LE NOZZE DI FIGARO, Leporello / DON GIOVANNI, Kothner / DIE MEISTERSINGER VON NÜRNBERG (Konwitschny / Metzmacher) und Guglielmo / COSÌ FAN TUTTE in Hamburg.

Auf dem Konzertpodium sang er ein Repertoire von Mendelssohns "Elias", Mahlers 8. Symphonie, "Rückert-Lieder" und "Das klagende Lied", Faurés "Requiem", Beethovens 9. Symphonie, Brahms' "Vier ernste Gesänge" in der Orchesterversion von Glanert und Brahms' "Ein deutsches Requiem", Mozarts "Requiem", Berlioz' "Romeo et Juliette" über "Peer Gynt" oder die "Michelangelo-Lieder" von Schostakowitsch in Städten wie Amsterdam, Berlin, Hamburg, Wien, London, Athen, Rotterdam, Amsterdam, Brüssel, Florenz, Pisa, Perugia, Madrid, Lissabon, Thessaloniki, Aarhus, bei den Salzburger und Bregenzer Festspielen.

Er arbeitet auch mit Dirigenten wie Semyon Bychkov, Paul McCreesh, Valery Gergiev, Leopold Hager, Philippe Herreweghe, Marek Janowski, Zubin Mehta, Marc Minkowski, Kazushi Ono, Michael Schønwandt oder Lothar Zagrosek.

Er gab Liederabende in Kopenhagen, München, Hannover, Bergen und Madrid.

Zu seinen Aufnahmen zählen TRISTAN UND ISOLDE unter Marek Janowski, Kunzens HOLGER DANSKE, Nielsens MASKARADE unter Ulf Schirmer (Grammophone Award), C. E. F. Weyses SOVEDRIKKEN, Mozarts LA CLEMENZA DI TITO, Schuberts "Winterreise" (auf Dänisch), Arien des jungen Giuseppe Verdi, Orchester-Lieder von Delius sowie Lieder-CDs mit Werken von u. a. Richard Strauss und von Carl Nielsen.

Johan Reuter studierte an der Königlichen Musikakademie und an der Akademie der Königlichen Oper seiner Heimatstadt Kopenhagen und nahm an Meisterkursen von Ernst Haefliger, von Anthony Rolfe Johnson und Richard Trimborn teil.

Seit 1996 ist er Ensemblemitglied der Oper von Kopenhagen, wo ein breites Repertoire singt.
Schedule
Die Meistersinger von Nürnberg
In performances like
Videos
Video – 03:02 min.
Richard Wagner: Die Meistersinger von Nürnberg
Video –
Nabucco – The Making-Of
Video – 01:42 min.
Richard Strauss: Die Frau ohne Schatten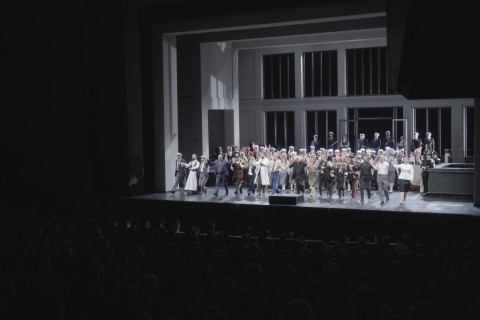 Video – 02:29 min.
Wozzeck: Publikumsstimmen zur Premiere
Video – 02:19 min.
Alban Berg: Wozzeck
Video – 04:10 min.
Probenbesuch: Wozzeck