Patrick Cook
© Jamee Fink Photography
Patrick Cook debütierte kürzlich als SIEGFRIED am Landestheater Coburg, wo er von der Süddeutschen Zeitung für seinen "strahlenden, jugendlichen, heldischen Tenor" gelobt wurde. Die Saison 2022/23 begann mit seiner Rückkehr an die Washington National Opera als Junger Diener / ELEKTRA. Patrick Cook ist seit 2020 Mitglied des Ensembles der Deutschen Oper Berlin und debütierte in einer Verdi-Gala mit Szenen und Arien aus NABUCCO und MACBETH. Weitere Auftritte umfassen Rollendebüts als Albi / DER SCHATZGRÄBER, Froh / DAS RHEINGOLD, Ismaele / NABUCCO, Normanno / LUCIA DI LAMMERMOOR, und Il balestriere / Il prigioniero / FRANCESCA DA RIMINI. Er coverte der Titelpartie in SIEGFRIED und Siegfried / GÖTTERDÄMMERUNG und sowie Stolzing / DIE MEISTERSINGER VON NÜRNBERG an der Deutsche Oper Berlin. Er coverte Stolzing an der Oper Leipzig und gab sein Hausdebüt als Junger Diener / ELEKTRA an der Staatsoper Unter den Linden in Berlin.

Der amerikanische Tenor begann die Saison 2019/20 mit seinem Debüt als Zeremonienmeister / PIQUE DAME an der Metropolitan Opera, stand in Verdis "Messa da Requiem" mit dem Arioso Chorale in Washington DC auf der Bühne.

Zu seinen Engagements in der Spielzeit 2018/19 gehörten sein Debüt als Kronprinz / SILENT NIGHT an der Washington National Opera und sein Europadebüt als François / A QUIET PLACE am Theater Aachen. Beim Miami Music Festival sang er Steuermann / DER FLIEGENDE HÖLLANDER und Bacchus / ARIADNE AUF NAXOS sang er mit großem Erfolg bei Presse und Publikum in Florida. Er gab Governor und Vanderdendur / CANDIDE mit dem Baltimore Symphony Orchestra unter Leitung von Marin Alsop.

Zu Patrick Cooks Konzertrepertoire zählen Mahlers "Das Lied von der Erde", Beethovens 9. Sinfonie, Dvoráks "Requiem", Haydns "Missa in tempore belli" sowie Händels "Messiah". Darüber hinaus gastierte er in Schumanns "Das Paradies und die Peri" sowie in Mendelssohns "Die erste Walpurgisnacht".

Patrick Cook promovierte an der University of Maryland College Park und schloss seine Studien mit einem Master of Music Degree am Bard College Conservatory ab, nachdem er an der Juilliard School seinen Bachelor of Music Degree absolviert hatte.
Schedule
Videos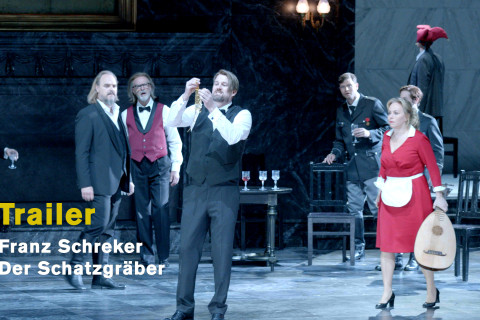 Video – 02:47 min.
Franz Schreker: Der Schatzgräber
Video – 02:17 min.
Giuseppe Verdi: Simon Boccanegra
Video – 02:42 min.
Giuseppe Verdi: Nabucco (2022)