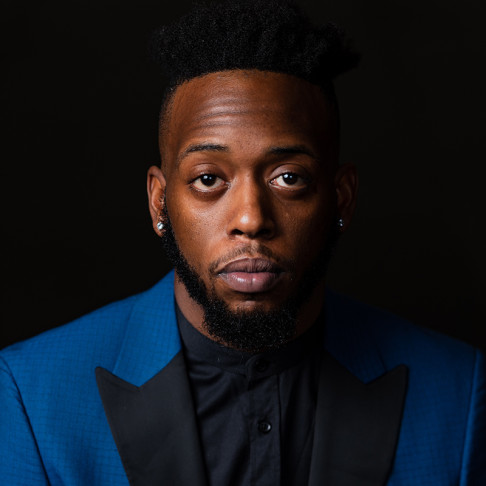 Christian Simmons
© Agentur
Der aus Washington D.C. stammende Bassbariton Christian Simmons war in der Spielzeit 2022/23 Mitglied der Cafritz Young Artists of the Washington National Opera. Dort war er sowohl als Cover in IL TROVATORE (Ferrando) und LA BOHÈME (Colline) engagiert, als auch auf der Bühne als Policeman in BLUE zu erleben. Im Rahmen der American Opera Initiative und der Young Artist Performance interpretierte er Colline / LA BOHÈME.

In der Saison 2023/24 bereichert Christian Simmons als Stipendiat der Opera Foundation New York das Ensemble der Deutschen Oper Berlin.

Die Saison 2021/22 markierte Simmons' Debüt an der Washington National Opera, wo er im Dokumentarfilm und in der Studioaufnahme von Jeanine Tesoris und Tazewell Thompsons BLUE zu sehen war, sowie als Zuniga in CARMEN. Simmons war als Solist mit Gianandrea Noseda und dem National Symphony Orchestra zu hören, wo er als Bass-Solist Mozarts "Requiem" sowie die Konzertarie "Per questa bella mano" in der Kennedy Center Concert Hall interpretierte.

Während des Sommers gastierte er mit dem Barnard College in Southern Crossings und an der Annapolis Opera in LA BOHÈME. Er gastierte bei verschiedenen Festivals und Ensembles auf der ganzen Welt, darunter das Morgan State University Theater, die Bel Cantanti Opera Company, die Washington Opera Society, das Castleton Music Festival, das Amalfi Coast Music Festival, die Berliner Opernakademie, die Bare Opera Company und das Maryland Opera Studio. Zu seinen Auftritten zählen Figaro / LE NOZZE DI FIGARO, Il Re / AIDA, Sparafucile / RIGOLETTO, Seneca / L'INCORONAZIONE DI POPPEA, Capulet / ROMÉO ET JULIETTE, Nardo / LA FINTA GIARDINIERA, Lion / THE WIZ und Jabez Stone / THE DEVIL AND DANIEL WEBSTER. Darüber hinaus war Christian Simmons auch als Bass-Solist in Werken wie Georg Friedrich Händels "Messias", Johann Sebastian Bachs "Magnificat", Gabriel Faurés "Requiem", Giuseppe Verdis "Messa da Requiem" und Franz Schuberts Messe in G-Dur zu hören.

Simmons ist Distriktsieger des Eric- und Dominique-Laffont-Wettbewerbs der Metropolitan Opera 2022/23, Gewinner des Gesangswettbewerbs des Harlem Opera Theater 2017 und Gewinner des regionalen Wettbewerbs der National Association of Teaching Singing (NATS) 2016. Außerdem ist er Ehrenmitglied auf Lebenszeit in der Coalition for African Americans in the Performing Arts (CAAPA).

Als Absolvent der Morgan State University und des Maryland Opera Studio ist Simmons stolzes Mitglied der ersten und größten Musikverbindung des Landes, Phi Mu Alpha Sinfonia Fraternity of America.
Schedule