Katarina Bradic
© Agentur
Katarina Bradic hat sich als eine der führenden Interpretinnen eines Repertoires etabliert, das von ikonischen Rollen wie Bizets Carmen, Saint-Saëns' Dalila oder Brittens Lucretia bis hin zu großen Mezzosopran- und Altpartien des Barockrepertoires und zeitgenössischer Musik reicht.

In der Spielzeit 2021/2022 ist Katarina Bradic als La Sphinge in Enescus ŒDIPE in einer Neuproduktion an der Komischen Oper Berlin, als Penelope und l'umana fragilità in einer Neuinszenierung von Monteverdis IL RITORNO D'ULISSE IN PATRIA am Theater Basel, in der Titelrolle einer neuen Inszenierung von CARMEN am Staatstheater Cottbus und als Dardano in konzertanten Aufführungen von Händels AMADIGI DI GAULA in Barcelona und Madrid zu erleben. Auf der Konzertbühne singt sie auch ihren ersten "Messias" (Händel) im Musikverein Wien.

Zu den jüngsten Auftritten zählen – allesamt in Neuproduktionen – ihre umjubelten Haus- und Rollendebüts als Dalila in SAMSON ET DALILA an der Opéra du Rhin in Straßburg und als Eduige in RODELINDA an der Niederländischen Nationaloper in Amsterdam, als Bradamante in ALCINA bei ihrem Hausdebüt an der Staatsoper Hamburg, am Opernhaus Zürich als Juno in SEMELE, an der Staatsoper Berlin als Lavinia in AMOR VIEN DAL DESTINO, an der Bayerischen Staatsoper in München als Emilia in Verdis OTELLO, beim Glyndebourne Festival als Ursule in BÉATRICE ET BÉNÉDICT, dem Festival von Aix-en-Provence, dem Bolschoi-Theater in Moskau und dem Theater Basel als Bradamante in ALCINA, an der La Monnaie de Munt, am Concertgebouw Amsterdam und dem Theater an der Wien als Penelope in IL RITORNO D'ULISSE IN PATRIA. Außerdem sang sie Bradamante in einer Neuinszenierung von ALCINA am Theater an der Wien, Amastre in SERSE an der Deutschen Oper am Rhein in Düsseldorf und Ino in einer Neuproduktion von SEMELE an der Komischen Oper Berlin.

Weitere Karrierehöhepunkte sind die Titelrolle von THE RAPE OF LUCRETIA an der Deutschen Oper Berlin, die Titelrolle von CARMEN an der Den Norske Opera in Oslo, WOZZECK und Rihms DIE EROBERUNG VON MEXICO am Teatro Real in Madrid, Amastre in SERSE und Ino in SEMELE an der Komischen Oper Berlin, Oper Graz und der Deutschen Oper am Rhein, Pistocchis IL NARCISO an der Oper Köln, ELEKTRA bei den BBC Proms sowie die Uraufführung von Nico and the Navigators' MAHLERMANIA an der Deutschen Oper Berlin und am Opernhaus Rouen.

Katarina Bradic wurde in Serbien geboren und studierte Gesang am Wiener Konservatorium. Internationale Aufmerksamkeit erlangte sie erstmals in der Spielzeit 2009/2010 als Ensemblemitglied der Vlaamse Opera, wo sie unter anderem die Olga in EUGEN ONEGIN, Suzuki in MADAMA BUTTERFLY und Medea in Cavallis GIASONE sang. Anschließend wurde sie Mitglied des Ensembles der Deutschen Oper Berlin.

Katarina Bradic hat mit Dirigenten und Regisseuren wie Semyon Bychkov, Sylvain Cambreling, Adam Fischer, René Jacobs, Andrea Marcon, Renato Palumbo, Sir Donald Runnicles, Sebastian Baumgarten, Calixto Bieito, Mariame Clément, Stefan Herheim, Guy Joosten, Barrie Kosky, Christoph Marthaler, Katie Mitchell, Laurent Pelly und Fiona Shaw zusammengearbeitet.

Ihre Diskografie umfasst CD- und DVD/Blu-Ray-Aufnahmen von ALCINA (Aix-en-Provence), BÉATRICE ET BÉNÉDICT (Glyndebourne), DIE LIEBE DER DANAE und MAHLERMANIA (Deutsche Oper Berlin) sowie GIASONE (Vlaamse Opera).
Schedule
In performances like
Videos
Video – 01:24 min.
Marie-Ève Signeyrole und Keyvan Chemirani: Negar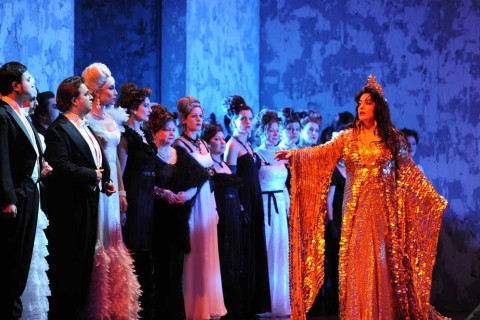 Video – 01:42 min.
Richard Strauss: Die Liebe der Danae
Video –
Nico and the Navigators: Mahlermania