Choriner Musiksommer
© Andreas Mroß
Choriner Musiksommer
© Hans-Jürgen Siebert
Choriner Musiksommer
© Andreas Mroß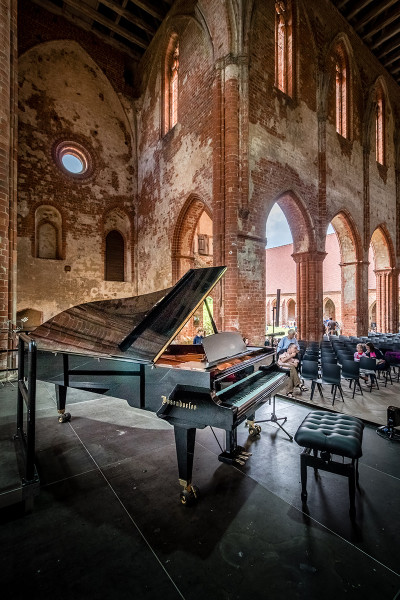 Choriner Musiksommer
© Hans-Jürgen Siebert
Guest performance at the Chorin Music Summer 2023
Opera Gala - A Festival of Beautiful Voices
Cast
Conductor

Speaker

Soprano

Mezzosoprano

Tenor

Baritone

Orchestra
Cast
Conductor

Speaker

Soprano

Mezzosoprano

Tenor

Baritone

Orchestra
About the performance
Georges Bizet [1838-1875]
from CARMEN
Overture
"Près des remparts"

Jules Massenet [1842-1912]
from HÉRODIADE
"Il est bon, il est doux"

Georges Bizet
from LES PÊCHEURS DE PERLES
"Au fond du temple saint"

Léo Delibes [1836-1891]
from LAKMÉ
"Viens Malika"

Giuseppe Verdi [1813-1901]
from LA FORZA DEL DESTINO
Overture
"Pace, pace"

from UN BALLO IN MASCHERA
"Alzati ... Eri tu"

from RIGOLETTO
"La donna è mobile"
"Caro nome"
"Un di si ben rammentomi ... Bella figlia"
Once again, the orchestra of the Deutsche Oper Berlin, together with soloists from many countries, will give a guest performance in the atmospheric monastery ruins, which are a fixture of the northern German festival scene in the summer. The programme includes a fascinating journey through the world of Italian and French opera. And many a sizzling overture or soulful interlude will make the exploratory tour even more varied. In addition, tour guide Jörg Schörner will provide interesting explanations about the works and their composers. You can bet that love will always be involved when, among other highlights, the "Flower Duet" from Léo Delibes' LAKMÉ, the friendship duet "The Temple of Brahma Shines" from Georges Bizet's PERLENFISCHER or the quartet "Holdes Mädchen, sieh' mein Leiden" from Giuseppe Verdi's RIGOLETTO are heard.