Pikowaja Dama - Queen of Spades
Pyotr I. Tchaikovsky (1840 – 1893)
Information on the piece
Opera in three acts by Piotr I. Tchaikovsky
Libretto by Modest Tchaikovsky based on Alexander Puschkin
First performance on 19 December, 1890, in St. Petersburg
Premiere on 9 March 2024
approximately 3 hrs 15 mins / 1 interval
In Russian with German and English surtitels
45 minutes before beginning: Introduction (in German language)
recommended from 14 years
Our thanks to our partners

Presented by rbb Kultur. Kindly supported by Förderkreis der Deutschen Oper Berlin e. V.
About the performance
About the work
THE QUEEN OF SPADES, Tchaikovsky's second most popular opera after EUGENE ONEGIN, delights audiences due to its sheer scale, among other qualities. The mood switches effortlessly from full chorus and ensemble to delicate chamber scenes. Sophisticated leisured society rubs up against indigent proletariat. Pushkin's novella was used by Pyotr and Modest Tchaikovsky as the springboard into a psychogram of the two main protagonists Herman and Lisa, who are bound by their star-crossed despair and thwarted desire to express themselves freely. Herman serves the homosexual Tchaikovsky brothers not only as a touchstone in his capacity as social outcast; his profession as military engineer is also a reference to their father, Ilya Petrovich Tchaikovsky.

Herman, an officer fascinated by the secrets of the gambling community, is in love with Lisa, a lady of gentle birth. Lisa yearns for self-determination but still lives under the thumb of her grandmother, the Countess, who, besides having stirred up Parisian high society in her youth, is also reputed to be the holder of a secret strategy for winning at cards. When Herman hears the rumour, he is sure that he has found a way out of his misery. His fixation on the mystery of the Three Cards takes its course.

About the production
Director Sam Brown makes his debut at the Deutsche Oper Berlin. His set design - heavily informed by that of his friend and director colleague Sir Graham Vick, who died tragically in 2021 – accentuates the nuances and ambiguities of the work's dramatic storyline. His approach deliberately poses questions that are meant to remain unanswered. Does Herman love Lisa or is she just the means to an end? Is Lisa a helpless victim or does she just think Herman can help her escape her golden cage? Is there really a secret key to success at cards or is it just a figment of Herman's imagination?

Our articles on the subject
Seven questions to ... Martin Muehle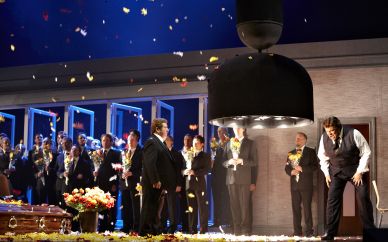 In the spirit of friendship