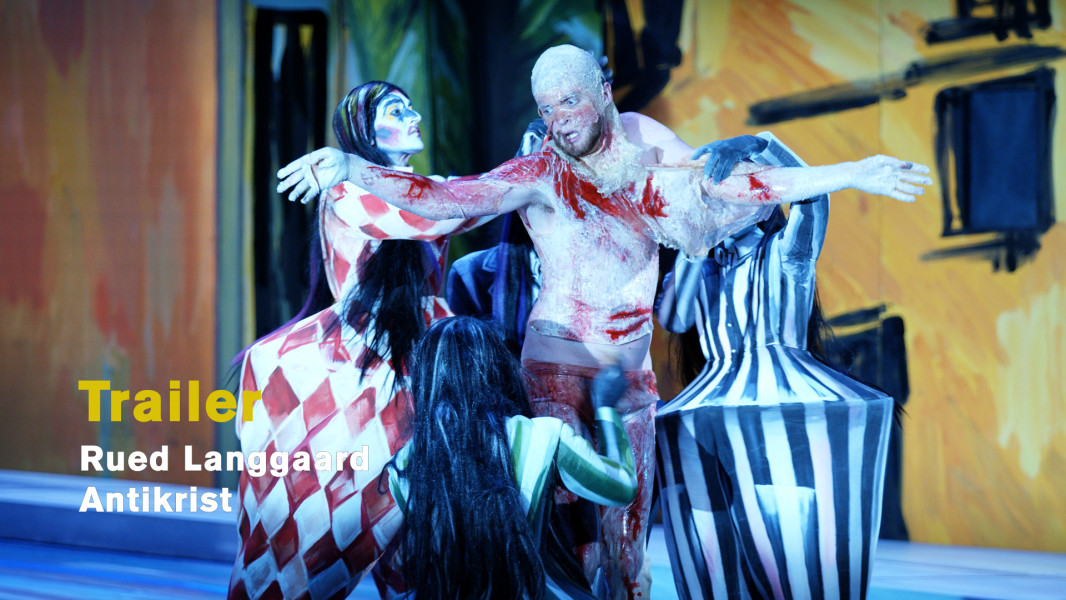 Rued Langgaard: Antikrist
© Ruth Tromboukis
Aus der Premiere: Antikrist
© Ruth Tromboukis
Werkstattbesuch 2: Antikrist
© Ruth Tromboukis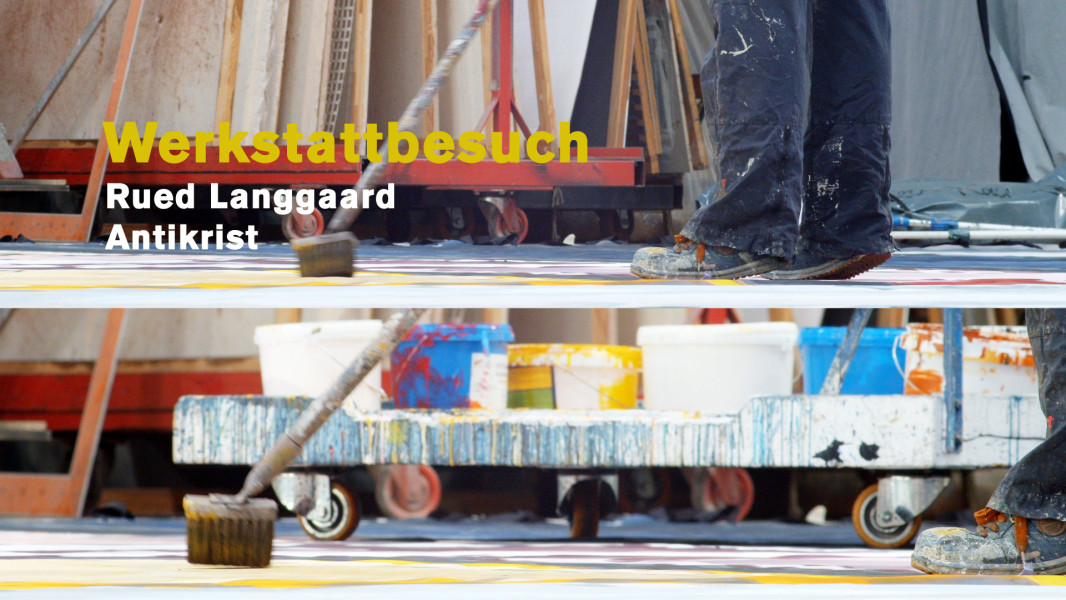 Werkstattbesuch: Antikrist
© Ruth Tromboukis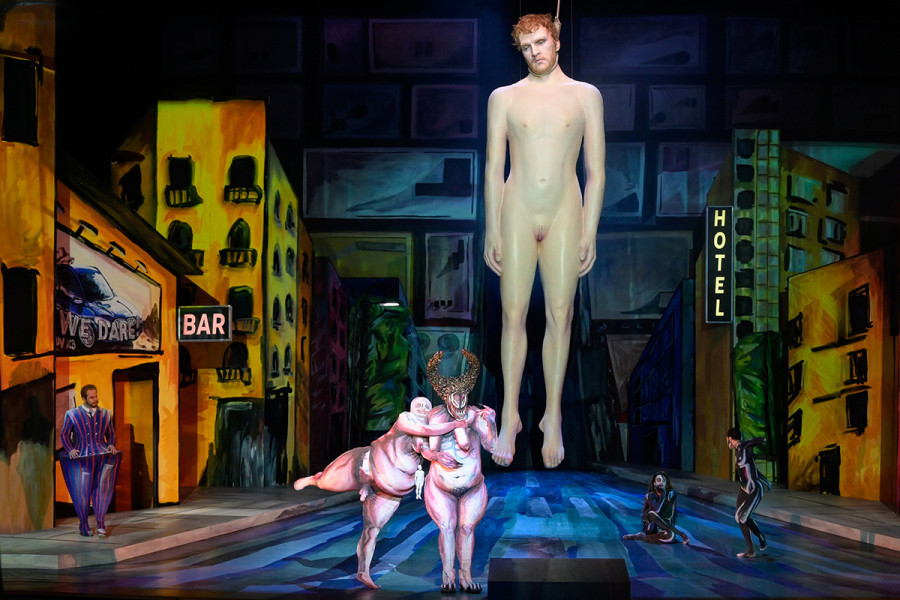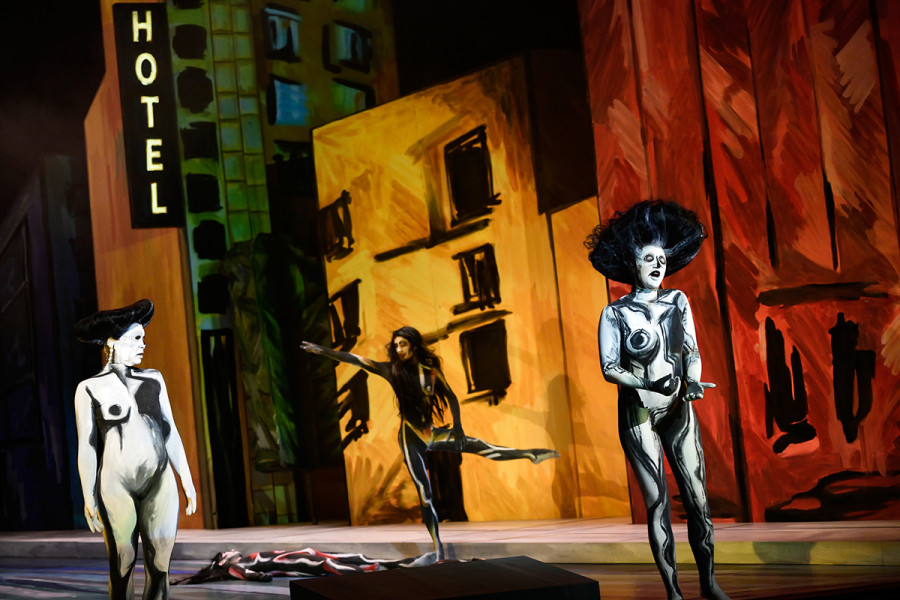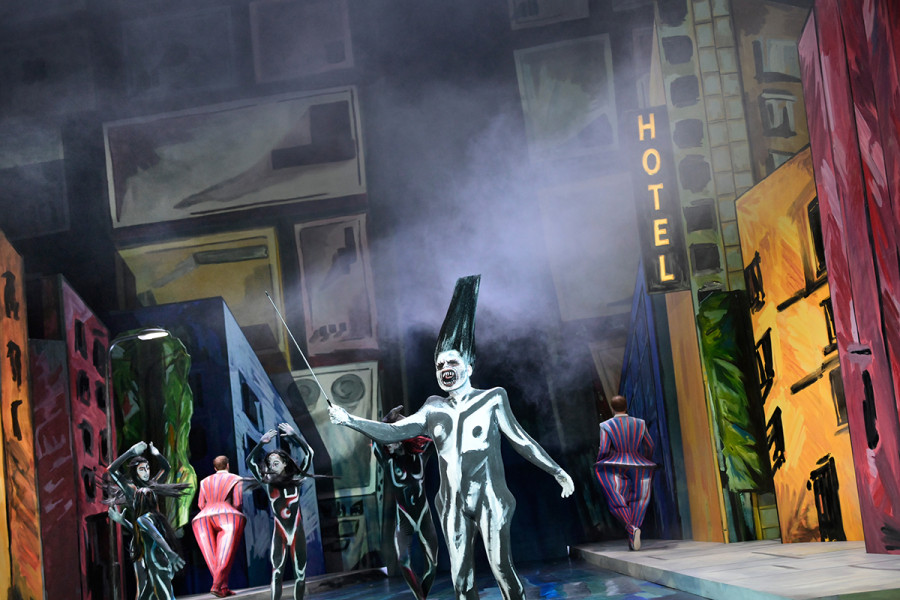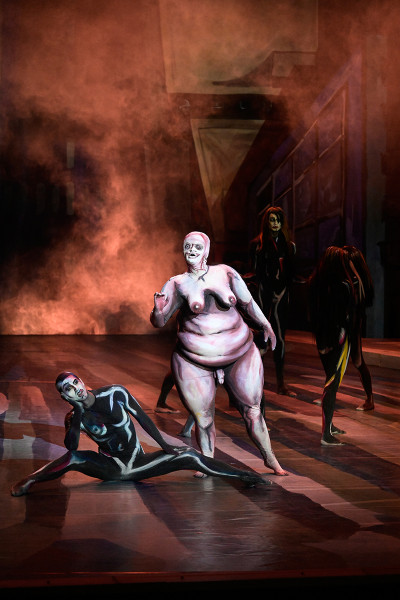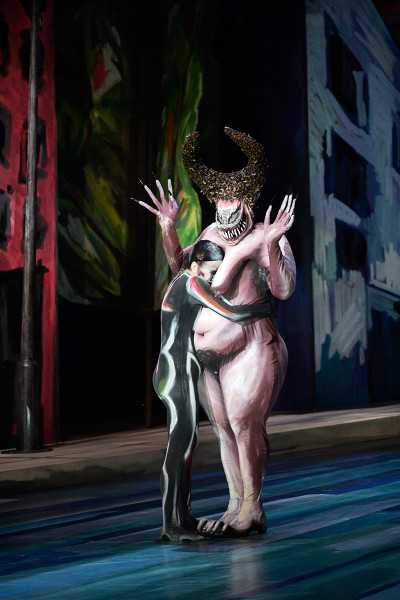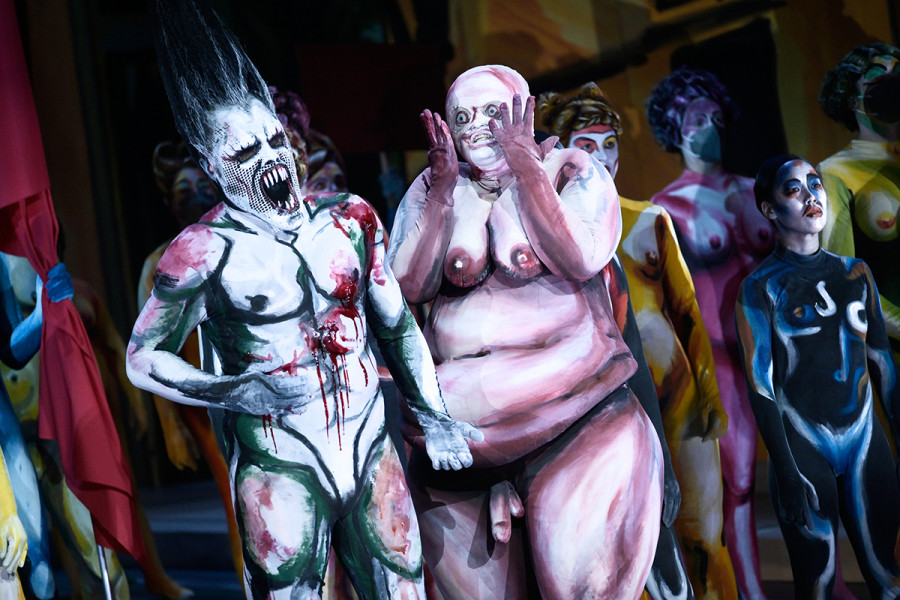 Antikrist
Rued Langgaard (1893 – 1952)
Information about the work
Church opera in two acts and six scenes; revised version, BVN 192 (1930)
Libretto by Rued Langgaard
Scenic premiere on 2 May 1999 at the Tiroler Landestheater in Innsbruck
Premiere at the Deutsche Oper Berlin on 30 January, 2022

90 mins / No interval
In German language with German and English surtitles
Pre-performance lecture (in German): 45 minutes prior to each performance
recommended from 16 years
Cast
Conductor

Director, Set design

Costume design

Light design

Chorus Director

Choreographer

Dramaturgy

Lucifer

God's Voice

The Echo of the Air of Mystery

The Air of Mystery

The Mouth speaking Great Words

Despondency

The Great Whore

The Scarlet Beast

The Lie

Hatred

A Voice

Dancers

Chorus

Orchestra
Our thanks to our partners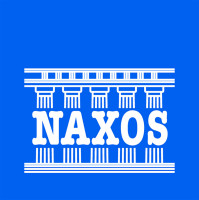 Cast
Conductor

Director, Set design

Costume design

Light design

Chorus Director

Choreographer

Dramaturgy

Lucifer

God's Voice

The Echo of the Air of Mystery

The Air of Mystery

The Mouth speaking Great Words

Despondency

The Great Whore

The Scarlet Beast

The Lie

Hatred

A Voice

Dancers

Chorus

Orchestra
the content
About the work
The Antichrist makes his entrance into a godless world. Sent by Lucifer into the world, he adopts many guises. Mankind is tested and tempted by pride, lust, lies, despondency and hatred in an "all-against-all altercation". Langgaard's opera is suffused with fin de siècle atmosphere and pessimism, warning of catastrophe and denouncing the vices of the modern age: egotism, arrogance, frivolity. Langgaard, though, was also an optimist, convinced of the transformative, transcendental power of art and the importance of music as a thread connecting people to the godhead. So it is that the world is freed of all evil and sorrow in the culminating chorus scene in ANTIKRIST.

The work, composed in the early 1920s, drastically revised up until 1930 and referred to by Langgaard as his "church opera", is a monument within the oeuvre of the Danish composer, which itself is dotted with striking and unusual compositions. Based on John's Book of Revelation, it is a mystery play dominated by apocalyptic references which does little to conceal the turn-of-the-century mood – and the associative libretto can be analysed from today's historical perspective. A spark of hope in the darkness is provided by the dazzling music, a score that is Late Romantic and orchestral in influence but constantly collapsing or distilling into austere details. This is the solitary artist Langgaard discovering his personal style, one that, albeit reminiscent of Strauss and Wagner, is also a nod to his contemporaries Hindemith and Schönberg. The symbolism of the text, the switching and changing music and the muscularity of the whole makes ANTIKRIST one of the most remarkable experiments in 1920s opera.


About the production
In the eyes of multi-award-winning director Ersan Mondtag, Langgaard's opera foretelling a doomsday frenzy is a parable of our own times. His visually arresting production touches on issues such as social fragmentation, the roughening of public discourse and the increasingly bitter climate debate. These concerns are not permitted to out-do the scintillating richness of Langgaard's music, much of which is purely orchestral: Rob Fordeyn's choreography is a riveting physical rendition of the score. In his super-aestheticised, expressionist visuals Mondtag is referencing the fine art from the period of ANTIKRIST's creation, presenting a surreal world in which the laws of physics seem to have been suspended. In his late-capitalist-era urban landscape the world is on the verge of collapse: a car plummets from above, satanic figures swirl around, people are tested and set loose on each other. The punchy, exaggeratedly fantastical images of the director, whose ANTIKRIST in 2022 was his first opera to be staged in Berlin, are perfectly suited to Langgaard's end-time mystery.

Our articles on the subject
Our recommendations