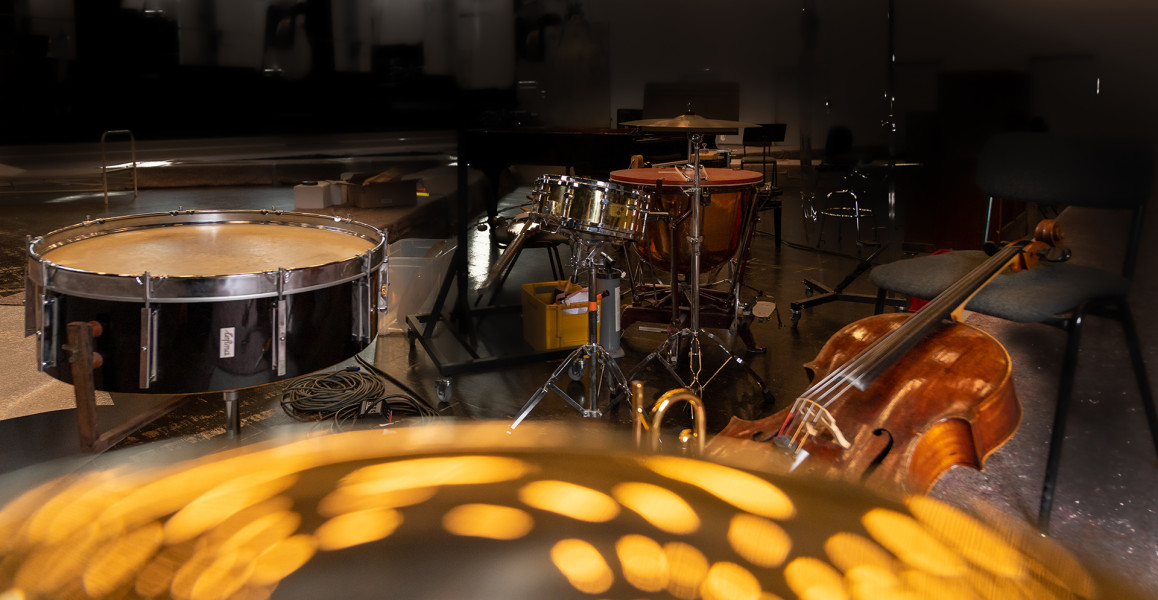 Motiv: Spotlights
© Georg Roither
Chamber Music II: Spotlights
Focussing on favourite pieces
Information about the work
approx. 2 hours / one interval
Cast
Presentation

Violin

Viola

Violoncello

Double bass

Harp

Flute

Oboe

Cor anglais

Clarinet

Bassoon

Trumpet

Horn

Trombone

Tuba

Percussion

Piano
Cast
Presentation

Violin

Viola

Violoncello

Double bass

Harp

Flute

Oboe

Cor anglais

Clarinet

Bassoon

Trumpet

Horn

Trombone

Tuba

Percussion

Piano
the content
Benjamin Godard [1849-1895]
Suite de Trois Morceaux in B flat major for flute and piano op. 116
1. Allegretto
2. Idyll, Quasi Adagio molto tranquillo
3. Valse

Antonín Dvořák [1841-1904]
Trio in C major for 2 violins and viola op. 74
1. Introduzione, Allegro ma non troppo
2. Larghetto
3. Scherzo, Vivace
4. Tema con Variazioni, Poco Adagio

Robert Schumann [1810-1856]
Arr. Andreas N. Tarkmann [*1956]
"Forest Scenes" op. 82 for chamber orchestra
1. Entrance
2. Hunter in Wait
3. Lonely Flowers
4. Disreputable Place
5. Friendly Landscape
6. Refuge
7. Bird as Prophet
8. Hunting Song
9. Farewell

- Intermission -

Richard Wagner [1813-1883]
Arr. Iveta Hylasova Bachmannova
"Wesendonck-Lieder" for English horn and piano
1. Angel
3. In the Greenhouse
4. Pains
5. Dreams

Johannes Brahms [1833-1897]
from Sextet No. 2 in G major
1. Allegro non troppo

Ennio Morricone [1928-2020]
Arr. Vikentios Gionanidis
"Morricone goes Brass" Medley for brass ensemble and percussion with the film music from "Spiel mir das Lied vom Tod", "Cinema Paradiso" and "Zwei glorreiche Halunken".

This season, too, an unusual and personal programme will be presented under the title "Spotlights": musicians of the orchestra will play works that are particularly close to their hearts. The programme ranges from world-famous pieces of the chamber music repertoire to real rarities that are hardly ever heard in the concert hall.

With Robert Schumann's "Forest Scenes" and Wagner's "Wesendonck Songs", the programme features two composers who shaped what we understand today as German Romanticism. The chamber music arrangements heard here reveal in their transparency the filigree structure of this sound language, which is often considered pompous and opulent. Dvořák proves to be a master of fine melody in his string tercet in C major. Constant oscillation between calm and animated passages leads to an expansive cascade of variations in the final movement. The Suite for Flute and Piano by the French Dvořák contemporary Benjamin Godard echoes the music of the Parisian salons as well as the impressionism emerging at the end of the 19th century. Pieces by film music legend Ennio Morricone, whose iconic sound, always anchored in tradition, can be understood as a link between the old masters and today's pop culture, open up a new sphere.