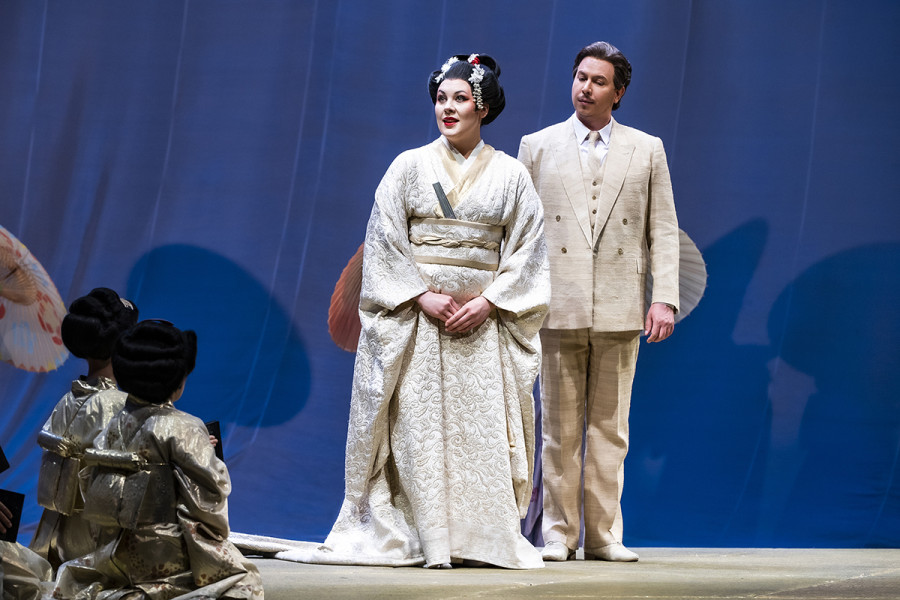 Madama Butterfly
© Bettina Stöß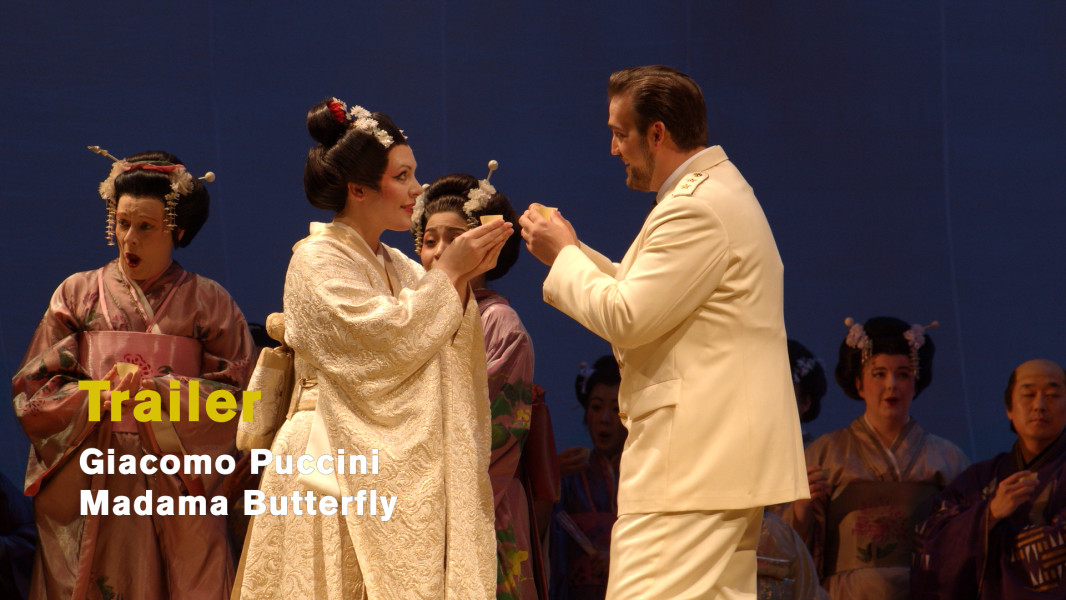 Giacomo Puccini: Madama Butterfly
© Ruth Tromboukis
Madama Butterfly
© Bettina Stöß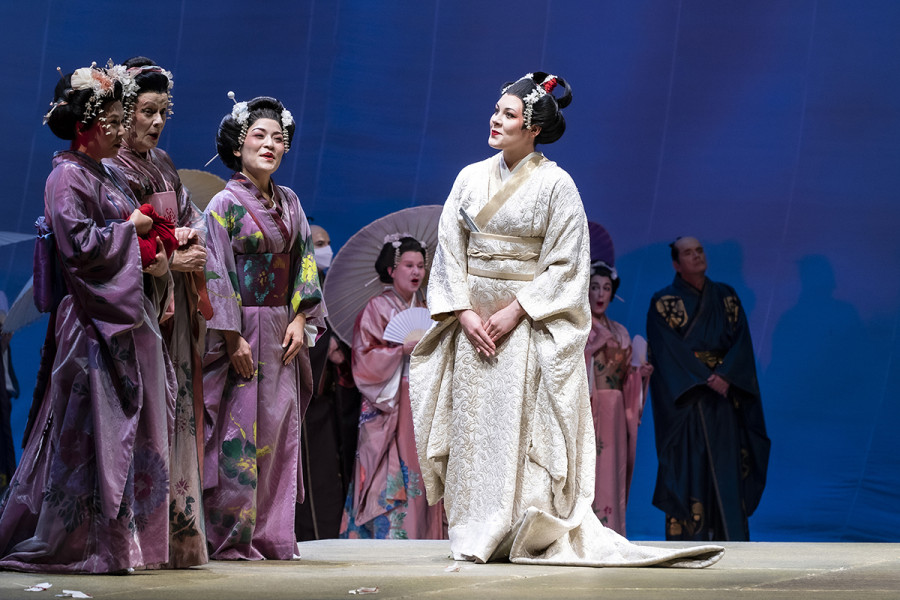 Madama Butterfly
© Bettina Stöß
Madama Butterfly
© Bettina Stöß
Madama Butterfly
© Bettina Stöß
Madama Butterfly
© Bettina Stöß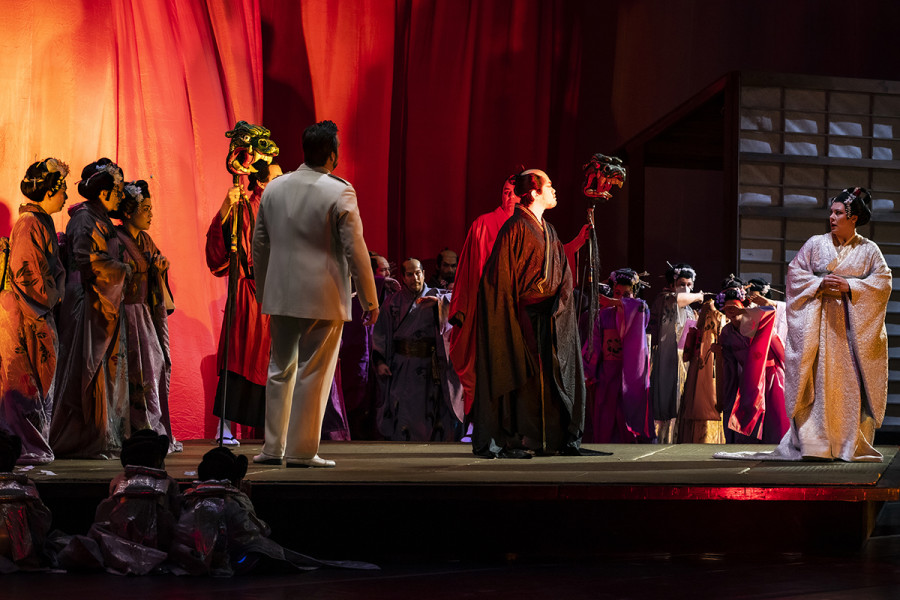 Madama Butterfly
© Bettina Stöß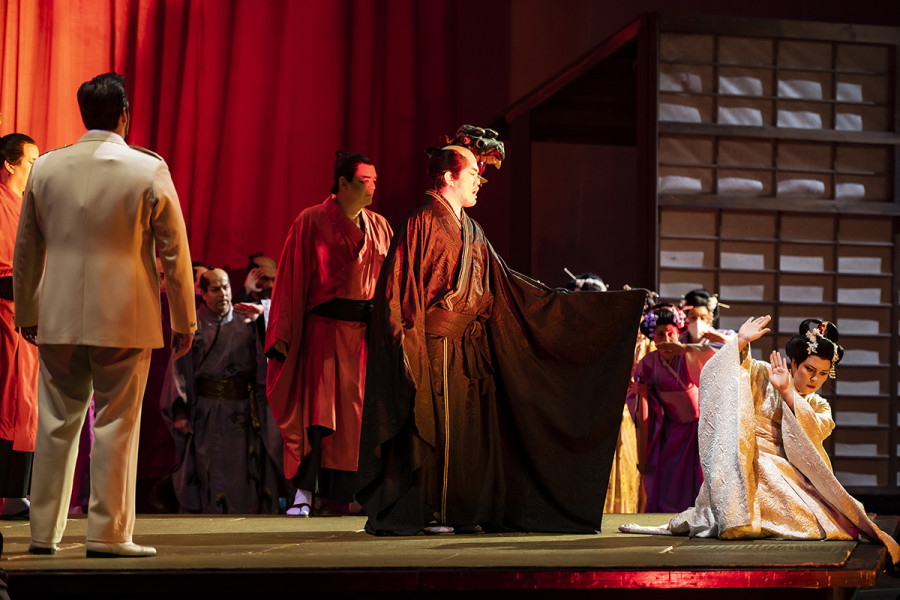 Madama Butterfly
© Bettina Stöß
Madama Butterfly
© Bettina Stöß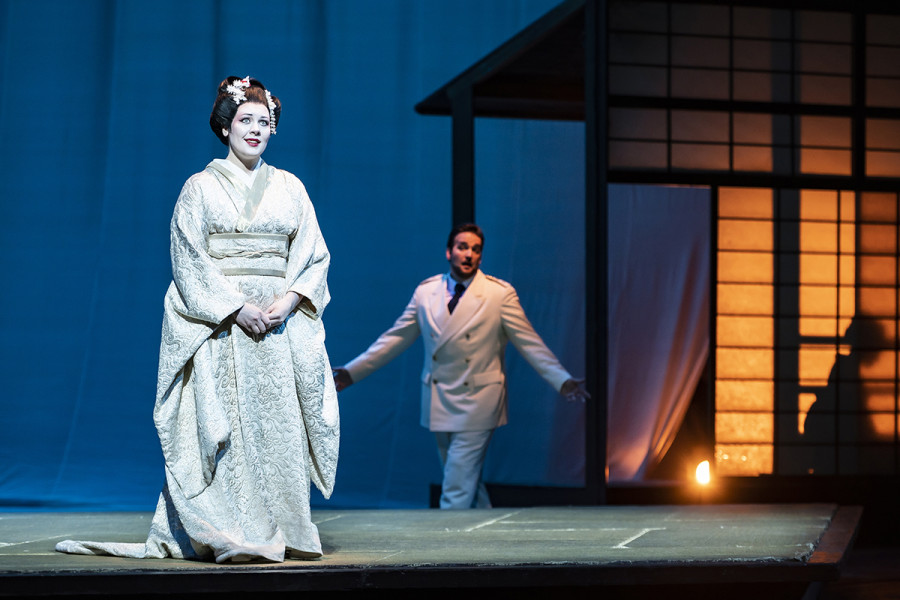 Madama Butterfly
© Bettina Stöß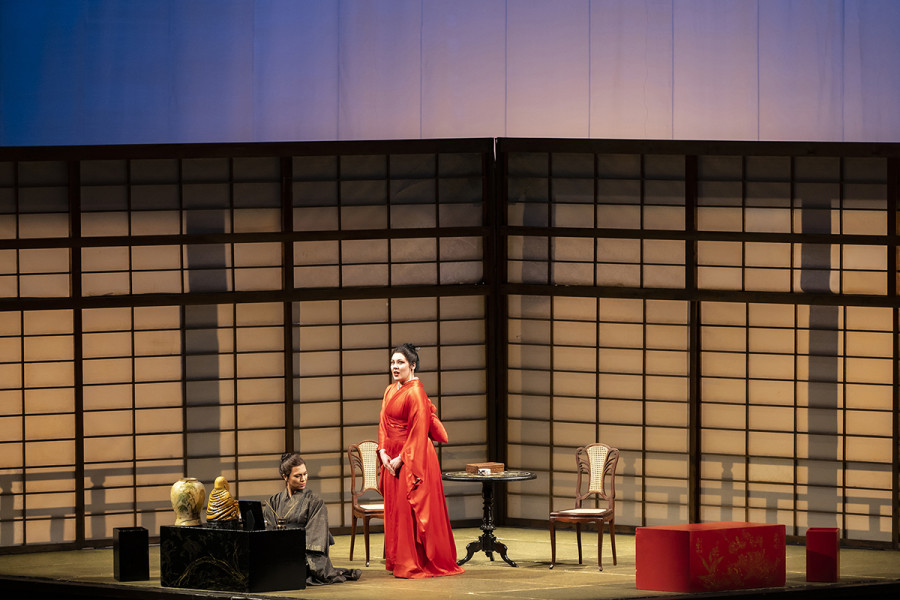 Madama Butterfly
© Bettina Stöß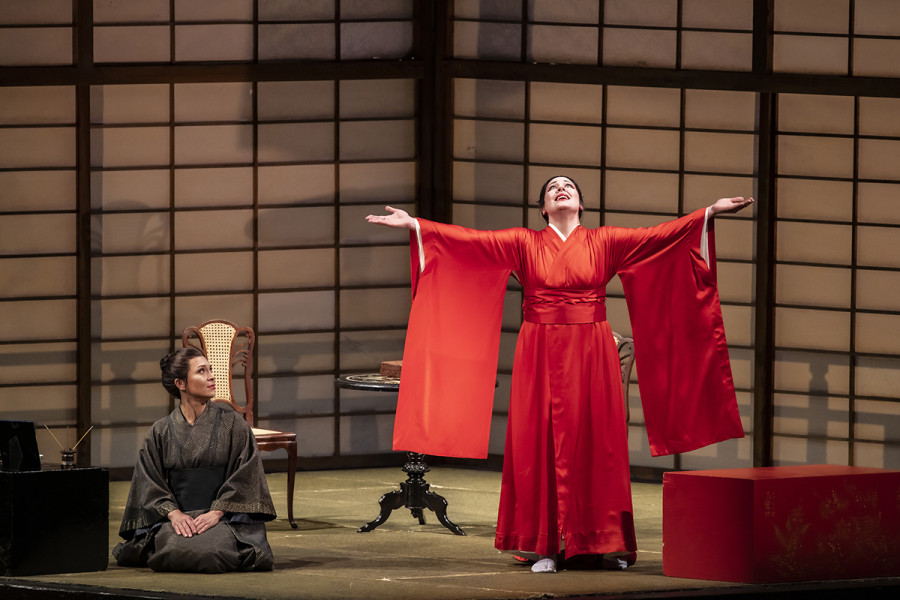 Madama Butterfly
© Bettina Stöß
Madama Butterfly
© Bettina Stöß
Madama Butterfly
© Bettina Stöß
Madama Butterfly
© Bettina Stöß
Madama Butterfly
© Bettina Stöß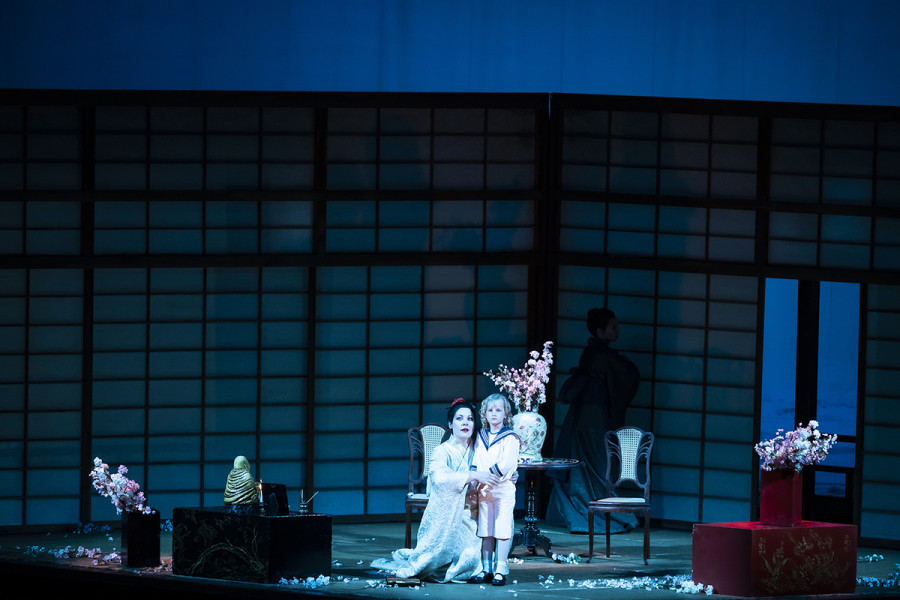 Madama Butterfly
© Bettina Stöß
Madama Butterfly
© Bettina Stöß
Madama Butterfly
© Bettina Stöß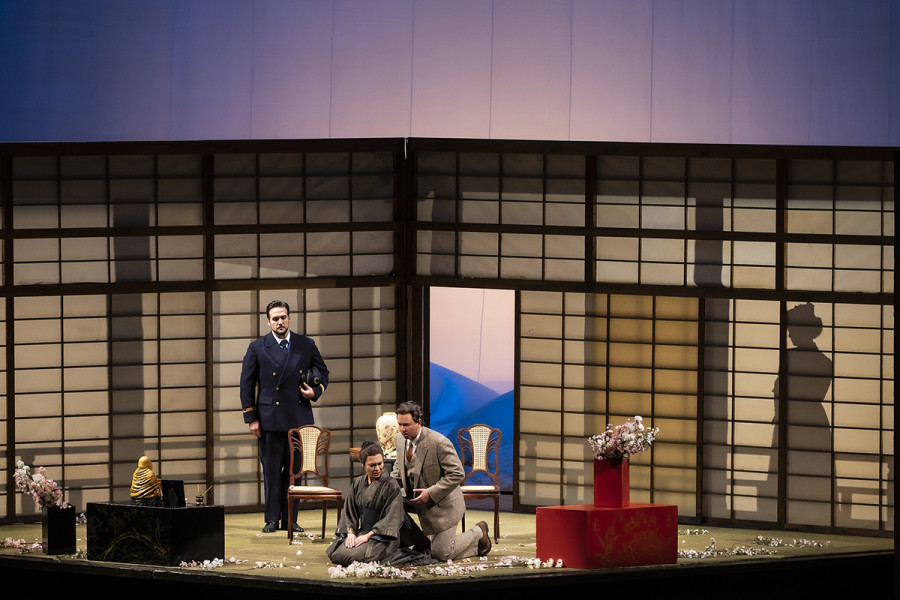 Madama Butterfly
© Bettina Stöß
Madama Butterfly
© Bettina Stöß
Madama Butterfly
© Bettina Stöß
Madame Butterfly
Giacomo Puccini (1858 – 1924)
Information about the work
Japanese tragedy in 3 acts
Libretto by Luigi Illica and Giuseppe Giacosa
after "Madame Butterfly" by David Belasco
First performed on 17th February 1904 in Milan
Premiered at the Deutsche Oper Berlin on 20th June 1987
3 hrs / 1 interval
In Italian with German and English surtitles
Pre-performance lecture (in German): 45 minutes prior to each performance
recommended from 14 years
Cast
Conductor

Director, Stage design, Costume design

Chorus Master

Cio-Cio-San

Suzuki

Kate Pinkerton

Benjamin Franklin Pinkerton

Sharpless

Goro

Prince Yamadori

The Bonze

Imperial Commissioner

Official Registrar

La Madre di Cio-Cio-San

Cugina

Zia

Chorus

Orchestra
Cast
Conductor

Director, Stage design, Costume design

Chorus Master

Cio-Cio-San

Suzuki

Kate Pinkerton

Benjamin Franklin Pinkerton

Sharpless

Goro

Prince Yamadori

The Bonze

Imperial Commissioner

Official Registrar

La Madre di Cio-Cio-San

Cugina

Zia

Chorus

Orchestra
the content
About the work
Lieutenant Pinkerton is attached to an American ship currently moored in Nagasaki harbour. He has been courting a 15-year-old geisha girl named Cio-Cio-san, known as Butterfly, who is from a poor but genteel family and takes love very seriously. Pinkerton wants to enter into a "time-limited marriage" – not uncommon between European men and geishas at the time – and is even being helped by Goro, the marriage agent, to find a cottage in which they can spend their honeymoon. The US consul, Sharpless, warns him against such a step, but Pinkerton brushes him off and even toasts the day when he will take an American to be his "real" wife.

The repercussions of this foreign liaison for the Japanese girl, who has even converted to the creed of her lover, turn out to be grave: she is shunned by her family after the wedding and Pinkerton is hard put to console his "butterfly". Three years go by. Cio-Cio is living in seclusion with her young child and her faithful servant Suzuki. She declines all marriage proposals from Prince Yamadori as she is persistent in her belief that Pinkerton will return. When Sharpless arrives with a note from Pinkerton asking him to inform her that he is now married to an American woman and will shortly be arriving in Nagasaki, Sharpless is horrified to see that the affair has produced a child and cannot bring himself to mention Kate, the new wife. Cio-Cio, overjoyed, decorates her home, dons her bridal dress and awaits her beloved husband. When Pinkerton visits with Kate and the consul, Suzuki is given the full facts: she is to persuade Butterfly to surrender her child. Pinkerton can't bear to face Cio-Cio and ducks out of a face-to-face encounter. Butterfly catches sight of the other woman and realises that Pinkerton has come not to stay but to take the child. She asks for half an hour in which to bid farewell to her son. Then she kills herself.

"There are elements of theatre that don't necessarily overlap. It is meant to interest us, surprise us, touch us. What has my life got to do with heroes and immortal characters? I am uneasy around those kinds of people. As a musician I don't deal in large scale and grand issues; it's the little things that make an impression on me and which I like to explore. I liked Manon, for instance, because she had a big heart and no artifice beyond that … And that's what drew me to Butterfly, because she's such a transparent, feminine creature yet capable of loving unto death." Puccini referred to MADAMA BUTTERFLY as his favourite and best work, and indeed it is perfectly in line with his "music of small things" motto. Filigree musical details, delightful melodies for singers, subtly incorporated exotica and sensitive blending of tonal colours in the orchestra have not only made the work an evergreen but also – as with Puccini's other operas – given subsequent composers something to aspire to.


About the production
At the core of the production at the Deutsche Oper Berlin is the tragedy of the young woman who stays true to her love, despite the misgivings of all those around her. The moody set design, eschewing any folkloric tendency, lends itself to the charm of the piece.