Keith Warner
© Foto Bregenzer Festspiele, Monika Forster
Keith Warner ist einer der wichtigsten Regisseure unserer Zeit. Seine Arbeit führte ihn in den letzten Jahren nach Berlin, Wien, London, Kopenhagen, Brüssel, Frankfurt, Dresden, Hamburg, Warschau, Straßburg, Tokyo, San Francisco, Karlsruhe u. v. m. Inszenierungen bei Festspielen brachten ihn nach Bayreuth und Savonlinna sowie nach Bregenz mit der Neuinszenierung von Umberto Giordanos ANDREA CHÉNIER und der Uraufführung von André Tchaikowskys DER KAUFMANN VON VENEDIG im Sommer 2013.

Eine besonders enge Zusammenarbeit verbindet Warner mit der Oper Frankfurt, wo er Brittens DEATH IN VENICE, Rossinis LA CENERENTOLA, Dallapiccolas VOLO DI NOTTE / IL PRIGIONIERO, Reimanns LEAR, Ades TEMPEST, Ildebrando Pizzettis MURDER IN THE CATHEDRAL, Verdis FALSTAFF und Humperdincks HÄNSEL UND GRETEL erarbeitete. Auch mit dem Theater an der Wien arbeitet er eng zusammen und inszenierte dort u. A. Blochs Macbeth, Mozarts DON GIOVANNI, Schulhoffs FLAMMEN, Haydns ORLANDO PALADINO, Janáceks KATJA KABANOVÁ, Donizettis LUCREZIA BORGIA, Hindemiths MATHIS DER MALER, Weills DREIGROSCHENOPER, eine Uraufführung von Christian Josts EGMONT und zuletzt GIULIO CESARE.

Im Londoner Royal Opera House feierte er neben vielen anderen Produktionen wie Rossis ORFEO und Verdis OTELLO seine Inszenierung von Bergs WOZZECK große Erfolge und wurde mit dem Olivier Award als beste Opernproduktion 2003 ausgezeichnet.

2018 debütierte er mit Barbers VANESSA beim Glyndebourne Festival. Am Badischen Staatstheater in Karlsruhe und in San Francisco war u. a. seine Deutung von ELEKTRA zu sehen. An der Den Norske Opera inszenierte er zuletzt JENUFA und in der Oper Halle Reimanns TRAUMSPIEL.

In der Saison 2022/23 inszeniert er an der Wiener Staatsoper Wagners DIE MEISTERSINGER VON NÜRNBERG, an der Oper Frankfurt Orffs DIE KLUGE/Weills DER ZAR LÄSST SICH PHOTOGRAPHIEREN und an der Santa Fe Opera TOSCA.
Schedule
In performances like
Videos
Video –
Nabucco – The Making-Of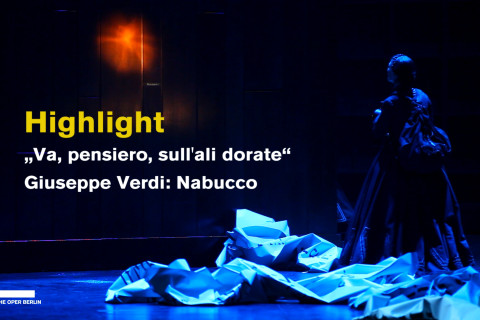 Video – 04:35 min.
"Va, pensiero, sull'ali dorate" (Nabucco)
Video – 02:42 min.
Giuseppe Verdi: Nabucco (2022)