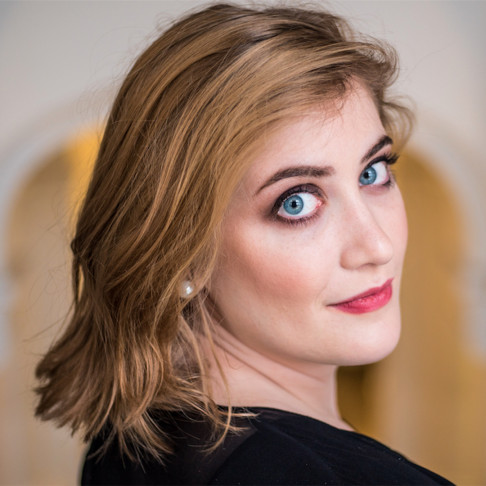 Lisa Ziehm
© Agentur
Die gebürtige Holsteiner Sopranistin Lisa Ziehm interpretierte im Juni 2021 bei den Frankenfestspielen Röttingen die Rolle der Venus in ORPHEUS IN DER UNTERWELT und wirkte im November im Hamburger Opernloft als Solistin in der Produktion ORPHEUS IN DER UNTERWELT mit (K. Steeb/A. Brinkmann-Davis). 2020 gab sie am Theater Brandenburg in der Produktion OPERETTE - ABER BITTE MIT ABSTAND (A. Kerbst/H. Florin) ihr Debüt mit den Brandenburger Symphonikern.

Zurzeit arbeitet sie mit KS Dagmar Schellenberger und Doreen DeFeis zusammen. Sie schloss erfolgreich im März letzten Jahres ihr Masterstudium mit dem Schwerpunkt Oper an der Universität der Künste in Berlin in der Klasse von Prof. Carola Höhn ab. Ihr Bachelorstudium absolvierte sie erfolgreich an der Musikhochschule Lübeck bei Isabel Schaarschmidt. Dabei studierte sie im Rahmen des Erasmusprogramms an der Guildhall School of Music & Drama in London, wo sie mit Theresa Goble zusammenarbeitete.

Zahlreiche Gesangsmeisterkurse bei Margreet Honig, Franz Grundheber, Michaela Schuster, Simone Kermes und Liedkurse bei Wolfram Rieger, Daniel Fueter, Karola Theill, Prof. Pamela Lidiard und Prof. Inge Susann Römhild bereicherten ihre Ausbildung und gaben ihr wichtige Anregungen für ihre Arbeit – auch mit ihrer Liedduopartnerin Hyelee Clara Chang.

Ihr breit gefächertes Repertoire reicht von der Klassik bis zur Moderne, wobei ihr Schwerpunkt auf der Oper und vor allem beim Liedschaffen der romantischen Epoche liegt. Im Zuge ihrer regen Konzerttätigkeit im In- und Ausland sang sie unter anderem beim London Handel Festival, dem Cap Ferret Music Festival in Frankreich und durfte mit Dirigenten wie Simone Bernardini als Solistin in Gustav Mahlers 4. Sinfonie und mit Bruno Merse und dem Lübecker Kammerorchester als Solistin in Joseph Canteloubes "Chants d'Auvergne" zusammenarbeiten. Weitere bereichernde künstlerische Impulse bekam sie von Christian Schumann, Ludwig Pflanz, Marc Shanahan und Georgios Vagianos.

Ihre szenischen Fertigkeiten erlangte sie in zahlreichen Opernproduktionen, wie beispielsweise an der Deutschen Oper Berlin, am Theater Lübeck, dem Musikfestival Oper Oder-Spree und den Neuen Eutiner Festspielen. Die Sopranistin arbeitete mit Regisseuren wie Michael Wallner, Lars Franke, Matthias Kaiser, Eva-Maria Höckmayr, Gregor Horres, Isabel Hindersin und Birgit Kronshage zusammen.

Sie sang in der Kinderopernproduktion DIE KLEINE ZAUBERFLÖTE bei dem Musikfestival Oper Oder-Spree und übernahm im August 2019 in der Opernakademie Bad Orb die Partie der Gräfin Almaviva in Mozarts DIE HOCHZEIT DES FIGARO in einer Inszenierung von Erik Biegel und unter der musikalischen Leitung von Mike Millard.

Zu ihren gesungenen Partien gehören ebenfalls die 1. Dame in Mozarts ZAUBERFLÖTE in einer Opernproduktion der Operation der Künste in Berlin und Frankfurt am Main und The Voice / The Angel in Peter Eötvös' zeitgenössischer Oper ANGELS IN AMERICA.

Lisa Ziehm wurde durch das Deutschlandstipendium und wird durch die YEHUDI MENUHIN Stiftung "Live Music Now" gefördert und war Stipendiatin der Possehl-Stiftung Lübeck.
Schedule
In performances like