Lorena Randi
Lorena Randi arbeitete zunächst als Tänzerin, bevor sie sich als Choreografin etablierte. So absolvierte sie ihre Studien an der Royal Ballet School sowie 1995 an der London Contemporary Dance School. Ihre prägenden Jahre im Tanz verbrachte sie mit Michael Clark (von 1998 bis 2006), später mit Mark Morris, dem Fabulous Beast Dance Theatre, mit Aletta Collins und Arthur Pita.

Zu ihren jüngsten Choreografien zählen u. a. ONCE IN A LIFETIME gemeinsam mit Regisseur Richard Jones am Young Vic, COTTON PANIC mit Jane Horrocks im Rahmen des Manchester International Festival, DIE FLEDERMAUS an der schwedischen Wermland Opera, LE NOZZE DI FIGARO an der Nevill Holt Opera sowie SINK, ein Werk für 24 Synchronschwimmer, gemeinsam mit der Künstlerin Janice Kerbel in Glasgow.

Lorena Randi arbeitete als Choreografin für zahlreiche Opernproduktionen, darunter SWEENEY TODD, SUNDAY IN THE PARK WITH GEORGE und INTO THE WOODS am Théâtre du Châtelet in Paris, an der Houston Grand Opera und der San Francisco Opera, CANDIDE und THE IMPORTANCE OF BEING EARNEST an der Opéra national de Lorraine, PIQUE DAME an der English National Opera sowie für THE TRIUMPH OF TIME AND TRUTH / THE TRIUMPH OF BEAUTY AND DECEIT am Badisches Staatstheater Karlsruhe.

Lorena Randi hat mit mehreren bildenden Künstlern zusammengearbeitet. Im Jahr 2009 recherchierte und entwickelte sie ein Ballett gemeinsam mit Martin Creed: WORK 1020 wurde beim Edinburgh Festival, im Londoner Sadler's Wells, im Museum of Contemporary Art in Chicago (von 2010 bis 2012) ausgestellt, später in the kitchen in New York, in der Queen Elizabeth Hall und im Barbican in London sowie bei Kyoto Experiment in Japan. Gemeinsam mit Hetain Patel und der Candoco Dance Company entwickelte sie eine erste Soloshow, die am Sadler's Wells und in Queen Eliszabeth Hall lief. Mit Nick Mauss arbeitete sie für dessen Live-Installation "Frieze Art Fair '14", mit dem Fotografen Nick Knight und der Maison Margiela für einen Modefilm 'SHOWstudio'.

Sie arbeitete mit Adele und Will Young und für internationale Firmen wie Nike, Adidas, Stella McCartney, style.com und EDF energy. Auch übernimmt sie regelmäßig Auftragsarbeiten für improvisierte Soloinstallationen, zuletzt zum Internationalen Frauentag an der Royal Academy of Art in London.
Schedule
In performances like
Videos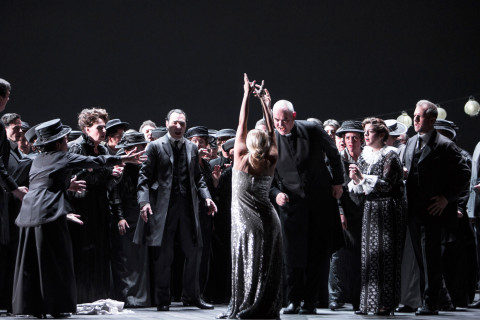 Video – 02:10 min.
Detlev Glanert: Oceane