Luis F. Carvalho
© Agentur
Luis F. Carvalho ist in Portugal geboren und aufgewachsen. Anfang der 90-er Jahre ging er nach London und absolvierte seine Studien in Bühnen- und Kostümbild an der Wimbledon School of Art und der Central St Martin's.

Im Anschluss erarbeitete er zahlreiche Ausstattungen an renommierten Theater- und Opernbühnen, allen voran der Mailänder Scala, darunter IDOMENEO am Teatro Real Madrid, CARMEN an der Wuppertaler Oper, am Teatro dell'Opera di Roma, UN BALLO IN MACHERA am Hessischen Staatstheater in Wiesbaden, an der Opéra national de Lorraine, am Grand Théâtre de la Ville de Luxembourg und der Opera Zuid, ELEKTRA am Teatro Nacional de São Carlos, LA FANCIULLA DEL WEST an der Mailänder Scala, THE TURN OF THE SCREW an der Opéra national du Rhin, RUN MARY RUN im Sadler's Wells, LA BOHEME an der Opera Zuid, OUT OF BLIXEN und SCHERZO im The Print Room in London, INSOMNIA am Teatro Vascello in Rom, ROMEO & JULIET am Rose Theatre in London, GIULIO CESARE beim Stand D'ete in Moutier, PENELOPE X an der Mazedonischen Staatsoper, THE HUMAN VOICE – THE SOUND OF SILENCE in den Trafalgar Studios, WE ARE SHADOWS beim Spitalfields Music Festival, I DO und DARKROOM in Guimarães im Rahmen des Kulturprogramms zur Europäischen Kulturhauptstadt, JUICY BITS am Lyric Theatre Hammersmith, PROFILI am Bloomsbury Theatre in London, HONG KONG DEPRESSION 1999 und QUIRK im The Place Theatre in London.

Für Film und Fernsehen realisierte er Arbeiten wie "BBC Proms 10 Pieces 2017" und "BBC Proms 10 Pieces 2016" (beide für die BBC), "Fall Forever – Ray Grant" (World Wide Web), "Close Up" (Dance Short), "Moulin Rouge Premiere Party" (Tobacco Docks), "Pearl Harbour Premiere Party" (University College of London) sowie "Toy Story 2 Premiere Party" (Odeon London).
Schedule
In performances like
Videos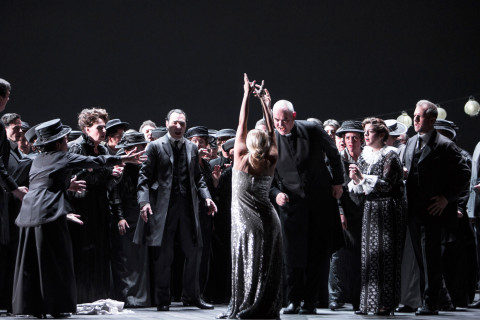 Video – 02:10 min.
Detlev Glanert: Oceane