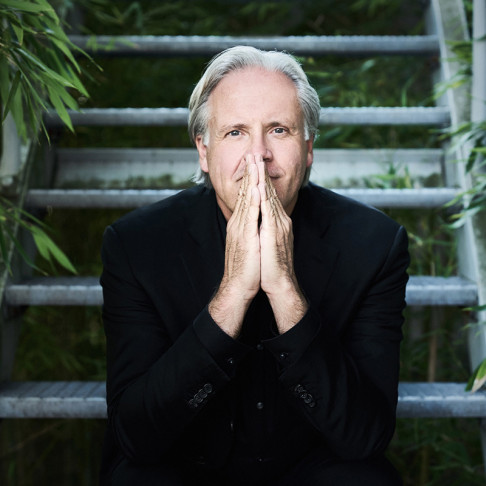 Markus Stenz
© Kaupo Kikkas
Markus Stenz hatte bereits zahlreiche bedeutende Positionen bei internationalen Orchestern und Opernhäusern inne, u.a. als Chefdirigent des Radio Filharmonisch Orkest, Generalmusikdirektor der Stadt Köln und Gürzenich-Kapellmeister, Principal Guest Conductor des Baltimore Symphony Orchestra, Conductor-in-residence des Seoul Philharmonic Orchestra, Chefdirigent des Melbourne Symphony Orchestra und der London Sinfonietta sowie Künstlerischer Leiter des Montepulciano Festival.

Als Operndirigent hat er zuletzt zahlreiche Ur- und Erstaufführungen sowie Wiederaufnahmen geleitet, u. a. die Weltpremiere von György Kurtágs Oper FIN DE PARTIE an der Mailänder Scala (2018), an der Amsterdamer Dutch National Opera (2019) sowie an der Opéra National de Paris (2022), Benjamin Brittens A MIDSUMMERNIGHT'S DREAM (2021) und DEATH IN VENICE (2019) an der Deutschen Oper Berlin sowie Franz Schrekers DIE GEZEICHNETEN an der Bayerischen Staatsoper (2018).

Highlights der vergangenen Konzertsaison waren unter anderem Engagements mit dem City of Birmingham Symphony Orchestra, Orchestra della Fenice, Seoul Philharmonic Orchestra, Orchestre National de Lyon, Radio Filharmonisch Orkest, Orchestre Philharmonique du Luxembourg, Bergen Philharmonic Orchestra, mit Barcelona Symphony sowie mit den Dortmunder Philharmonikern.

In der Saison 2022/23 ist Markus Stenz zu Gast beim Detroit Symphony Orchestra, Indianapolis Symphony Orchestra, Oregon Symphony Orchestra, New Japan Philharmonic Orchestra, BBC National Orchestra of Wales, Orchestra dell'Academia Nazionale di Santa Cecilia, ORF Radio-Symphonieorchester Wien im Rahmen des Internationalen Brucknerfest Linz, bei der Dresdner Philharmonie, dem Philharmonia Zürich und der Badischen Staatskapelle sowie auf Wiedereinladung beim Seoul Philharmonic Orchestra, Radio Filharmonisch Orkest sowie Gürzenich-Orchester Köln. Außerdem dirigiert er die Wiederaufnahme von Jacques Offenbachs HOFFMANNS ERZÄHLUNGEN an der Deutschen Oper Berlin.

Markus Stenz dirigierte u. a. die Berliner Philharmoniker, das Gewandhausorchester Leipzig, die Münchner Philharmoniker, das Tonhalle-Orchester Zürich, die Wiener Symphoniker, das NHK Symphony Orchestra, die Staatskapelle und das Konzerthausorchester Berlin, das Orchestre de la Suisse Romande, die Bamberger Symphoniker, die Dresdner Philharmonie, das Philharmonische Staatsorchester Hamburg sowie die Rundfunkorchester des BR, HR, WDR, NDR und MDR. In den USA arbeitete er unter anderem mit den Sinfonieorchestern von Boston, Chicago, Cincinnati, Los Angeles, Dallas und Houston.

Die jüngste CD-Einspielung ist Bruckners Siebte Symphonie mit dem Stavanger Symphony Orchestra (SSO Recordings), desweiteren wurde u. a. die Einspielung von Schönbergs "Gurre-Liedern" mit dem Gürzenich-Orchester mit dem Gramophone Classical Music Award prämiert.
Schedule
Videos
Video – 03:02 min.
Richard Wagner: Die Meistersinger von Nürnberg