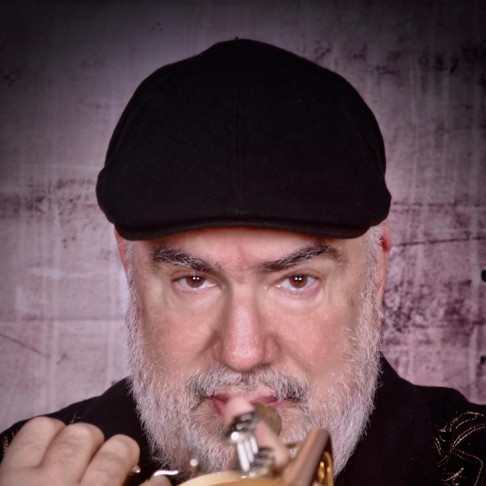 Randy Brecker
© Ada Rovatti Photo
Der Jazztrompeter und Komponist Randy Brecker prägt seit mehr als vier Jahrzehnten den Sound von Jazz, R&B und Rock. Seine Trompeten- und Flügelhorn-Auftritte haben Hunderte von Alben einer Vielzahl von Künstlern geziert, von James Taylor, Bruce Springsteen und Parliament / Funkadelic bis hin zu Frank Sinatra, Steely Dan, Jaco Pastorius und Frank Zappa.

Geboren 1945 in Philadelphia in einer musikalischen Familie, wurde Randy Breckers musikalisches Talent schon in jungen Jahren gefördert. Er besuchte von 1963 bis 1966 die Indiana University und studierte bei Bill Adam, David Baker und Jerry Coker. Später zog er nach New York, wo er mit so prominenten Bands wie Clark Terrys Big Bad Band, der Duke Pearson Big Band und dem Thad Jones Mel Lewis Jazz Orchestra auftrat. 1967 wagte er sich mit der Band Blood, Sweat and Tears an den Jazz-Rock heran, verließ sie aber, um sich dem Horace Silver Quintet anzuschließen. Sein erstes Soloalbum "Score" nahm er 1968 auf. Danach schloss er sich Art Blakey's Jazz Messengers an, bevor er sich mit seinem Bruder Michael, mit Barry Rogers, Billy Cobham und John Abercrombie zur bahnbrechenden Fusion-Gruppe "Dreams" zusammenschloss. Die Gruppe nahm zwei hochgelobte Alben auf: "Dreams" und "Imagine My Surprise" - heute Sammlerstücke - für Columbia Records, bevor sie sich 1971 auflöste.

In den frühen 1970er Jahren trat Randy Brecker mit vielen prominenten Künstlern live auf, darunter Larry Coryell's Eleventh House, Stevie Wonder und Billy Cobham. Außerdem nahm er mit seinem Bruder unter der Leitung des großen Pianisten und Komponisten Hal Galper mehrere klassische Alben auf. 1975 schlossen sich Randy und Michael Brecker zur Brecker Brothers Band zusammen und veröffentlichten in den folgenden Jahren sechs Alben bei Arista. Zwischen 1975 und 1981 erhielten sie sieben Grammy-Nominierungen. 1992, genau zehn Jahre nachdem sie sich getrennt hatten, um Solokarrieren zu verfolgen, kamen Randy und Michael für eine Welttournee und die dreifach für einen Grammy nominierte GRP-Aufnahme "The Return of the Brecker Brothers" wieder zusammen. Das Nachfolgealbum "Out of the Loop" von 1994 wurde mit einem Doppel-Grammy ausgezeichnet.

1997 erhielt Randy Brecker für "Into the Sun" (Concord) seinen ersten Grammy als Solokünstler. 2001 veröffentlichte er "Hangin' in the City" (ESC). Seine nächste CD für ESC Records, "34th n' Lex", brachte ihm 2003 seinen dritten Grammy für das "Beste zeitgenössische Jazzalbum" ein. 2007 erhielt er seinen vierten Grammy für "Randy Brecker Live with the WDR Big Band" (Telarc/BHM), den Live-Mitschnitt (auch als DVD erhältlich) seines Auftritts mit Michael beim Leverkusener Jazzfest 2004. Tragischerweise verstarb Michael noch im selben Jahr am 13. Januar.

2007 wurde auch ein 2-CD-Set mit Live-Aufnahmen der Band Soulbop (BHM) mit Dave Kikoski, Victor Bailey, Steve Smith oder Rodney Holmes und Hiram Bullock veröffentlicht. 2008 veröffentlichte er das Album "Randy in Brazil", das in Sao Paulo mit einer ganzen Reihe großartiger brasilianischer Musiker aufgenommen und bei Summit Records veröffentlicht wurde. Die CD wurde von AllAboutJazz.com zu einer der 10 besten CDs des Jahres 2008 gewählt und gewann den Grammy für das "Beste zeitgenössische Jazz-Album", womit er insgesamt fünf Grammys erhielt.

Ein "Tribute to the Brecker Brothers" mit Randy, live aufgenommen beim Hamamatsu Jazz Festival in Japan mit Yoichi Muratas Solid Brass & Big Band, wurde Ende 2008 von JVC Victor in Japan veröffentlicht. 2011 erschien das Album "The Jazz Ballad Song Book", das vier Grammy-Nominierungen erhielt und von der Kritik begeistert aufgenommen wurde. Und 2012 schrieb Sony Legacy die Geschichte mit der lang erwarteten Box "The Brecker Brothers - The Complete Arista Albums Collection" fort. Es folgte eine "Brecker Brothers Band Reunion Tour" durch europäische Festivals im Sommer 2013, das zu einem Wiedersehen mit zahlreichen Jazzlegenden führte. 2012 entstand in Zusammenarbeit mit dem polnischen Musiker und Komponisten Wlodek Pawlik und Philharmonikern der Stadt Kalisz das im Folgejahr veröffentlichte Album "Night in Calisia". Dieses wurde 2014 mit einem Grammy Award ausgezeichnet. Für den Titel "Sozinho" erhielt er Anfang 2020 den Preis für das beste Jazz-Solo.
Schedule