A place of serenity for my soul … Ted Huffman
Director Ted Huffman is currently staging Benjamin Britten's A MIDSUMMER NIGHT'S DREAM. Provincetown on Cape Cod, USA, reminds him of woodland, elves and fairies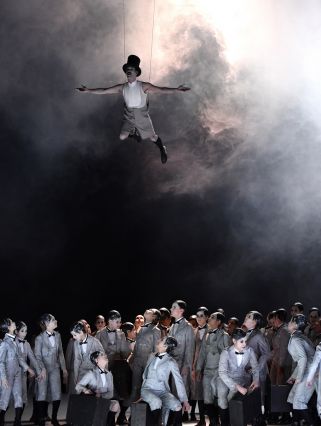 A Midsummer Night's Dream
Foto:
A Midsummer Night's Dream
Opera in three acts by Benjamin Britten
Conductor: Markus Stenz
Director: Ted Huffman
With James Hall, Jane Archibald, Jami Reid-Quarrell, Padraic Rowan, Davia Bouley / Annika Schlicht, Gideon Poppe, Dean Murphy, Karis Tucker, Alexandra Hutton, Patrick Guetti, Tyler Zimmerman, Andrew Dickinson, Jörg Schörner, Matthew Cossack et al.
30 September, 2, 10, 15 October 2021
There are many sides to Provincetown - some would say contradictory sides. It's a wild place, remote, nudging up against the heaving ocean. Sometimes I get the impression I've reached the world's end. And it's true in a sense, because you don't just bump into Provincetown by chance. It's located on the furthest point of the Cape Cod peninsula, on the East Coast of the US. The narrow spit of land is like a feeler, testing the waters of the Atlantic. The air is salty, the light is soft, almost mystical.
After its colonisation by European settlers Provincetown became a refuge for artists, with painters of the likes of Edward Hopper, Jackson Pollock and Mark Rothko taking inspiration from the light. Writers like Eugene O'Neill, Tennessee Williams and Norman Mailer also came, some for the summer, some for years.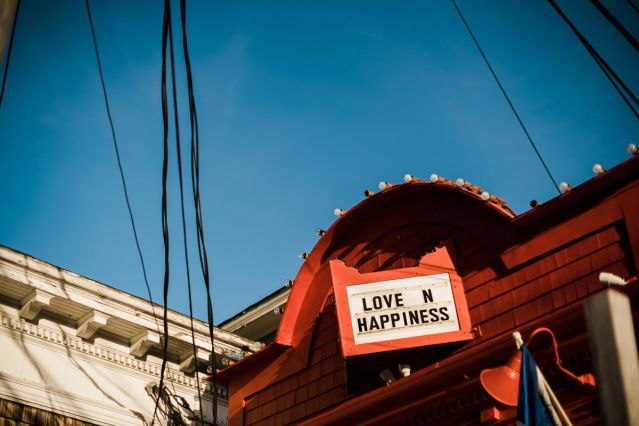 Love and happiness: A sign in Provincetown, which is known for its shimmering drag and cabaret scene. Ted Huffman calls it a "parallel universe". © Chris McIntosh
But Provincetown is also a haven for the queer community, a parallel universe in which queer people and queer families are the norm. They feel free here, feel that they are accepted and have found their niche, are part of the local community. There's a shimmering drag and cabaret scene. Long before RuPaul brought drag performance to New York, Provincetown was where it was happening. If you take all that together - the savagery of the natural location, the artists' oasis, the queer activity – you've pretty much summed up the magic of the place. There's no place quite like it.
Provincetown is an incarnation of America that I wish were replicated right across the continent, but that's obviously not the reality. I'm still an American, but to all intents and purposes I left the US a decade ago. I work most of the time in Europe. It's depressing to watch your own country slipping into nationalism and conservatism. For me, visiting Provincetown once a year is a way of celebrating the finest side of America.
When I arrive on Cape Cod I'm usually coming straight from Europe – and one of the good things about jetlag is that I wake up at 4am. Early morning, just before sun-up, is my favourite time of day. Night is slowly giving way to day. If I'm awake then, I get the impression my day's going to go better. I have breakfast and go down onto the beach. It's quite a trek getting to the best spots; you can't get there by car and there's some wading to do. I stay for hours, reading, swimming, napping in the sun. In the evening I head back, settle down in a café, do some writing, have a bite to eat. The town comes alive at night and I may take in one of those incredible drag shows.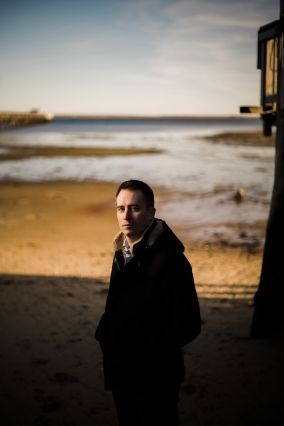 Huffman on the beach at Provincetown, a place where he has pondered on many a project, A MIDSUMMER NIGHT'S DREAM included. © Chris McIntosh
I think of Provincetown as being akin to the forest in A MIDSUMMER NIGHT'S DREAM. The woodland is an oasis for the fairy couple, Oberon and Titania, and for lovers in human form, too, just as this place on Cape Cod is a refuge for queers. The composer Benjamin Britten and his partner, the tenor Sir Peter Pears, likewise created an oasis for themselves, far from the madding London crowd.
They set up home in the fishing village of Aldeburgh and founded a festival there, which hosted the world premiere of A MIDSUMMER NIGHT'S DREAM in 1960. Funnily enough, the landscape there is very similar to Cape Cod. I've sometimes wondered how Britten and Pears saw themselves back then, in the mid-20th century, living as a couple in Britain when homosexuality was a prosecutable offence. I imagine they identified strongly with Oberon and Titania, who were creatures living on the fringe of society. After all, fairies inhabit a kind of parallel world, living alongside humans but without enjoying the same rights and not able to have children.
Hermia and Lysander, another couple, and Helena and Demetrius escape to the woods, fleeing parents who refuse to let them live as they would like. They are all in a state of stress, angry at the constraints placed upon them and unsure of themselves at the same time. That all comes bursting out during the night in the forest. In the parallel world they work through stuff that they hadn't been able to articulate before. And they wake up the next morning purged. There's this lovely point in Act III when they feel they can drop their masks and open up to one another. But the moment they leave the wood, they're back in an awful world that defines romantic ties in terms of war and property. That bodes ill for the relationship. And I think that's precisely what interests Britten and Pears, the question of how society foists certain roles on people who are in love.