Aus dem Hinterhalt: Siegfried [Teaser]
© Ruth Tromboukis
Die Macht der Künste
© Eike Walkenhorst
Ambushed from Behind: Power of the Arts
Late night performances of the grand opera: SIEGFRIED
Information on the piece
approx. 90 mins / no interval
Cast
Special Guest

Conductor

Concept, art direction

Set and Costume design

Costumes

Script

Dramatic advisor

With

With

With

Guitar

Bass

Percussion

Keyboard

Violin

Viola

Violoncello

Horn

Trombone

Piano
supported by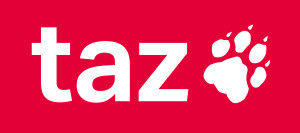 In cooperation with Musicboard Berlin GmbHPresented by taz.die tageszeitung
Cast
Special Guest

Conductor

Concept, art direction

Set and Costume design

Costumes

Script

Dramatic advisor

With

With

With

Guitar

Bass

Percussion

Keyboard

Violin

Viola

Violoncello

Horn

Trombone

Piano
About the performance
Siegfried is the hero "who knows no fear". Having grown up alone in the forest, in Mime's smithy, he is innocent – and yet he has an irresistible urge to sally forth and explore it. Siegfried's yearning is the central theme for Sofia Portanet as she takes a closer look at the hero - arguably the greatest in opera – in our "Ambushed From Behind" series.

"In my view Wagner is pop – and I don't mean that in the sense of the mainstream genre that we hear on the radio. Pop, for me, is entertainment. Pop tells stories that people can relate to and respond to. And that's what Wagner gives us. That's why his works are popular and performed so often. For this edition of »Ambush« I'm using music from my latest album, »Freier Geist«. My band is teaming up with a four-strong wind section, three strings and four singers from the opera ensemble. Some of the SIEGFRIED passages are being done by us as a band. I'm singing an aria, the one by Notung, when he's forging the sword. Ever since I sang in the children's chorus of the Opéra National de Paris I've been fascinated by opera as an art form. It has an impact on all levels: the music, the visuals, the performance. Opera opens up a space for drama to flourish. It's a place where it's okay to have exaggerated feelings and emotions." — Sofia Portanet

The power of the arts is great. Yet where exactly does it lie? What can it achieve? Whom can it reach? What interests does it serve? THE POWER OF THE ARTS is the theme of the late-night series AMBUSHED FROM BEHIND. As of the 2020/21 season it will be curated by the singer, composer and director Elia Rediger. It thus continues the series' successful concept of providing commentary on five premieres on the big stage.

Artists from the worlds of pop, rock, avant garde, fashion and visual arts will be invited as special guests to these evenings so that they may shape the events with their view of the grand opera, together with members of the house's ensemble.

Our recommendations