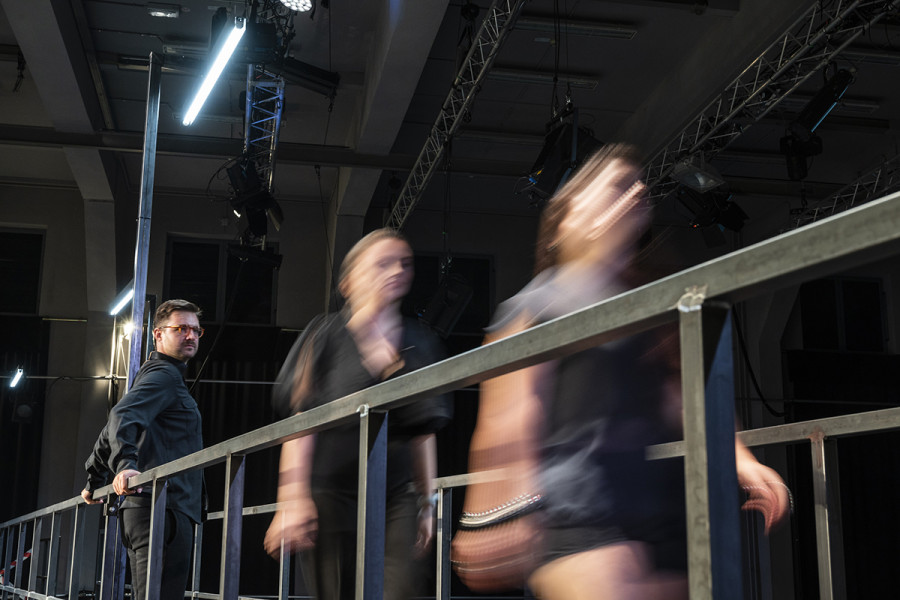 Die Vorüberlaufenden
© Marcus Lieberenz
Andrej Koroliov: Die Vorüberlaufenden
© Ruth Tromboukis
Die Vorüberlaufenden
© Eike Walkenhorst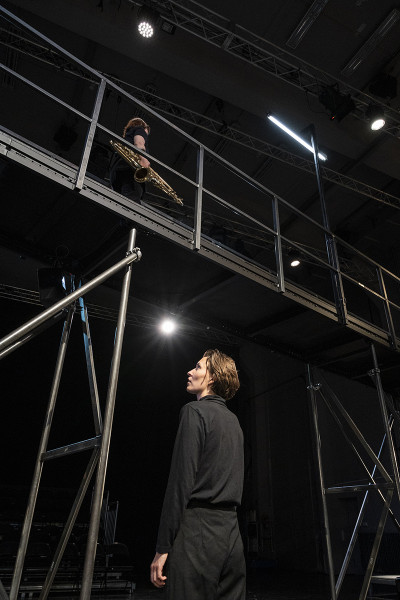 Die Vorüberlaufenden
© Marcus Lieberenz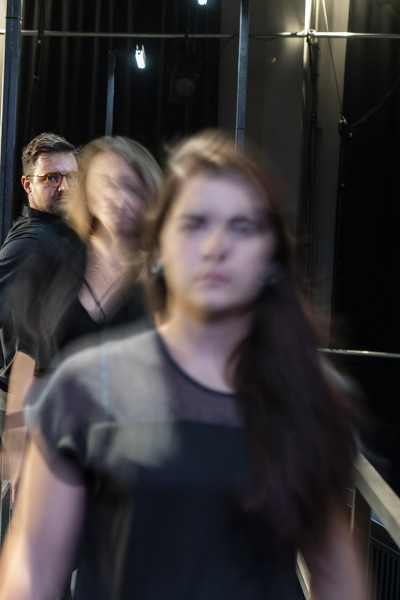 Die Vorüberlaufenden
© Marcus Lieberenz
Die Vorüberlaufenden
© Eike Walkenhorst
Die Vorüberlaufenden
© Eike Walkenhorst
Die Vorüberlaufenden
© Eike Walkenhorst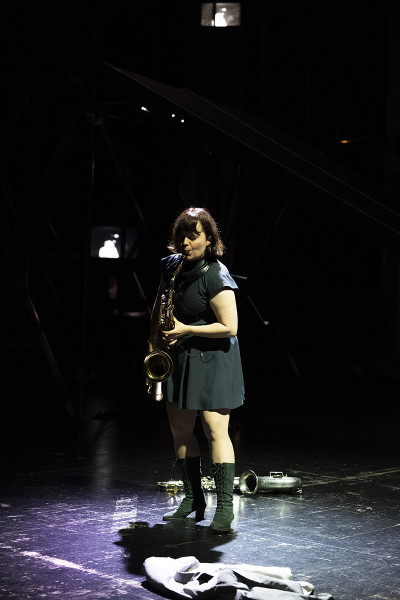 Die Vorüberlaufenden
© Eike Walkenhorst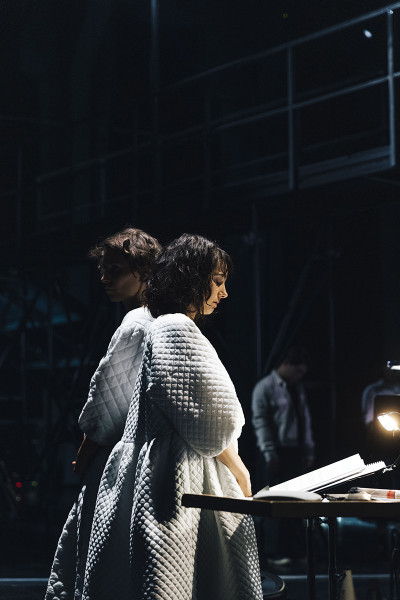 Die Vorüberlaufenden
© Eike Walkenhorst
Passers-by
Andrej Koroliov (*1982)
Information on the piece
(Die Vorüberlaufenden)
Musical theatre by Andrej Koroliov to a text by Gerhild Steinbuch.
After an idea of Theresa von Halle based on Franz Kafka's short story of the same name.
World premiere in the Tischlerei of the Deutsche Oper Berlin on 24th September 2021

recommended from 15 years
70 minutes / no interval
In German with German surtitles
Cast
Conductor

Stage director

Set design, Costume design

Dramaturge

Woman 1

Woman 2

Man 1

Man 2

She 1

She 2

Violin

Violoncello

Saxophone

Trombone

Electric guitar

Piano
supported by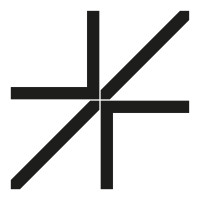 As part of the month of contemporary music
Cast
Conductor

Stage director

Set design, Costume design

Dramaturge

Woman 1

Woman 2

Man 1

Man 2

She 1

She 2

Violin

Violoncello

Saxophone

Trombone

Electric guitar

Piano
About the performance
Night time in a narrow street. A man is running towards us. Should we say anything to him as he runs past? Does he need our help? In his short piece of prose Franz Kafka presents a scenario in which we are under pressure to decide whether to intervene and, if we choose not to, to justify our lack of action. Because even if the man is being followed by another running man, "maybe the two men are just running as part of a game", "maybe they're sleepwalking" or, conceivable, "maybe the first man's carrying a weapon". Yet, if we're honest, aren't those all just excuses that we come up with to justify not stepping out of our comfort zone? And anyway, the question arises: "Is there a law against being tired?"

Kafka's very dense text explores fundamental issues of solidarity, civil disobedience and people's willingness to do the right thing. It serves as the point of departure for PASSERS-BY, a work of musical theatre for which Gerhild Steinbuch has penned a libretto depicting three familiar, everyday settings: a scenic lookout, a bus stop and the view from a moving train. Ostensibly mundane things happen, including little helpful gestures that we take for granted, but as time passes tensions rise: with all the repetition and variation in the sequence of actions, what was first taken to be banal and harmless becomes an existential task and increasingly difficult to sustain. Observers become participants. Life maxims, veiled in our automatic gestures, require us to be consistent in our actions, even if it forces us to take up a political position where that "soft, fluffy coat of weariness" – as Gerhild Steinbuch puts it – can no longer help us.

PASSERS-BY (DIE VORÜBERLAUFENDEN) began as an idea of director Theresa von Halle, whose production marks her debut at the Deutsche Oper Berlin. Her work is characterised by a very personal approach to the link between narrative and installation elements. She is supported by composer Andrej Koroliov, co-founder, pianist and keyboarder of Decoder Ensemble from Hamburg. His pieces incorporate sounds that are raw and brutal but also finely textured, producing music of considerable plasticity and dramatic impact, compositions that adopt an incisive, unequivocal stance in their political, social and existential interpretation of the world.

Our articles on the subject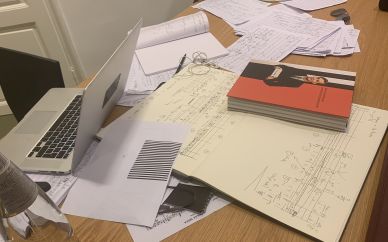 Struggling to hit the right note
New in town? – A profile of director Theresa von Halle