In tune with his time
Even early on, Puccini was delivering one success after another. What makes his operas so captivating, even today? Film critic Wolfgang M. Schmitt on a composer with his finger on the pulse at the turn of the century
We all know the accusations: sentimental kitsch, film music for Hollywood avant la lettre, schmaltzy violins sob to the dramatization of a woman's death. Is it any wonder that pianist Alfred Brendel responds to the question of the greatest tragedy with, "Having to listen to Puccini or Lehár"? Tucholsky's witticism soon comes to mind: "Puccini is the poor man's Verdi, and Lehár is the poor man's Puccini."
Admittedly, it is easy to hate Puccini. It is even easier to love him unconditionally: With the dramatically booming orchestra, those unforgettably beautiful arias, scarcely any other composer plays on the keys of our emotions as skilfully as Puccini. Any doubts are cast aside by the commercialising saying: Only Verdi and Mozart get more airplay. Although, as Ernst Jünger said to Frank Wedekind, "Maggi is famous, too."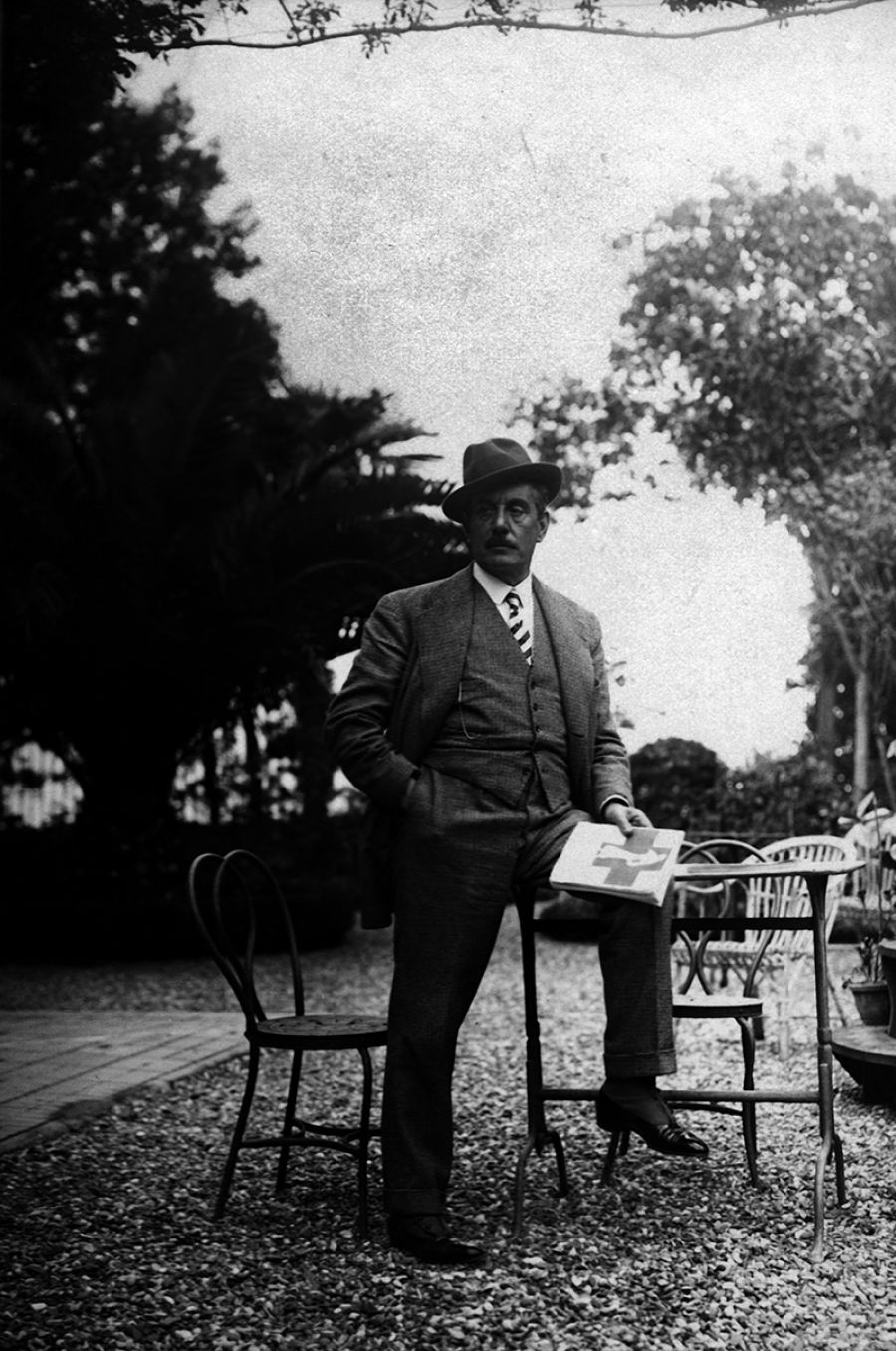 Puccini in the garden of his villa in Torre del Lago. He purchased the tower house in 1899 and had it converted into his and his family's permanent residence. It now holds the museum "Villa Puccini"  © MARKA / Alamy Stock Photo
Puccini's music does touch our hearts, but it's worth exploring the routes it takes through our minds to get there. One major factor is the clever sets that continuously show how sophisticated the seemingly superficial can actually be. A certain tendency toward stereotypical characterisations is rightfully bemoaned, especially in contrast to the honed, profound characters in Verdi's mid-career and later operas. Puccini doubtlessly makes use of simple templates, whereas Verdi painted everything with a fine brush – but the real problem is in the libretti. Puccini often had to deal with editors whom he constantly pushed to make revisions. These dramaturgical weaknesses can turn into opportunities for directors, as long as they don't repudiate the timelessness of the music. Timelessness does not refer to lushness and abundance, nor to the repetition of cliches in the hope that they will become more natural. Boleslaw Barlog, with his production of TOSCA, used style and abstraction to create a classic that congenially melds with the music itself.
It comes down to separating the artist from the art in order to preserve the work should the artist of yesterday no longer fit in with the zeitgeist of today. Puccini himself did not want to disappear behind his works, as he was too infatuated with playing on the burgeoning age of mass media. With the major success of TOSCA in Rome on 14 January 1900 – attended by big names like Pietro Mascagni, Francesco Cilea and Siegfried Wagner – he finally became a big player with a tendency for self-production. The bon vivant Puccini is also familiar with the "aroma of longing" that Musetta mentions all throughout the Café Momus. He becomes at least as hot-blooded when the claque cancelled MADAMA BUTTERFLY's premiere at the Scala in Milan for lack of payment. "It's my best opera, you swine," Puccini is said to have growled from his box.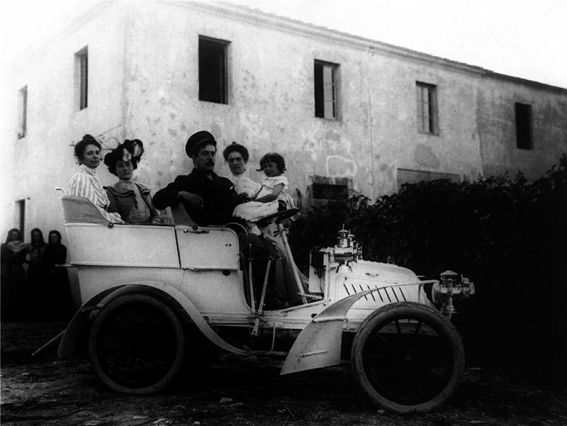 The car lover with his wife Elvira Bonturi and a granddaughter (right) in a De Dion Bouton car. Stepdaughter Fosca Leonardi is wearing a hat in the back seat © ARCHIVIO GBB / Alamy Stock Photo
Just as irascible are the engines in the cars and boats he buys for himself. He proudly reports to friends that his new motorboat can travel 40 kilometres per hour. His Lancia Trikappa was even faster at 130 km/h. "We declare that the splendour of the world has been enriched with even more beauty: the beauty of speed," Filippo Tommaso Marinetti writes in his futurist manifesto. Puccini will only come to embody this futurism in his private life, and not in his works. For as quickly as he travelled, the composer could not escape the 19th century.
Even his uncompleted opera TURANDOT, which he wrote with greater disharmony than before, remains strangely disparate when compared with the radicality of Richard Strauss' ELEKTRA from 1909, or even with the brusquely atonal WOZZECK that Alban Berg was working on at the same time that Puccini's aria "Nessun Dorma" juxtaposed aesthetic regression with progress. The melodious abundance harmonises anything too unwieldy, and as a result, none of Puccini's other tenor arias have since become so disconnected from the original work and been passed around by casting shows and YouTube clips.
It's not a crime to be captivated by "Nessun Dorma". And we have all had those moments when we try to belt out the scream from "Vincerò" and realize that we can't hit the B note. Our ecstasy is best left to the professionals. Puccini once provided some insight into his work method, namely in his only comedic opera, GIANNI SCHICCHI: This humorous high point to IL TRITTICO tells of the fight over an inheritance. Lauretta and Rinuccio want to get married, but this will only be possible if they have a share of the inheritance. In order to manipulate her father, she suddenly erupts into a frenzy of commedia dell'arte, the heart-wrenching aria "O mio babbino caro", in which she threatens to jump from the Ponte Vicchio if her father does not do as she wishes. When this arietta and its lyrical melody are taken out of context, the accusation of kitsch is warranted; when in the proper setting, it is obvious that Puccini is engaging in self-irony. This is how he works when he seeks to move and touch the listener. The sweet poison of this song not only has an effect on Lauretta's father, but also on us. However, the remarkable thing is that even when you know that she is trying to manipulate her father, it still works. Indeed, it is even more enjoyable to let ourselves be hoodwinked by this siren song.
This approach can be taken with all of Puccini's operas: For one, so that we do not forget to think, because being aware does not prevent and rather intensifies our emotions. We are torn from our passiveness. Secondly, because Puccini himself does so. Be it LA BOHEME, TOSCA, LA FANCIULLA DEL WEST, MADAMA BUTTERFLY or MANON LESCAUT – verismo is known to be a contradiction in itself, because it is not natural to suddenly spring into song. And yet because our darkest realities are not paired with dark music, and instead the harmony never fades away, we find ourselves wishing for a counterworld.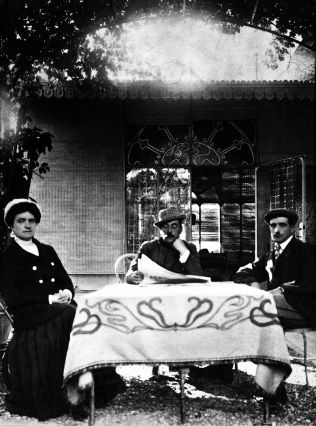 The opera star was a family man in addition to a bon vivant. Shown here in 1912 for a newspaper, with wife Elvira and son Antonio in the garden of their villa © ARCHIVIO GBB / Alamy Stock Photo
Kitsch evokes false emotions. It is a beautiful lie that must remain untrue. Puccini is different: For all his knack for manipulation, he leads us instead toward reality, where lovers are forsaken by the world and we are alone with them – from Rodolfo and Mimi in the Mansarde, or Tosca and Cavaradossi in prison, to Manon and Des Grieux in the desert. It is by no means the historical context alone that robs these couples of their freedom, and it may be a general repression experienced by those who insist on the unconditionality of the feeling. Love is always precarious, and must always be faced with the incomprehension of others – despite how liberal we are.
Puccini tells us through his music to love (and sing) regardless, and to do so passionately and effusively. Verismo, in this sense, means recognising the true radicality of feeling. Puccini's works demand that the audience protest against a reality that wants to make veracity impossible. Loving Puccini means professing this nature of "nevertheless". For these moments do exist, those in which we would rather jump from the Ponte Vecchio than have to live without love.
Wolfgang M. Schmitt is a podcaster, author, and critic. He is most well known for his YouTube channel "Die Filmanalyse".