Catherine Foster ... A place of serenity for my soul: Goethe Park in Weimar
Catherine Foster is well known for her dramatic roles and has been described as the best Elektra singing today. When she is looking to recuperate from the demands of the role, she goes for a walk
My private place of peace is the Goethepark in Weimar, an oasis of nature in the heart of the city. I come from the north of England and moved to Weimar twenty years ago to be part of the Nationaltheater ensemble and just fell in love with the city. I was always travelling, singing at big venues around the world, but Weimar got to be my home, the place where I felt safe. Weimar has everything I need. Everything's within cycling distance and there's always something going on for families. The city has a lot of history but is also youthful and vibrant. And then there's the park, my favourite place of all. It's only a ten-minute walk from my house and I go there as often as I can. When I was new in town, I came here alone to mull over the roles I was singing. I had my daughter in 2003 and used to push the pram around the park. I have a photo of me holding my baby, standing in front of a gorgeous lilac bush, which is at its colourful peak in spring. She's doing her Abitur exams at the moment and the two of us were recently standing at the same spot. Nowadays I often walk my two Havenese dogs there, Barnie and Benji. I did a lot of walking during the lockdowns, sometimes all day long. It was good for my soul.
Although the park is not large, it gives the impression of being its own self-contained world in the remote bosom of nature. It has large open spaces and smaller-scale areas and niches, and there's always something new to discover. »It raises the spirit«, as we say in England. The Goethepark elevates the mood and makes me happy. You've got gently rolling hills on the western fringe, with the Ilm flowing past at the bottom. Its official name is 'the Park on the Ilm', but everyone calls it the Goethepark. Goethe's summer house is on the bank of the river and up on the hillside you've got the 'Roman House', an amazing classicist structure. It's often bathed in sunshine in the afternoon and my dogs like to splash around in a little pool there. Regarding the 'place of serenity' theme, the place where I feel most comfortable is actually the stage. But I don't get to spend all my waking hours there. The place where I feel second most at ease is the Goethepark. It's got to the point where other walkers engage me in conversation because they recognise me.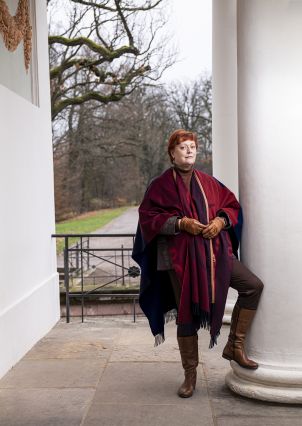 Wagner, Puccini, Strauss: Foster, pictured here at the Roman House in the Goethepark in her adoptive city of Weimar, is a star of the dramatic fach and has sung the role of Elektra over 50 times worldwide. © Guido Werner
When I arrived in Weimar, I had to learn German fast, because few people there spoke it. But I'm pleased I did, because it's helped me to sing roles in German. I'm sure I'm handling them better because I use the language in everyday contexts. I can't say I'm particularly immersed in German classical literature, but I make up for it in my familiarity with the music of Richard Wagner and Richard Strauss. The next part I'm singing at the Deutsche Oper Berlin is Elektra. I've done her about fifty times already, but I always have to dig deep with her because she radiates such incredible power and energy.
Richard Strauss had just moved from Weimar to Berlin when he began work on ELEKTRA, but he still made trips back to Weimar to meet up with Hugo von Hofmannsthal, his librettist. Hofmannsthal would come all the way from Vienna and I like to picture the two of them going for walks here and chewing over their joint project. Hofmannsthal had already written his version of ELEKTRA as a play for the stage, and they must have hashed out all the modifications here in Weimar, all the abridgements and lengthenings that Strauss would have required when crafting an opera out of a spoken-word work.
Maybe they met down on the banks of the Ilm. For my part, that riverside setting is very conducive to me sorting out my approach to a particular role and also getting in touch my own core. I've studied a lot of libretti while sitting on a particular bench in the Goethepark. TRISTAN, the RING, and obviously ELEKTRA.
If you ask me, Hofmannsthal is a genius. Take these lyrics from ELEKTRA: »I'm like a dog at your heel. If you're set on entering a cave, I'll pounce up at you from the side, and we'll keep driving you away until a wall blocks off all access!« Sentences like those are what helped me learn German. I've spent long moments pondering them. The poetry is so dark and powerful, and Hofmannsthal's Elektra has such a crazy, cumbersome personality, that it's sometimes actually painful getting into the role.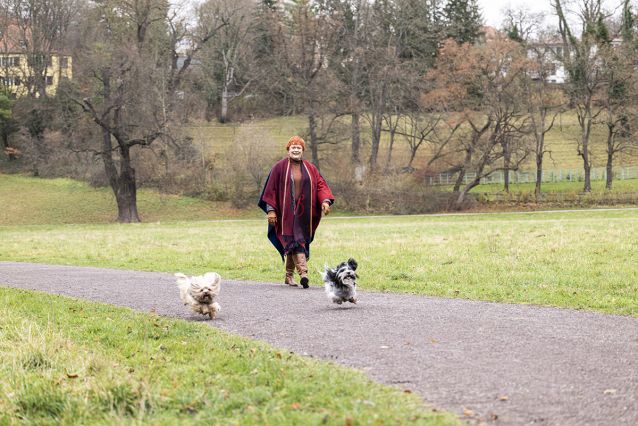 The park, a place for letting thoughts and dogs run free. Richard Strauss and Hugo von Hofmannsthal may well have hashed out ideas for ELEKTRA here © Guido Werner
My husband once said to me: »I'd prefer not to live under the same roof as you when you're working on that role.« He meant it as a joke, but I know what he means. That woman has so much sheer strength and power in her – and so much violence, too.
When I've been working for an extended period of time on Elektra, I need to take breaks, which is when I head straight for my park to oxygenate my head.