A tribute by Curt A. Roesler
Clemens Bieber ... Farewell? Please don't!
With the role of Tamino, Clemens Bieber says goodbye towards his so-called retirement on 8 June. But even after reaching the official age limit, Clemens Bieber will fortunately remain connected to the Deutsche Oper Berlin.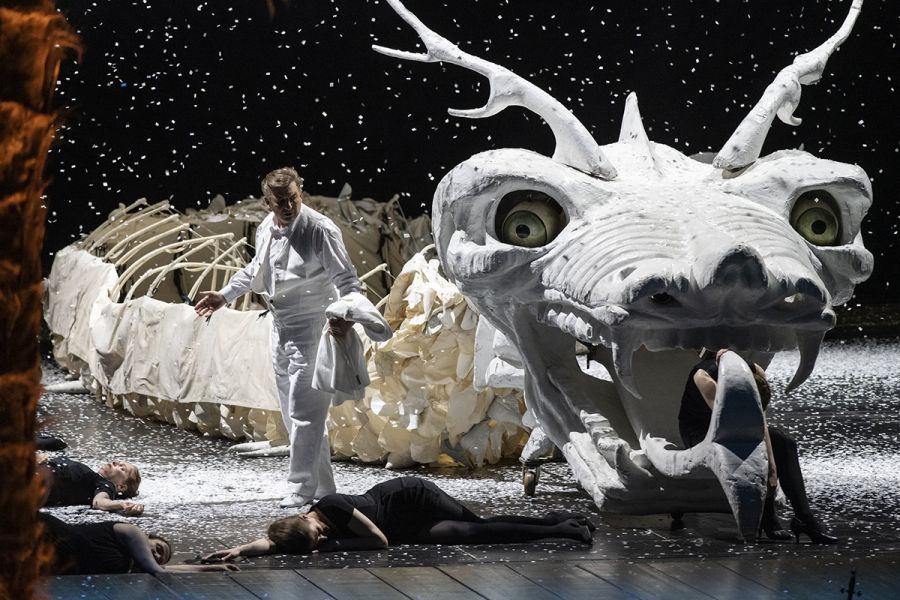 Die Zauberflöte © Marcus Lieberenz
Clemens Bieber als Tamino © Kranichphoto
Die Zauberflöte © Marcus Lieberenz
Die Zauberflöte © Marcus Lieberenz
Die Zauberflöte © Marcus Lieberenz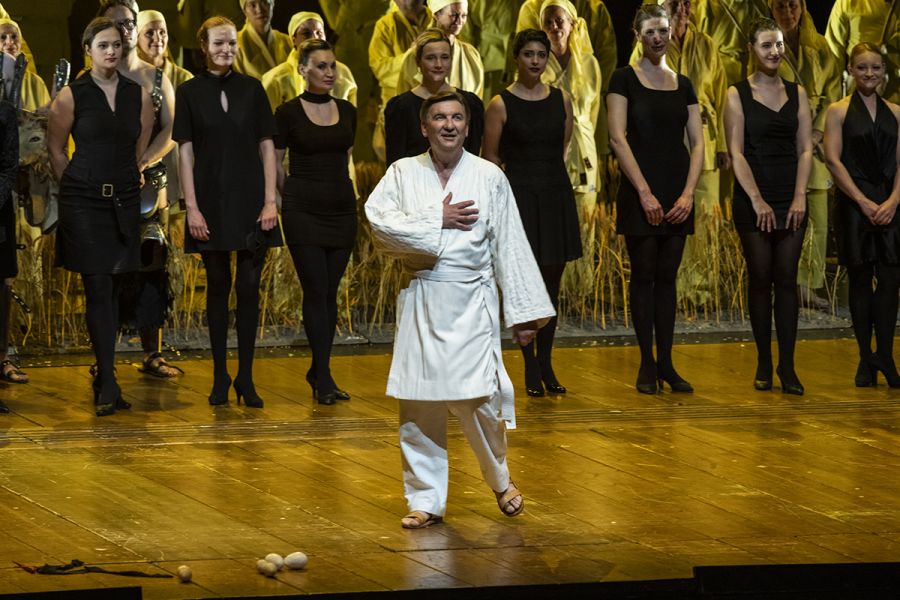 Die Zauberflöte © Marcus Lieberenz
Clemens Bieber, nach der Laudatio © Marcus Lieberenz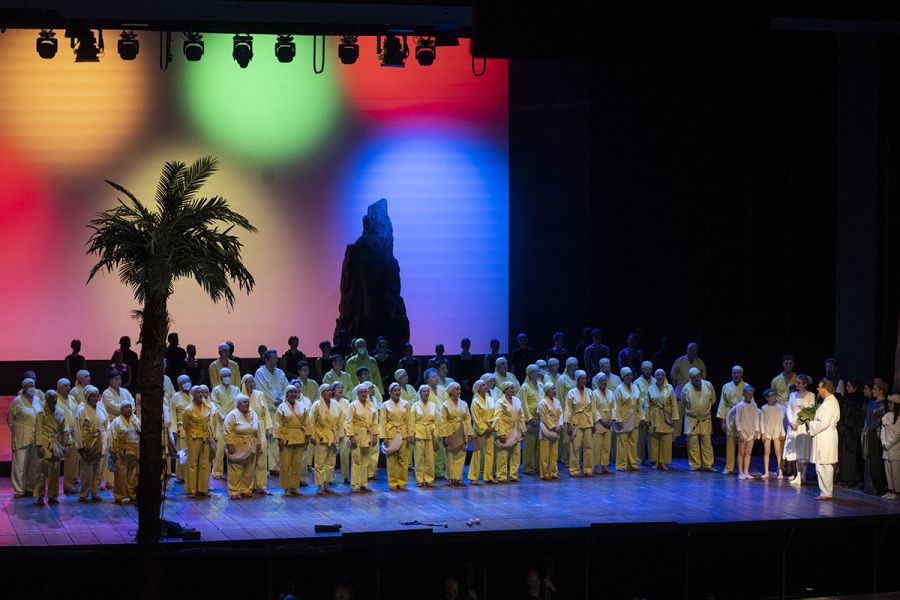 Das Abschiedsständchen des Chores für Clemens Bieber © Marcus Lieberenz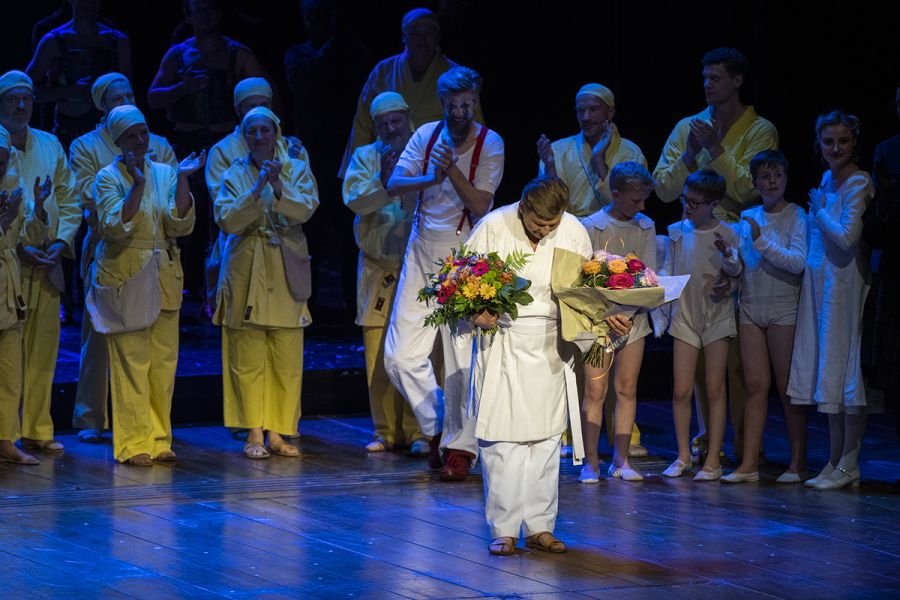 Clemens Biber beim Schlussapplaus © Marcus Lieberenz
With the role of Tamino, Clemens Bieber said goodbye towards his so-called retirement on 8 June. This is not only the role he has probably sung most often at the Deutsche Oper Berlin, but also the one with which he associates a special experience that lies at the beginning of his time in Berlin: in 1988 he came from Saarbrücken to the city which was then divided into four sectors; reunification was imminent, but no one suspected that. The Wall had already become somewhat more permeable, at least in one direction: Clemens Bieber was engaged by the Komische Oper as a guest for the new production DIE ENTFÜHRUNG AUS DEM SERAIL, directed by Harry Kupfer. Rehearsals took place from summer to December 1989, so he witnessed the exciting time every day at the border crossing. On 9 November he sang the Marquis of Châteauneuf in ZAR UND ZIMMERMANN at the Deutsche Oper Berlin. After the performance, the city was already in a frenzy. The ensemble, chorus and orchestra spontaneously decided to give a special performance of ZAUBERFLÖTE for visitors from the GDR on the following Sunday, 12 November. With the 158th performance of ZAUBERFLÖTE in Peter Beauvais's 1978 production, the Deutsche Oper Berlin thus fulfilled its purpose as an opera house for the whole of Berlin for the first time and, as Clemens Bieber recalls, this could also be felt. It was an atmosphere that one does not forget. Two years later Günter Krämer restaged DIE ZAUBERFLÖTE; in the premiere another young tenor from the ensemble, Peter Seiffert, sang, but Clemens Bieber soon took over the role of Tamino in this production as well, which he has sung countless times since.
Clemens Bieber as Tamino © Kranichphoto
His first role on the stage of the Deutsche Oper Berlin in 1988 was Fenton in a revival of FALSTAFF in Götz Friedrich's 1977 production - later he also sang Dr. Cajus in this production. Numerous productions by Götz Friedrich followed until his death in 2000, a particular highlight of which was the MATTHEW PASSION in stage designs by Günther Uecker. The role of the evangelist is made for Clemens Bieber's voice and vocal delivery. Today we are used to being able to read along with the text in the opera, that was never necessary with him, you understand every word he says. This also and especially distinguishes his Wagner interpretations, such as David, which he rehearsed more than thoroughly in Berlin with Götz Friedrich and in Bayreuth with Christian Thielemann. He sang Parsifal and Lohengrin mainly at other theatres, but as Walther von der Vogelweide he still leads the TANNHÄUSER ensemble, quite literally. His timbre gives the minnesingers' singing its own character. When rehearsals for the current production began in 2008, it was already his eighth production of the work. He had not only sung Walther in the previous production by Götz Friedrich, but also several times on the Grüner Hügel under the musical direction of Giuseppe Sinopoli, among others.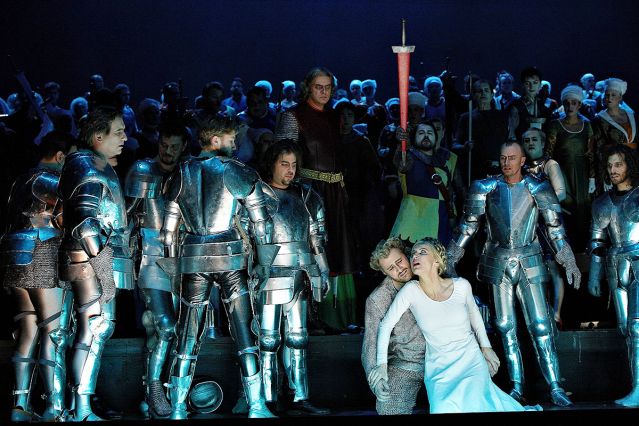 Clemens Bieber as Walther von der Vogelweide © Matthias Horn
Mozart, Wagner and contemporary opera have been the focal points of the repertoire at the Deutsche Oper Berlin since 1961, so it is not surprising that Clemens Bieber has participated in numerous premieres and first performances. The round of premieres began with Hans Werner Henze: DAS VERRATENE MEER in 1990, continued with DESDEMONA UND IHRE SCHWESTERN by Siegfried Matthus (co-production with the Komische Oper Berlin and the Schwetzinger Festspiele) in 1992, and was far from over with DREYFUS - DIE AFFÄRE by Jost Meier in 1994. Not only on the main stage, but also in the foyer and in the Tischlerei (studio), he put his voice and his skills at the service of the present, for example in WIR AUS GLAS by Yasutaki Inamori in 2018, a co-production with the Munich Biennale.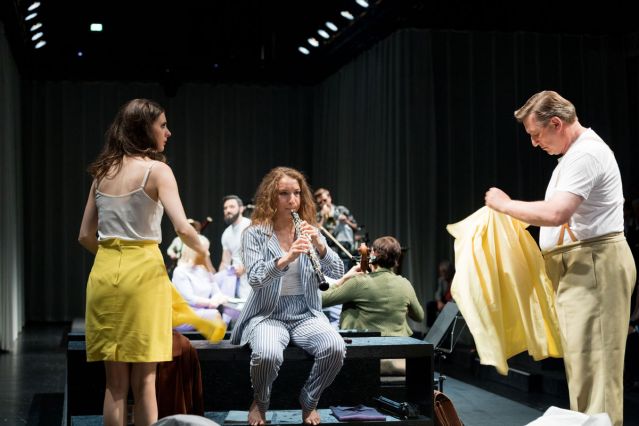 Wir aus Glas © Eike Walkenhorst
Two premiere productions deserve to be highlighted, each of which premiered somewhat further back in time.  Berlin had some catching up to do with both, and both were directed by one of the most important directors to work alongside Götz Friedrich during his time at the Deutsche Oper Berlin, Günter Krämer. The fact that DIE SACHE MAKROPULOS by Leoš Janáček was not performed in Berlin in 1926 or 1927 was supposedly because Otto Klemperer and Erich Kleiber could not agree on who should own the first performance, but by 1990 there would have been many opportunities, even in the divided city. The production marked the end of Günter Krämer and Jiří Kout's "Slavic trilogy", which they had begun in 1986 with KATJA KABANOVA and continued in 1988 with LADY MACBETH OF THE MTSENSK DISTRICT. DIALOGUE OF THE CARMELITES by Francis Poulenc also had to wait a very long time before it could be seen in Berlin. Paris, London, Vienna and New York followed within five years of its premiere at La Scala in Milan in 1957, but the opera had a hard time in Germany and especially in Berlin, where people may have had different aesthetic ideas of what contemporary art was. The production is one of the most moving at the Deutsche Oper Berlin in the past forty years. And Clemens Bieber showed a facet of his vocal artistry in it that was otherwise not so often called for, a distinctly "French" timbre.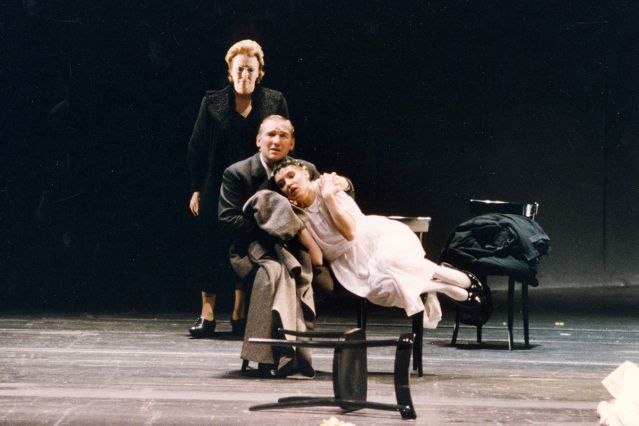 Clemens Bieber in DIALOGUE OF THE CARMELITES © Kranichphoto
Fortunately, even after reaching the official age limit, Clemens Bieber will continue to be associated with the Deutsche Oper Berlin - just four days after his farewell performance he can be heard in the premiere of the new production of the MEISTERSINGER VON NÜRNBERG, and in the coming season he will take part in the performances of ANTIKRIST, DAS WUNDER DER HELIANE and TRISTAN UND ISOLDE.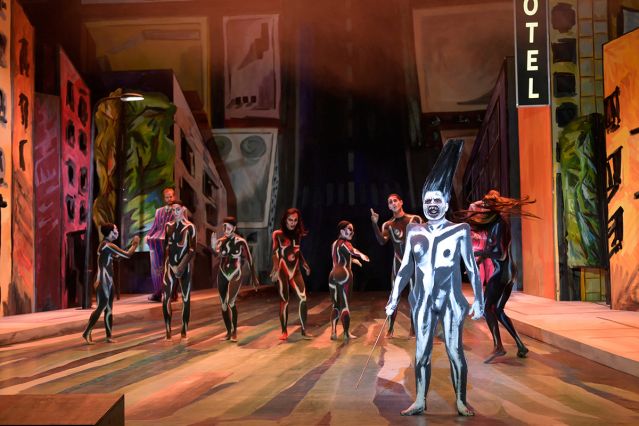 Clemens Bieber as The Mouth speaking Great Words in Langgaard's ANTIKRIST © Thomas Aurin
We wish him all the best and of course we wish him a well-deserved retirement after almost 35 very eventful years at this house.