Dr Takt is our man behind the score. He is very familiar with the work and reveals to us its special moments. This time:
Dr Takt on Rossini's "Il barbiere di Siviglia" / Overture measure 95
This is the 13th episode in our series of videos with Dr Takt
The accusation of a (albeit brilliant) polished superficiality applies to no element of Rossini's design vocabulary as much as to his meticulously written trills, grace notes and swift passages. Yet these are far more than arbitrary ornamentation, but rather part of a subtly designed tempo structure. Take, for example, measure 95 of the Overture from BARBIERE.
It concludes the first phase of the string theme with a suspended note into the melody, when the G sharp gives way to the A, the fifth of D major. At the same time the first violins play around the D with a brief sixteenth figure. They thus make only a meagre contribution to the musical substance of the melody, but are integral to the rhythmic substance: the harmonious internal tension is set in motion, the motor activity of the sixteenth accelerates – and simultaneously drives the music forward.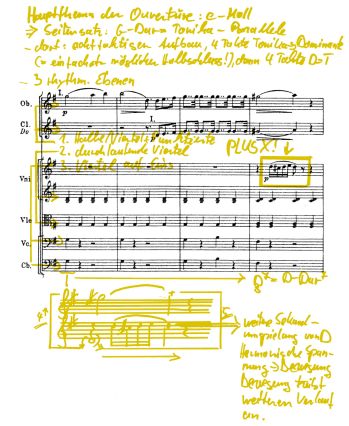 Dr. Takt's comments to IL BARBIERE DI SIVIGLIA