Dr Takt is our man behind the score and reveals to us its special moments.
Dr Takt on Wagner's Twilight of the Gods / "theme of forgetting", Act I, measure 498/499
This is the 19th episode in our series of videos with Dr Takt
The "Book of Themes" for Wagner's RING contains nearly 200 themes. These include catchy tunes, and a number of candidates for "most unknown theme". One of these is the "theme of forgetting". It represents a central moment, the erasing of Siegfried's memory of Brünnhilde after drinking Gutrune's potion. This turns Siegfried into a tool and victim of Hagen's plan in the fight for the Ring and world supremacy. At its core the theme is a change in chords, as the root and the third of a minor six-four chord are chromatically shifted. Then comes the characteristic third jump from the fifth to the ninth of the subsequent, wan, tense and truncated seven-nine chord. Only through instrumentation and the position in the musical phrase does this chord shift become a main theme – one that expresses the upcoming calamity as well as Brünnhilde's rage in light of the betrayal against her.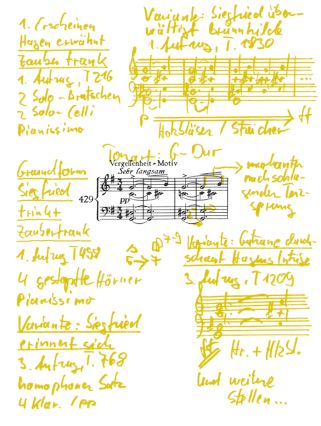 Dr. Takt über Wagners Götterdämmerung