Michael Adams
© Agentur
Michael Adams, der von Opera News für seinen "brandishing a beautiful, evenly produced, nicely ripe sound" gelobt wurde, gibt in der Saison 2021/22 zwei Debüts in seinem Heimatstaat Texas: Als Sharpless in MADAMA BUTTERFLY an der Dallas Opera und als Graf in LE NOZZE DI FIGARO an der Austin Opera, bevor er für die Produktion von LE NOZZE DI FIGARO in den Spielplan der Metropolitan Opera aufgenommen wird. Außerdem kehrt er an die Utah Opera zurück, wo er erstmals den Figaro in IL BARBIERE DI SIVIGLIA singt, der ursprünglich während der Pandemie geplant war. In der vergangenen Saison kehrte er an die Seattle Opera als Belcore in einer verfilmten Aufführung von L'ELISIR D'AMORE und an das Grand Théâtre de Genève als Maximilan in verfilmten Auszügen von CANDIDE zurück, beides Rollendebüts. Im Sommer trat er zusammen mit der Opera Omaha in einem Freiluftkonzert mit Opernlieblingen auf.

Sein Debüt an der Metropolitan Opera als Kuligin in KATJA KABANOWA, seine Rückkehr zum Glimmerglass Festival sowie die Titelrolle in DON GIOVANNI, ebenso Graf in LE NOZZE DI FIGARO mit der Opera Omaha und der Madison Opera, seine Rückkehr zur Fort Worth Symphony für Beethovens 9. Sinfonie und die ersten Aufführungen von Orffs CARMINA BURANA wurden bedauerlicherweise wegen der COVID-19-Pandemie abgesagt.

Der Bariton gab kürzlich sein Debüt am Grand Teatre del Liceu als Zurga in LES PÊCHEURS DE PERLES. An der Seattle Opera war er zunächst in der Titelrolle in EUGEN ONEGIN und als Guglielmo in COSÌ FAN TUTTE zu hören. Am Grand Théâtre de Genève debütierte er als Melisso in ALCINA, als Marcello in LA BOHÈME und als Masetto in DON GIOVANNI. An der Utah Opera gsstierte er als Marcello in LA BOHÈME, Silvio in PAGLIACCI und Betto in GIANNI SCHICCHI, an der Des Moines Metro Opera als Lescaut in MANON, Ping in TURANDOT und Donald in BILLY BUDD. Er trat an der Knoxville Opera als Enrico in LUCIA DI LAMMERMOOR auf, hatte seinen ersten Auftritt beim Glimmerglass Festival als Gaylord Ravenal in SHOWBOAT und sang Edwin Cheney in Hagen's SHINING BROW an der Arizona Opera.

Michael Adams kehrte an die Washington National Opera als Papageno in DIE ZAUBERFLÖTE und Leutnant Audebert in Puts' SILENT NIGHT zurück. Als ehemaliger Cafritz Young Artist des Hauses sang er Melisso in ALCINA, den Piloten in Portmans THE LITTLE PRINCE, die Titelrolle in DON GIOVANNI, Yamadori in MADAMA BUTTERFLY und den Motorrad-Cop und Gefängniswärter Nr. 1 in DEAD MAN WALKING. Für eine Spielzeit war er an der Deutschen Oper Berlin engagiert, wo er eine Reihe von Rollen sang, darunter Ping in TURANDOT, Marquis in LA TRAVIATA und Harašta in DAS SCHLAUE FÜCHSLEIN. Zu seinen Konzertauftritten gehören ein Bernstein-Konzert unter der Leitung von Miguel Harth-Bedoya, Bachs Kantate Nr. 29 und Händels "Te Deum", alle mit der Fort Worth Symphony.

Michael Adams war zwei Jahre lang Resident Artist an der Academy of Vocal Arts, wo er unter anderem Valentin in FAUST, Guglielmo in COSÌ FAN TUTTE, Lescaut in MANON, Tomsky in PIQUE DAME, Schaunard in LA BOHÈME und Taddeo in L'ITALIANA IN ALGERI sang. Er ist ein ehemaliger Resident Artist der Santa Fe Opera und Studio Artist an der Wolf Trap Opera.

Er war 2018 Stipendiat der William Matheus Sullivan Musical Foundation. Darüber hinaus gewann er 2015 den ersten Platz beim Gerda Lissner International Vocal Competition, beim Licia Albanese-Puccini Foundation International Vocal Competition und beim Mario Lanza Competition, den Namensgeberpreis der Nelson Eddy Foundation, den dritten Platz beim Giulio Gari Foundation International Vocal Competition und den fünften Platz beim Loren L. Zachary Competition, einen Förderpreis des Opera Index Competition. Im Jahr 2015 war er Halbfinalist bei den Metropolitan Opera National Council Auditions.

Michael Adams hat einen Bachelor of Music von der Texas Christian University und absolvierte eine weitere Ausbildung an der Seagle Music Colony und der Janiec Opera Company des Brevard Music Center.
Schedule
Videos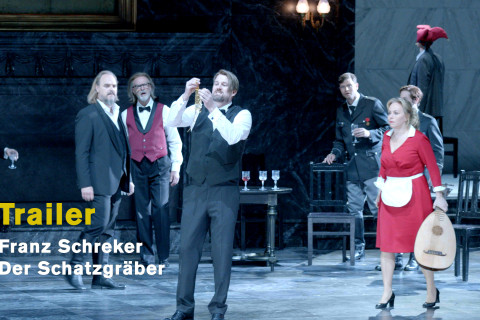 Video – 02:47 min.
Franz Schreker: Der Schatzgräber