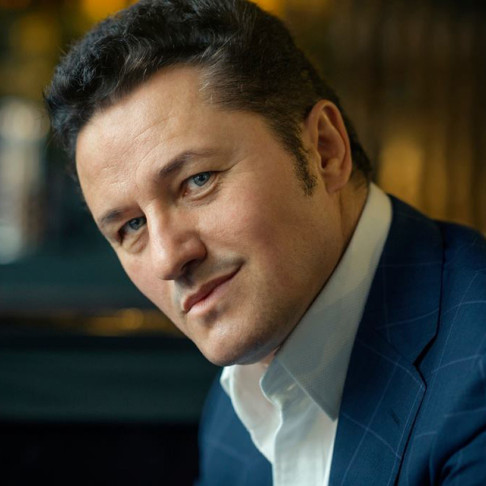 Piotr Beczala
© Jean-Baptiste Millot
"Polish tenor and Met house favorite Piotr Beczala didn't merely sing with gleaming lyric authority in each of the modes (comic, romantic, tragic) that Verdi packs into his part. … This was just the first hint of how completely Beczala would elevate everything around him", schrieb über ihn "The Guardian".

Piotr Beczala ist heute einer der meistgefragten Tenöre der Welt und an allen renommierten Bühnen der Welt gern gesehener und viel engagierter Gast. Seine jüngsten Engagements führen ihn neben Vorstellungen von LA TRAVIATA und UN BALLO IN MASCHERA an der Deutschen Oper Berlin u. a. als Des Grieux in Massenets MANON nach Zürich, zu Liederabenden und als Cavaradossi / TOSCA an die Wiener Staatsoper, als Rodolfo / LUISA MILLER nach Barcelona, wieder als Lohengrin nach Bayreuth sowie als Jontek in Moniuszkos HALKA ans Theater an der Wien.

Die Engagements der vergangenen Jahre führten ihn vor allem an die renommierten Bühnen in den USA und Europa, so gastierte er in Chicago, New York, Berlin, Barcelona, Wien, Zürich, an der San Diego Opera, wo er Partien wie Edgardo / LUCIA DI LAMMERMOOR, Rodolfo / LA BOHEME, Werther, Gustaf III. / UN BALLO IN MASCHERA oder Prinz Sou-Chong / DAS LAND DES LÄCHELNS zu erleben war.

Sein Debüt an der Deutschen Oper Berlin gab er 1998 als Tamino, es folgten an diesem Haus Italienischer Sänger / DER ROSENKAVALIER, Herzog von Mantua / RIGOLETTO, Rodolfo / LA BOHEME und Alfredo / LA TRAVIATA.

An der Metropolitan Opera New York debütierte er 2006 als Herzog von Mantua / RIGOLETTO und ist dort seither immer wieder zu Gast, u. a. als Lenskij in einer Neuproduktion von EUGEN ONEGIN an der Seite von u. a. Anna Netrebko, als Prinz / RUSALKA, Edgardo / LUCIA DI LAMMERMOOR, Rodolfo / LA BOHEME, in Gounods ROMEO ET JULIETTE und FAUST. 2011 begleitete er die MET auf ein großes Japan-Gastspiel und sang in diesem Rahmen Rodolfo und Edgardo. 2012 sang er dort erstmals Chevalier des Grieux in Laurent Pellys Neuproduktion der MANON an der Seite wieder von Anna Netrebko und unter Leitung von Fabio Luisi. Diese Produktion wurde auch weltweit in die Kinos ausgestrahlt. Eine DVD mit Beczala als Herzog und Diana Damrau als Gilda erschien im Januar 2013, wofür er im Jahr 2014 mit dem ECHO Klassik Award als "Sänger des Jahres" geehrt wurde. 2015/2016 erschloss sich Piotr Beczala an der Semperoper mit der Titelpartie in LOHENGRIN eine weitere Partie, die er seither regelmäßig auch in Bayreuth interpretiert. Seit seinem Debüt im Jahre 2006 an der Scala in Mailand als Duca di Manova kehrte er dorthin u. a. als Rodolfo / LA BOHEME zurück und eröffnete die Saison 2013/2014 als Alfredo in einer Neuproduktion von LA TRAVIATA. Ebenfalls regelmäßig singt er an der Bayerischen Staatsoper in München (u. a. Prinz / RUSALKA, Alfredo, Italienischer Sänger / DER ROSENKAVALIER oder Werther) und an der Wiener Staatsoper (Alfredo, Romeo, Tamino, Rudolfo / LA BOHEME). Engagements führten ihn zudem an De Nationale Opera, das Théâtre de la Monnaie/de Munt, die Staatsoper Hamburg, die Staatsoper Unter den Linden Berlin, das Grand Théâtre de Genève, das Teatro Comunale di Bologna, das Teatr Wielki in Warschau und ans Mariinsky Theater in Sankt Petersburg. Erstmals 1997 sang er im Rahmen der Salzburger Festspiele: Auf seinen Tamino folgten Johannes Brahms' Kantate "Rinaldo" unter Leitung von Sir Elliott Gardiner im Rahmen der Pfingstfestspiele und Prinz / RUSALKA, Roméo / ROMEO ET JULIETTE, Gounods FAUST sowie Rodolfo in Damiano Michielettos Neuproduktion der LA BOHEME im Rahmen der Sommerfestspiele (liegt auch als DVD bei der Deutschen Grammophon vor). Auch sang er 2011 in konzertanten Vorstellungen von Tschaikowskijs JOLANTHE und 2013 unter Leitung von Riccardo Muti Verdis "Messa da Requiem" mit den Wiener Philharmonikern.

In Czechowice-Dziedzice, Südpolen, geboren und ausgebildet gelangte Piotr Beczala nach seinem ersten Engagement am Linzer Landestheaters an die Oper Zürich, der er seitdem eng verbunden ist und an der er 2007 sein Rollendebüt als Edgardo in Donizettis LUCIA DI LAMMERMOOR feierte. Dort interpretierte er auch zahlreiche seiner Paraderollen, Alfredo, Faust, Tamino, Elvino / LA SONNAMBULA, Gustaf III. / UN BALLO IN MASCHERA, Rodolfo / LA BOHEME sowie Orchesterlieder von Richard Strauss.

Zahllose CDs und DVDs dokumentieren die Vielseitigkeit und Rollensensibilität, etwa FAUST (Orfeo) und LA TRAVIATA (Farao), die 2008 für einen "Grammy Award" nominiert war, Szymanowskis KRÓL ROGER oder Offenbachs RHEINNIXEN (Accord) oder Johann Strauss II. SIMPLICIUS (EMI). Edgardo / LUCIA DI LAMMERMOOR mit Natalie Dessay in der Titelpartie und unter Leitung von Valery Gergiev am Mariinsky Theater entstand in deren eigenem Label. Auch sind in den letzten Jahren vier Solo-CDs erschienen: "Salut" mit französischen und italienischen Arien (2008), "Slavic Opera Arias" 2011 mit Werken von Borodin, Tschaikowskij, Rimskij-Korsakow, Rachmaninow, Moniuszko, Zelenski, Nowowiejski, Smetana und Dvorák. 2013 schließlich erschien sein "Verdi"-Album. Seit 2012 ist Piotr Beczala Exclusive Artist der Deutschen Grammophon und 2015 erschien "The French Collection".
Schedule