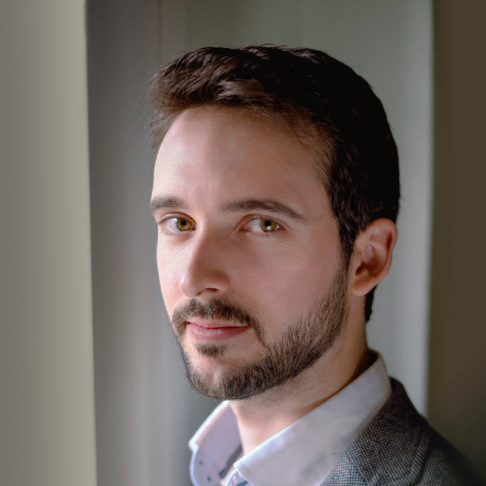 Juan de Dios Mateos
© Agentur
Im spanischen Almeria geboren, studierte Juan de Dios Mateos zunächst Flöte und Gesang am Konservatorium seiner Heimatstadt. 2013, ein Jahr nach seinem Examen im Fach Flöte, wechselte er an die Universität Jaén und studierte dort weiter Operngesang. Erste Bühnenerfahrungen sammelte er bereits ab 2009, unter anderem als Basilio und Curzio / LE NOZZE DI FIGARO. Es folgten Don Ottavio / DON GIOVANNI, Bastien / BASTIEN UND BASTIENNE, Tony / WEST SIDE STORY, Raoul / THE PHANTOM OF THE OPERA, Javier / LUISA FERNANDA mit verschiedensten Opern- und Zarzuela-Kompanien in Spanien, Frankreich, England und Deutschland. Meisterkurse besuchte er u. a. bei Raina Kabaivanska, Hedwig Fassbender, Ildar Abdrazakov, Luciana d'Intino und Jaume Aragall, kürzlich bei Carlos Aransay und Guy Flechter. Er gewann den zweiten Preis des renommierten Hariclea Darclée International Voice Competition.

Im Jahr 2016 wurde er Mitglied des Opernstudios der Pariser Opéra, wo er u. a. Partien wie Sir Phillip und Narrator / OWEN WINGRAVE, Mercure und Thélème / LES FÊTES D'HEBÉ, Bastien / BASTIEN ET BASTIENNE sowie den Tenorpart in "The Little Match Girl Passion" von David Lang interpretierte

Zu seinen jüngsten Engagements zählen u. a. sein Debüt am Teatro Campoamor in Oviedo mit Narciso / IL TURCO IN sowie seine Wiedereinladung ans Liceu mit Mitrane / SEMIRAMIDE. Er sang Cavalier Belfiore / IL VIAGGIO A REIMS am Gran Teatre del Liceu und zur Saisoneröffnung 2017/2018 am Opernstudio Paris die Partie des Soldaten in Boesmans REIGEN. Außerdem steht ein Liederabend in Beirut und am Palais Garnier in Paris auf seinem Spielplan.
Schedule
In performances like
Videos
Video – 14:13 min.
Ritornell und Parade der Nationen (Finale - Il viaggio a Reims)
Video – 02:09 min.
Gioacchino Rossini: Il viaggio a Reims