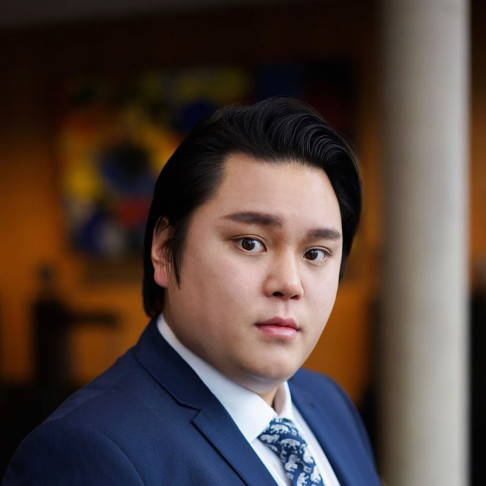 Michael Kim
© Kwang-Seok "Rich" Cho
Der in Seoul geborene Tenor Michael Kim studierte zunächst bei Prof. Kwangchul Youn Gesang an der Nationaluniversität seiner Heimatstadt und wechselte im Oktober 2017 an die Hochschule für Musik Hanns Eisler zu Prof. Scott Weir. In Meisterklassen bei Prof. Helmut Deutsch, Prof. Dongwon Sihn und bei Samuel Youn vervollständigte er seine bisherige Ausbildung. Er ist Preisträger zahlreicher Wettbewerbe, darunter der YoungIn-Wettbewerb (2009 – Erster Preis), der Labella-Opern-Wettbewerb (2014 – Dritter Preis), der Younji-Lied-Wettbewerb (2014 – Erster Preis), der Ihwa-Wettbewerb (2015 – Zweiter Preis) sowie der Korea-Seil-Wettbewerb (2015 – Dritter Preis).

Ab der Saison 2019/2020 wird Michael Kim das Ensemble der Deutschen Oper Berlin als Stipendiat des WCN Südkorea bereichern.
Bereits letzte Saison gab er sein Debüt hier am Hause im "Hinterhalt" zu LA SONNAMBULA an der Seite seiner Landsfrau Cornelia Kim und gastierte anschließend als Pong / TURANDOT hier am Hause. In dieser Spielzeit hat er bereits in der Neuproduktion von LA FORZA DEL DESTINO die Partie des Mastro Tarbuco übernommen und wird wieder als Pong in TURANDOT aber auch u. a. in UN BALLO IN MASCHERA, MADAMA BUTTERFLY, DEATH IN VENICE und der Neuproduktion von Brittens A MIDSUMMER NIGHT'S DREAM zu erleben sein.
Les Vêpres Siciliennes
The Master Singers of Nuremberg
Videos
Video – 02:17 min.
Benjamin Britten: A Midsummer Night's Dream