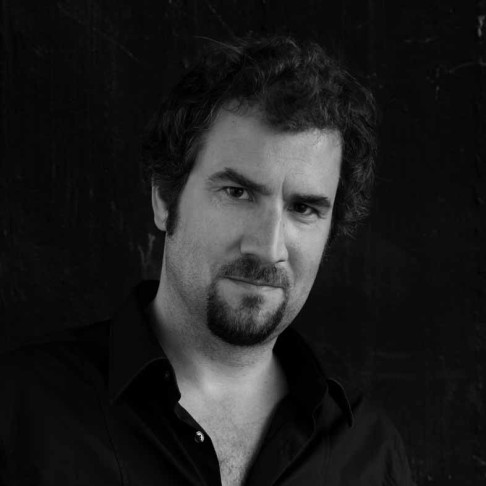 Roland Schwab
© Foto André Rival
Roland Schwab, geboren in Saint Cloud / Paris, wuchs in München auf. Nach Studiensemestern in Germanistik und Physik begann er 1992 an der Hochschule für Musik und Darstellende Kunst in Hamburg das Studium der Musiktheater-Regie unter Prof. Götz Friedrich. Noch während des Studiums war er Assistent am Opernstudio Karlsruhe und an der Opéra National du Rhin, Strasbourg, bei Prof. Renate Ackermann. Weitere Assistenzen bei Götz Friedrich, Harry Kupfer und Ruth Berghaus führten ihn an die Deutsche Oper Berlin, die Hamburgische Staatsoper, sowie an die Oper Zürich. Besonders Ruth Berghaus, deren Meisterschüler er 1994 wurde, verdankte er wichtige Impulse. 1997 führte ihn ein Gastspiel an das Berliner Ensemble, an dem er FRANK ALERT MEETS BRECHT inszenierte. Nach seinem Studium in Hamburg, das er mit Auszeichnung abschloss, war Roland Schwab von 1998 an Assistent von Christine Mielitz am Meininger Theater (DER RING DES NIBELUNGEN), an welchem er schließlich, ab 2002, als Oberspielleiter wirkte. Am Meininger Theater inszenierte er zwei Mozart-Produktionen, COSI FAN TUTTE (2001) und LE NOZZE DI FIGARO (2002), die für großes Aufsehen sorgten. In den darauffolgenden Jahren war Roland Schwab als Gastregisseur an den Theatern Münster (PARISER LEBEN), dem Theater Freiburg (LUCIA DI LAMMERMOOR), dem Tiroler Landestheater Innsbruck (ROMEO ET JULIETTE), dem Musiktheater im Revier (AIDA), der Opera Bergen, Norwegen (TURANDOT), dem Theater Gera (WERTHER), dem Landestheater Linz (MANON, GESPRÄCHE DER KARMELITINNEN), dem Anhaltischen Theater Dessau (EIN MASKENBALL) und an der Oper Bonn (LA SONNAMBULA) tätig. 2007 widmete er sich der Barockoper mit zwei Versionen des Rasenden Roland, ORLANDO FURIOSO von Antonio Vivaldi und ORLANDO von Georg Friedrich Händel am Niederbayerischen Landestheater sowie am Theater Biel Solothurn.

Wichtige und viel besprochene Arbeiten der letzten Zeit waren THE RAKE`S PROGRESS an der Oper Dortmund (2008), MERLIN von Isaac Albeniz am Musiktheater im Revier (Deutsche Erstaufführung 2011), sowie seine drei Inszenierungen für die Deutsche Oper Berlin, MOZART-FRAGMENTE (zum Mozartjahr 2006), TIEFLAND von Eugen d´Albert (2007) sowie Mozarts DON GIOVANNI (2010) an der Deutschen Oper Berlin. Diese Produktion wurde 2012 zum Opernfestival Peralada / Spanien eingeladen.

Weitere Regiearbeiten führten Roland Schwab an das Theater Altenburg (DIE LUSTIGE WITWE), an das Staatstheater Braunschweig (FARNACE), sowie an die San Diego Opera/USA (DON GIOVANNI), an die Bayrische Staatsoper München (MEFISTOFELE) sowie das Aalto Theater Essen (OTELLO).
Schedule
In performances like
Videos
Video – 05:04 min.
Don Giovanni – The Making-Of
Video –
Wolfgang Amadeus Mozart: Don Giovanni
Video – 01:47 min.
Eugen D'Albert: Tiefland