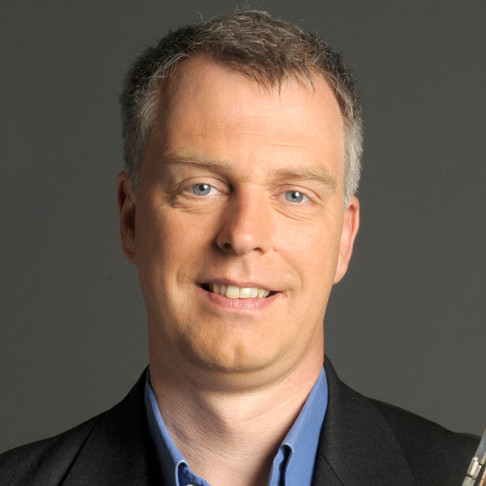 Holger Simon
© Bettina Stöß
Holger Simon* (Fagottist) bekam im Alter von 16 Jahren den ersten Fagottunterricht. Er studierte in Würzburg (Eberhard Buschmann), am Mozarteum Salzburg (Milan Turkovic) und Mannheim (Alfred Rinderspacher). Schon während des Studiums spielte er in namhaften Orchestern in Österreich und Deutschland als Aushilfe. Nach Engagements am Theater Oberhausen und der Philharmonia Ungarica wechselte er 1991 in das Orchester der Deutschen Oper Berlin. Dort wurde er 1996 zum Berliner Kammermusiker ernannt.

Holger Simon initiierte KLASSIK IS' COOL !, ein Jugendprogramm, welches über 15 Jahre erfolgreich an der Deutschen Oper Berlin durchgeführt wurde. Neben seinem Hauptberuf studierte Holger Simon den Diplomstudiengang Kulturmanagement und Betriebswirtschaftslehre an der Fernuniversität Hagen. Er organisierte als Orchestervorstand der Deutschen Oper Berlin viele Konzerte, Events, Pressekonferenzen, CD-Präsentationen und akquirierte und pflegte Sponsorships. Zwölf Jahre lang arbeitet er außerdem mit Jugendorchestern. So war er Manager der Deutsch-Skandinavischen Jugend-Philharmonie, Interimsgeschäftsführer des Bundesjugendorchesters (2000/2001) und erschuf mit dem Dirigenten Christoph Altstaedt das trinationale Junge Klangforum Mitte Europa, das sich sehr für die Aussöhnung zwischen Tschechien, Polen und Deutschland engagiert hat. Holger Simon selbst sowie Projekte, die er organisiert hat, wurden mit namhaften Preisen ausgezeichnet, wie dem Kunstpreis der Dresdner Bank, dem Innovationspreis Ehrenamt, dem Praemium Imperiale – The Grant for Young Artists, dem Marion-Dönhoff-Förderpreis und dem Europäischen Jugendorchesterpreis.

In den letzten Jahren hat sich Holger Simon neben Aushilfstätigkeiten in namhaften Spitzenorchestern verstärkt pädagogischen Aufgaben gewidmet. Er hat eine Fagottklasse an der Musikschule Tempelhof-Schöneberg aufgebaut und gibt regelmäßig Kurse in Barcelona, Malmö (Musikhögskolan) und London (Guildhall School of Music and Drama). Bei "Jugend musiziert" gehörte er oftmals der Jury des Bundeswettbewerbes an und in 2015 unterrichtete er als Mentor an der Orchesterakademie der Deutschen Oper Berlin.
Schedule
Videos
Video – 20:38 min.
Lieblingsstücke ... mit der Camerata Deutsche Oper Berlin