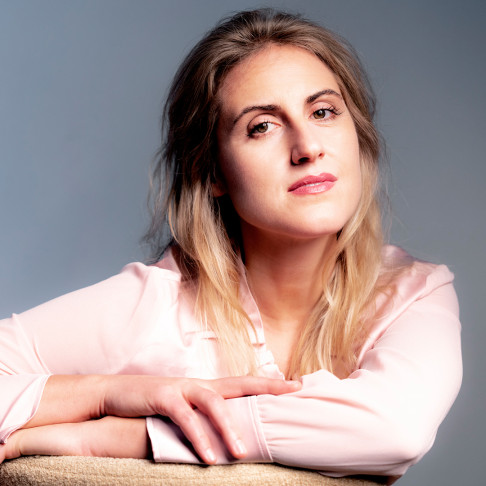 Jacquelyn Wagner
© Harald Hoffmann
Mit ihrer "strahlenden Erscheinung", "betörendem Timbre", einer "fabelhaften Technik" und "untadeliger Diktion" (Neue Zürcher Zeitung) gilt Jacquelyn Wagner als eine der gefragtesten und erfolgreichsten Sopranistinnen des lyrischen und jugendlich-dramatischen Sopranfachs.

In der Spielzeit 2022/23 gibt die Sängerin mehrere Hausdebüts: beim Puccini Festival in Torre del Lago singt sie ihre erste Magda in LA RONDINE, an der Staatsoper Stuttgart steht sie als Contessa in LE NOZZE DI FIGARO und am Teatro Regio von Turin als Donna Anna in einer Neuinszenierung von DON GIOVANNI, dirigert von Riccardo Muti, auf der Bühne. Außerdem kehrt sie als Agathe in einer Neuproduktion von DER FREISCHÜTZ ans Theater an der Wien zurück und ist in dieser Partie auch am Opernhaus Zürich zu erleben. In der Wiederaufnahme von Detlev Glanerts OCEANE an der Deutschen Oper Berlin übernimmt sie die Titelpartie. Auf dem Konzertpodium tritt Jacquelyn Wagner mit dem Royal Philharmonic Orchestra und Vasily Petrenko sowie mit dem Gewandhausorchester und Andris Nelsons in Mahlers 8. Symphonie an der Royal Albert Hall auf. Als Leonore in FIDELIO ist sie konzertant in der Tonhalle Zürich mit dem Tonhalle-Orchester und Paavo Järvi zu hören.

Die Spielzeit 2021/22 führte die Künstlerin u. a. als Marschallin in DER ROSENKAVALIER an die Volksoper in Wien, als Elsa in LOHENGRIN zu den Osterfestspielen nach Salzburg (Christian Thielemann), als Arabella ans Opernhaus Zürich, als Rosalinde in DIE FLEDERMAUS und Leonore in FIDELIO nach Hamburg, zu Konzerten zum Brucknerfest nach Linz und für ihr Rollendebüt als Salome in einer Neuproduktion (Regie: Angela Denoke) nach Innsbruck.

Die Spielzeit 2020/21 umfasste Brahms "Ein deutsches Requiem" beim Brucknerfest Linz mit Christoph von Dohnányi und Alice Ford in einer Neuinszenierung von FALSTAFF an der Malmö Opera sowie Beethovens 9. Sinfonie mit dem Tokyo Symphony Orchestra unter der Leitung von Jonathan Nott. Im Sommer 2021 gab die Künstlerin ihr Debüt in Aix-en-Provence, wo sie in einer Neuinszenierung von LE NOZZE DI FIGARO als Contessa auf der Bühne stand.

Weitere Auftritte der letzten Jahre umfassen ihr Debüt am Opernhaus Zürich als Agathe in DER FREISCHÜTZ und als Arabella, Donna Anna in einer Neuinszenierung von DON GIOVANNI an der Pariser Oper mit Philippe Jordan, Rosalinde in DIE FLEDERMAUS an der Deutschen Oper Berlin, die Titelpartie einer Neuinszenierung von ALCINA und Desdemona in OTELLO an der Deutschen Oper am Rhein in Düsseldorf, die Titelrolle von EURYANTHE am Theater an der Wien (Constantin Trinks) und ihr Debüt bei den Salzburger Osterfestspielen als Eva in DIE MEISTERSINGER VON NÜRNBERG (Christian Thielemann).

Ein Meilenstein ihrer Karriere war ihr großartiger Erfolg als Arabella in einer Neuproduktion an der Nederlandse Opera Amsterdam (Marc Albrecht), eine Rolle, die sie davor sowohl an der Minnesota Opera als auch an der Deutschen Oper am Rhein in Düsseldorf (Axel Kober) interpretiert hat.

Höhepunkte in der Laufbahn der Sängerin waren außerdem Pamina in DIE ZAUBERFLÖTE (Constantin Trinks) und Fiordiligi in COSÌ FAN TUTTE (Philippe Jordan) an der Pariser Oper, Eva in DIE MEISTERSINGER VON NÜRNBERG (Daniele Gatti) an der Mailänder Scala, Gutrune in GÖTTERDÄMMERUNG am Liceu in Barcelona, eine konzertante FEUERSNOT in der New Yorker Carnegie Hall, Fiordiligi an der Semperoper, Contessa an der Staatsoper in Hamburg, Donna Anna an der Bayerischen Staatsoper und an der Deutschen Oper Berlin, wo sie auch Donna Anna und Violetta in LA TRAVIATA sang.

Jacquelyn Wagner wurde in der Nähe von Detroit in eine Musikerfamilie geboren (ihr Vater war Hornist im Detroit Symphony Orchestra) und studierte an der Manhattan School of Music und an der Oakland University of Michigan. Sie ist Gewinnerin zahlreicher internationaler Wettbewerbe, u. a. des Internationalen Gesangswettbewerbs "Francisco Vinas", des Gesangswettbewerbs "Renata Tebaldi" und des "Panasonic Voice"-Wettbewerbs in New York in der Alice Tully Hall. Sie war Finalistin in Placido Domingos "Operalia 2008" und erhielt in zwei aufeinanderfolgenden Jahren jeweils eine Auszeichnung beim "Palm Beach Opera Jugend-Wettbewerb". Zudem erhielt die Künstlerin renommierte Stipendien wie die der "Jenny Lind Society" und des "Fulbright Study Grant". Jacquelyn Wagner startete ihre Karriere erst als Stipendiatin und anschließend als Ensemblemitglied der Deutschen Oper Berlin, wo sie viele der wichtigen Rollen ihres Fachs sang, wie Pamina, Contessa und Micaëla in CARMEN.
Schedule