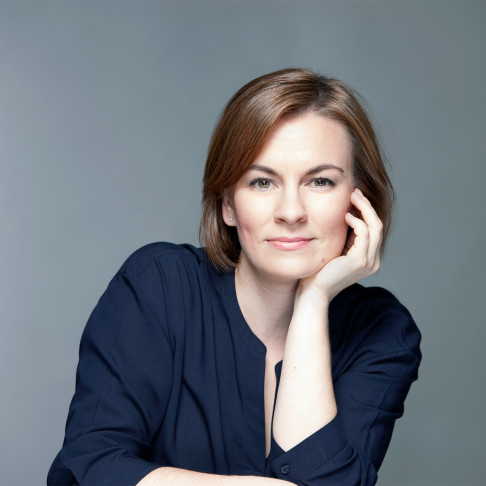 Daniela Candillari
© Damjan Švarc
Die in Serbien geborene Dirigentin Daniela Candillari wird für ihre dynamischen und fesselnden Auftritte an Opernhäusern und auf Konzertbühnen in ganz Nordamerika und Europa gelobt. Anerkannt für ihr "Selbstvertrauen und ihren scheinbar unerschöpflichen Elan" (The New York Times) und ihre "kraftvollen und atemberaubenden Darbietungen" (Review STL), geht Candillari in ihre zweite Saison als Chefdirigentin des Opera Theatre of Saint Louis und als Opernchefdirigentin der Music Academy of the West.

In der Saison 2022/23 wird Candillari zwei wichtige New Yorker Debüts geben – zunächst mit den New Yorker Philharmonikern in deren Eröffnungssaison in der neuen David Geffen Hall, wo sie den Cellisten Yo-Yo Ma in Elgars Cellokonzert dirigiert, gefolgt von ihrem Debüt in der Carnegie Hall mit dem American Composers Orchestra in einem Programm mit Uraufführungen von George Lewis, Ellen Reid und Jihyun Noel Kim. Weitere symphonische Auftritte erfolgten mit dem Orchestre Métropolitain Montreal mit Dvoráks 7. Symphonie sowie mit dem Toledo Symphony Orchestra für ein Programm über Frauen in der klassischen Musik. Auf der Opernbühne debütiert Candillari mit Aufführungen von LAKMÉ an der Deutschen Oper Berlin und HÄNSEL UND GRETEL an der New Orleans Opera. Sie dirigiert TOSCA sowohl an der Arizona Opera als auch am Opera Theatre of Saint Louis, eine konzertante Gala-Version von AIDA an der Tulsa Opera sowie die Weltpremiere von ARKHIPOV von Peter Knell und Stephanie Fleischmann am Kirk Douglas Theatre.

In der Spielzeit 21/22 gab Candillari ihr Debüt an der Metropolitan Opera als Dirigentin von Matthew Aucoins EURYDICE. Außerdem leitete sie eine Neuproduktion von Jeanine Tesoris BLUE mit der Detroit Opera und arbeitete mit der Washington National Opera und der Met Opera an Tesoris GROUNDED. Weitere Engagements umfassten die Leitung von Terence Blanchards FIRE SHUT UP IN MY BONES an der Lyric Opera of Chicago, CARMEN am Opera Theatre of Saint Louis, die nordamerikanische Erstaufführung von MOBY DICK OR THE WHALE IN THE SHED von Caroline Shaw, Andrew Yee und Asma Maroof mit Mitgliedern des New York Philharmonic, EUGEN ONEGIN an der Music Academy of the West und ein Konzert mit der Juilliard Pre-College Symphony. Sie leitete die verfilmte Weltpremiere von Clint Borzonis THE COPPER QUEEN mit der Arizona Opera, die 2021 veröffentlicht wurde, sowie die Verfilmung von Ana Sokolovics SVADBA mit der Boston Lyric Opera, die Anfang 2022 herauskam.

Zu den weiteren Höhepunkten der letzten Zeit gehören Candillaris Debüt mit dem New York Philharmonic unter der Leitung von Virgil Thomsons THE MOTHER OF US ALL im Metropolitan Museum of Art, das von der Juilliard School koproduziert wurde. Sie debütierte jüngst am Opera Theatre of Saint Louis und dem Saint Louis Symphony. An der der Lyric Opera of Chicago wirkte sie für die Premiere von Gregory Spears' FELLOW TRAVELERS im Jahr 2018 und Jack Perlas AN AMERICAN DREAM im Jahr 2019 sowie an der LA Opera mit Ellen Reids mit dem Pulitzer-Preis ausgezeichneten Oper PRISM. Sie dirigierte die Westküstenpremiere von Jennifer Higdons COLD MOUNTAIN an der Music Academy of the West, debütierte an der Opera Philadelphia in einer Neuproduktion von Rene Orths EMPTY THE HOUSE, gab ihr Debüt an der Arizona Opera und dirigierte Spears' Oper FELLOW TRAVELERS, die sie auch in einer früheren Saison an der Minnesota Opera leitete, leitete gefeierte Aufführungen von ACQUANETTA beim PROTOTYPE Festival und gab ihr Asien-Debüt in Hongkong, wo sie Du Yuns mit dem Pulitzer-Preis ausgezeichnete Oper ANGEL'S BONE dirigierte. Darüber hinaus trat sie in einem Konzert mit dem Trinity Wall Street NOVUS NY Festival auf, um deren Saison 2018 mit den Feierlichkeiten zu Leonard Bernsteins hundertstem Geburtstag zu eröffnen.

Als Komponistin erhielt Candillari Kompositionsaufträge von etablierten Künstlern, darunter Instrumentalisten der Symphonieorchester von Boston, Cleveland, Detroit und Pittsburgh sowie von den drei ansässigen Orchestern des Lincoln Center: dem Metropolitan Opera Orchestra, dem New York Philharmonic und dem New York City Ballet. Als begeisterte Pädagogin engagiert sie sich stark für die Programme der Music Academy of the West für junge Künstler*innen und hat kürzlich an Meisterklassen und Diskussionen an der DePaul University und dem Chicago Humanities Festival teilgenommen.

Candillari wuchs in Serbien und Slowenien auf. Sie hat einen Doktortitel in Musikwissenschaft von der Universität für Musik in Wien, einen Master of Music in Jazz Studies von der Indiana University Jacobs School of Music und einen Master of Music und Bachelor in Klavierspiel von der Universität für Musik in Graz. Als Fulbright-Stipendiatin erhielt sie auch ein TED-Stipendium.
Schedule
Videos
Video – 02:45 min.
Daniela Candillari über Léo Delibes' Lakmé