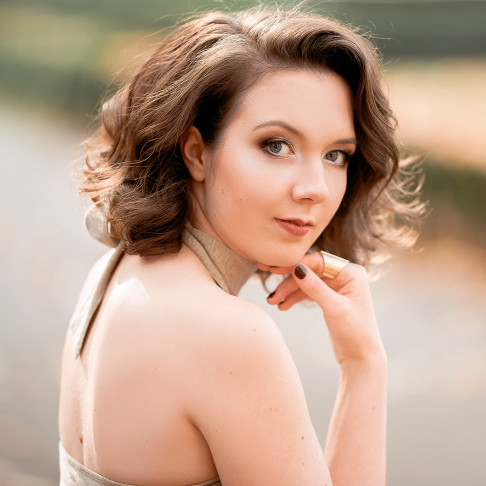 Agata Kornaga
© Ksenia Shaushyshvili
Agata Kornaga debütierte 2019 am Theater Aachen als Wellgunde in HAGEN, einer Adaption von Wagners Tetralogie, und verkörperte dort außerdem verschiedene Partien in Schreiers Uraufführung DER ZAUBERER VON OZ. Im selben Jahr war die Polin als Dryade in Strauss' ARIADNE AUF NAXOS in einer Produktion der Hochschule für Musik, Theater und Medien in Hannover zu erleben. Am Teatr Wielki in Posen gastiert die Mezzosopranistin seit 2016 regelmäßig: u. a. als Spirit in Purcells DIDO AND AENEAS, als Fjodor in Mussorgskijs BORIS GODUNOW und als Dritte Dame in Mozarts DIE ZAUBERFLÖTE. 2017 debütierte sie als Clotilde in Bellinis NORMA an der Oper in Krakau, nachdem sie hier 2016 in Moniuszkos THE HAUNTED MINOR debütiert hatte. In Bydgoszcz sang sie Apollo in Mozarts APOLLO ET HYACINTUS, Cherubino in Mozarts LE NOZZE DI FIGARO und Olga in Tschaikowskijs EUGEN ONEGIN. 2016 gab sie in Starnberg bei München als Amor in Glucks ORPHÉE ET EURYDICE ihr Deutschland-Debüt. Bei den Kulturtagen Oldenburg stellt sie sich 2021 in Raphael Fuscos DE MÖRDER TO MIDDERNACHT vor.

Agata Kornaga studierte an der Akademie für Musik in Bydgoszcz bei Urszula Jankowiak und bei Marek Rzepka an der Musikakademie in Krakau sowie an der Hochschule für Musik, Theater und Medien Hannover. Meisterkursen ergänzten ihre Ausbildung.

Auch als Konzert-Solistin und Lied-Sängerin ist Agata Kornaga in Polen und Deutschland aktiv. 2019 trat sie erstmals beim Mieczyslaw Weinberg-Festival in München in Erscheinung. In WAGNERS DIE MEISTERSINGER VON NÜRNBERG debütiert sie nun an der Deutschen Oper Berlin.
Schedule
Die Meistersinger von Nürnberg
In performances like