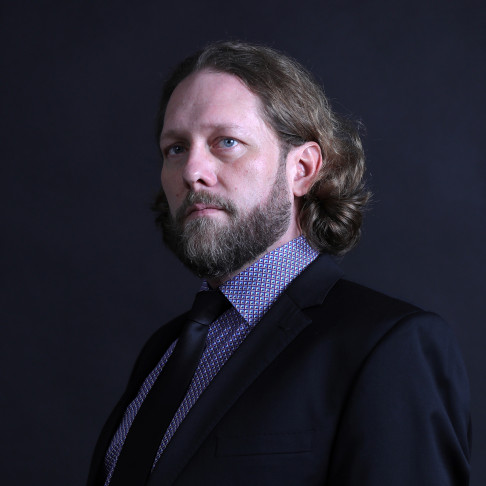 Derrick Ballard
© Agentur
Der 1974 in Denver, Colorado geborene Sänger besuchte von 1992 bis 1996 die Lamont School of Music an der University of Denver unter der Leitung von Dr. Ronald Worstell. Er nahm am Opernstudio der Santa Fe Opera, dem Joseph and Loretta Law Artist Center an der Opera Colorado und dem Merola Opera Programm in San Francisco teil. Gleichzeitig führte er seine Gesangsausbildung mit Mark Oswald in New York fort.

Bevor ihn seine Karriere nach Europa führte, war er in über fünfzig Rollen in den Vereinigten Staaten zu sehen, darunter Rollen wie Mozarts Figaro und Don Giovanni, Don Basilio in IL BARBIERE DI SIVIGLIA, Banquo in MACBETH und Enrico VIII. in ANNA BOLENA.

Nach seinem Europa-Debüt lud ihn die Staatsoper Unter den Linden wieder ein, um die Uraufführung der Hans Zender-Oper CHIEF JOSEPH als Toolhoolsuite und den 5. Indianer zu singen.

Es folgten Festengagements am Staatstheater Kassel (2005 bis 2009), am Oldenburgischen Staatstheater (2009 bis 2011) und am Staatstheater am Gärtnerplatz (2010 bis 2012). In dieser Zeit sang er unter anderem Wotan in DIE WALKÜRE, Kaspar in DER FREISCHÜTZ, Kecal in DIE VERKAUFTE BRAUT, Méphistophélès in FAUST, die Titelpartien in Händels HERCULES, in der 2012 für den Faust nominierten Inszenierung SAUL, Leporello in DON GIOVANNI, Figaro in LE NOZZE DI FIGARO, Sarastro in DIE ZAUBERFLÖTE, Mustafà in L'ITALIANA IN ALGERI und Dulcamara in L'ELISIR D'AMORE.

Höhepunkte der folgenden Spielzeiten beinhalteten Rollen wie Heinrich der Vogler in LOHENGRIN an der Oper Graz, Daland in DER FLIEGENDE HOLLÄNDER der Stuttgarter Philharmoniker, Sarastro in DIE ZAUBERFLÖTE am Theater Bremen, Don Alfonso in COSÌ FAN TUTTE und Jochanaan in SALOME am Oldenburgischen Staatstheater, Peter in HÄNSEL UND GRETEL und Figaro in LE NOZZE DI FIGARO der jOPERA, Achilla in GIULIO CESARE der Florentine Opera und den Förster in DAS SCHLAUE FÜCHSLEIN der Wuppertaler Bühnen. Eine ganz besondere Freude war es ihm bei der Uraufführung der Friedrich Cerha Oper ONKEL PRÄSIDENT am Staatstheater am Gärtnerplatz als Doktor Gefällig / Dr. Pillerl mitzuwirken.

Auf der Konzertbühne bestach er 2011 mit seinem Debüt bei den Händel Festspielen in Halle als Basssolist in "An Occasional Oratorio" mit The English Concert, dirigiert von Howard Arman. Überdies trat er mit dem Gewandhausorchester Leipzig mit Zimmermanns "Pax Questuosa", den Stuttgarter Philharmonikern mit Beethovens 9. Symphonie, dem Philharmonischen Orchester Cottbus und dem Oldenburgischen Staatsorchester mit Mahlers 8. Symphonie und der Filharmonie Brno mit Dvoráks "Te Deum" auf. Sein Konzertrepertoire umfasst außerdem Händels "Messiah", das Requiem von Verdi, das Mozart-Requiem, Mendelssohns "Elijah" und Orffs "Carmina Burana".

2015 war er wieder beim jOPERA jennersdorf festivalsommer unter der Regie der KS Brigitte Fassbaender als Kaspar in DER FREISCHÜTZ zu hören. Derrick Ballard tournierte außerdem mit seinem Weihnachtsprogramm "A Christmas Concert" in Österreich, Ungarn und den USA.

Seit der Spielzeit 2014/15 ist er Ensemblemitglied am Staatstheater Mainz. Hier hat er bisher u. a. Scarpia / TOSCA, Hans Sachs / DIE MEISTERSINGER VON NÜRNBERG, Don Esteban / DER ZWERG, Mephisto / FAUST sowie die Titelpartie in DER FLIEGENDE HOLLÄNDER gesungen. Außerdem sang er Mathis der Maler in der gleichnamigen Oper von Hindemith, Bottom in Brittens A MIDSUMMER NIGHT'S DREAM. Am Staatstheater Mainz war er in der Spielzeit 2018/19 u. a. in KÁTJA KABANOVÁ (Regie: Lydia Steier), DER RING AN EINEM ABEND und LE NOZZE DI FIGARO (Regie: Elisabeth Stöppler) zu sehen. In der Spielzeit 2019/2020 war er als Geronte di Ravoir in MANON LESCAUT, in DER RING AN EINEM ABEND und als Titelheld in BORIS GODUNOW erleben. In der aktuellen Spielzeit wird Derrick Ballard in den Wiederaufnahmen von No.50 (THE GARDEN) und MANON LESCAUT zu sehen sein ebenso wie als Titelheld in PIMPINONE ODER DIE UNGLEICHE HEIRAT.

An der Deutschen Oper Berlin gibt er sein Hausdebüt in den Rollen der vier Bösewichter in Laurent Pellys Inszenierung von LES CONTES D'HOFFMANN.
Schedule