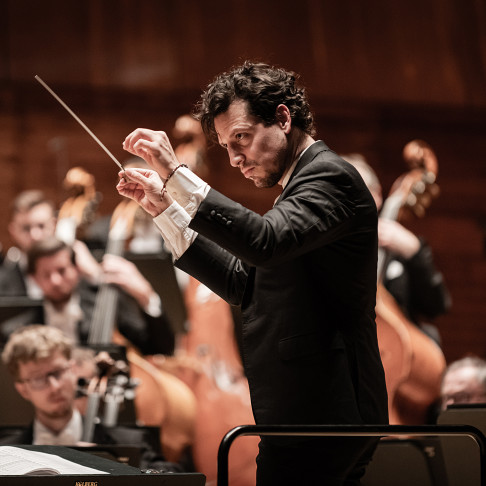 Paolo Bortolameolli
© Radoslaw Kazmierczak
Paolo Bortolameolli ist Musikdirektor des Orquesta Sinfónica Nacional Juvenil (Chile), der Sinfónica Azteca (Mexiko), Erster Gastdirigent der Filarmónica de Santiago (Opera Nacional de Chile) und Stellvertretender Dirigent des Los Angeles Philharmonic.

Zusätzlich zu diesen regelmäßigen Dirigentenbeziehungen hat er Ensembles in der gesamten westlichen Hemisphäre geleitet, darunter Engagements mit dem Orquesta Sinfónica Simón Bolivar (Caracas), dem Orquesta Filarmónica de Buenos Aires, den Sinfonieorchestern von Kansas City, Charlotte, Houston und San Francisco sowie dem LA Philharmonic. In Europa ist er regelmäßiger und wiederkehrender Gast des Polnischen Nationalen Radiosinfonieorchesters, des Orchestra Haydn (Bozen), des Helsinki Philharmonic und des Orchestra della Toscana (Florenz).

Seine unstillbare künstlerische Neugier bringt ihn gleichermaßen auf die Opernbühne, wo er in jüngster Zeit und in Zukunft unter anderem an der Opéra de Paris (TOSCA), am Gran Teatre del Liceu (DIE ZAUBERFLÖTE) sowie in der Ópera Nacional de Chile für Konzerte mit der Filarmónica von Mahlers Symphonie Nr. 2 und der Symphonie Nr. 8 mit dem Orquesta Sinfónica Nacional Juvenil zu erleben sein wird. Außerdem wird er Ende 2023 sein Debüt am Michigan Opera Theater in Golijovs AINADAMAR geben.

Paolo Bortolameollis langjährige Beziehung zu den LA Philharmonikern setzt sich bis 2023 fort, wo er Konzerte in der Hollywood Bowl und der Walt Disney Concert Hall dirigieren wird. Neben Abonnement- und Sommerkonzerten hat er in der Vergangenheit unter anderem eine fulminante Neuproduktion von Meredith Monks Oper ATLAS in der Walt Disney Concert Hall in Los Angeles im Jahr 2019 dirigiert.

Er engagiert sich leidenschaftlich für Neue Musik, darunter die Werke von Miguel Farías, Gabriela Ortiz und Jorge Peña Hen, um nur einige zu nennen. Im Jahr 2022 wurde sein Auftragswerk "Estallido" von Miguel Farías mit dem Los Angeles Philharmonic uraufgeführt.

Als künstlerischer Leiter der Sinfónica Azteca leitet er jedes Jahr einen von der Fundación Azteca der Grupo Salinas in Mexiko durchgeführten Bildungsaufenthalt. Mit der Esperanza Azteca in Mexiko hat er mehrere Initiativen im Bereich der neuen Medien entwickelt, und sein mittlerweile legendäres Projekt "Ponle Pausa", das darauf abzielt, das Konzept der Musikerziehung durch die Implementierung von Kurzvideos und Konzerten, die sich an Nutzer sozialer Netzwerke richten, neu zu überdenken, hat große Anerkennung gefunden. Im Jahr 2018 war er Gastredner bei einem TED Talk in New York und im Jahr 2020 wird er sein erstes Buch veröffentlichen: "RUBATO Procesos musicales y una playlist personal".

Paolo Bortolameolli hat einen Master of Music (Yale School of Music, 2013), ein Graduate Performance Diploma (Peabody Institute, 2015), ein Piano Performance Diploma (Universidad Católica de Chile, 2006) und ein Conducting Diploma (Universidad de Chile, 2011).
Schedule