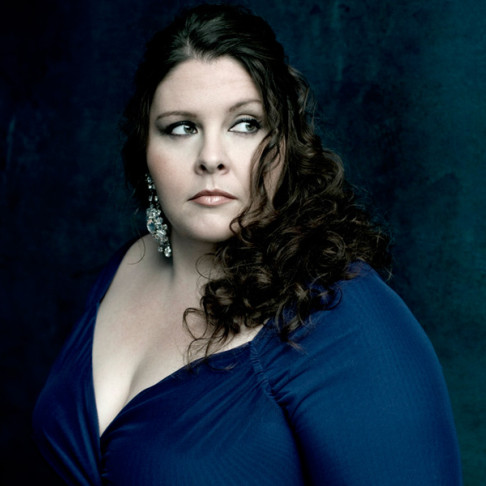 Angela Meade
© Dario Acosta
Die Fachzeitschrift "Opera News" bezeichnete die amerikanische Sopranistin Angela Meade als "the most talked about soprano of her generation". Die Gewinnerin zweier außerordentlich renommierter Wettbewerbe – 2012 des Metropolitan Opera's Beverly Sills Artist Award und 2011 des Richard Tucker Award – gab 2008 ihr Debüt an der Metropolitan Opera in New York als Elvira in Verdis ERNANI und gilt seither als eine der stimmlich herausragendsten Interpretinnen der großen Heroinen des 19. Jahrhunderts, von Mozart über den Belcanto bis hin zu Verdi.

Ihre Opernengagements der letzten Jahre führten sie immer wieder u. a. an die Metropolitan Opera New York, an die Wiener Staatsoper, das Teatro Real, die Deutsche Oper Berlin, das Teatro de la Maestranza, die Los Angeles Opera, die Asociación Bilbaína de Amigos de la Ópera, die Oper Frankfurt oder das Teatro Regio di Torino. Auf dem Konzertpodium gastierte sie u. a. in der Carnegie Hall und am Kennedy Center und war Solistin so renommierter Klangkörper wie des New York Philharmonic, Los Angeles Philharmonic, Philadelphia Orchestra, Baltimore Symphony, Boston Symphony, Cleveland Orchestra, des Houston Symphony, Minnesota Orchestra, Montreal's Orchestre Métropolitain, Pittsburgh Symphony, Saint Paul Chamber Orchestra sowie des San Antonio Symphony. Künstlerische Partner waren ihr dabei Dirigenten wie James Levine, Gustavo Dudamel, Fabio Luisi, Yannick Nézet-Séguin, Plácido Domingo, Alan Gilbert, Roberto Abbado, Charles Dutoit, Sir Mark Elder, Maurizio Benini, Donald Runnicles, Pablo Heras-Casado, Riccardo Frizza, Paavo Järvi, Gianandrea Noseda, Gerard Schwarz, Eve Queler, Osmo Vänskä, Patrick Summers und Manfred Honeck.

Die Saison 2018-19 begann mit einer Zusammenarbeit mit Yannick Nézet-Séguin und dem Orchestre Métropolitain für eine besondere Aufführung von Verdis "Requiem" zum Gedenken an Jacqueline Desmarais. Darüber hinaus gab sie ihr Debüt in der Partie der Margherita in Robert Carsens Produktion von Boitos MEFISTOFELE an der Metropolitan Opera und an der Seattle Opera als Leonora in Verdis IL TROVATORE. Auch kehrte sie als Alice Ford in Verdis FALSTAFF an die Dallas Opera zurück. Angela Meade gastierte in der Titelrolle von Rossinis SEMIRAMIDE an der Asociación Bilbaina de Amigos de la Ópera und als Leonora in Verdis IL TROVATORE am Teatro de la Maestranza de Sevilla.

Zu ihren jüngsten und zukünftigen Engagements zählen ERMIONE und NORMA am Teatro San Carlo in Neapel, ANNA BOLENA in Bilbao und Genua, AIDA in Barcelona, in der Arena di Verona und in Turin, IL TROVATORE in Palermo, SIMON BOCCANEGRA und NORMA in Parma, UN BALLO IN MASCHERA an der Deutschen Oper Berlin und in Verbier, NORMA in Modena und Piacenza, DON CARLO an der Metropolitan Opera New York.

In der Saison 2017/2018 interpretierte sie an der Metropolitan Opera die Titelpartie in Rossinis SEMIRAMIDE und in Bellinis NORMA, in Washington Händels Alcina, in Frankfurt am Main Cileas Adriana Lecouvreur. Darüber hinaus gibt sie die Partie der Giselda in Verdis I LOMBARDI am Teatro Regio di Torino sowie auf dem Konzertpodium Mahlers 8. Sinfonie mit dem Rotterdam Philharmonic Orchestra und Beethovens 9. Sinfonie mit dem Seattle Symphony. Liederabende gibt sie in Philadelphia, Santa Fe und Waterford.

Geboren in Washington State ist Angela Meade Absolventin der Academy of Vocal Arts. Sie ist Preisträgerin in insgesamt 57 Wettbewerben. 2007 gewann sie die Met National Council Auditions, deren filmische Dokumentation unter dem Titel "The Audition" als DVD im Label Decca erschienen ist. Sie ist die erste Interpretin, die beide Kategorien – Oper und Operette – des Belvedere Wettbewerbs in Wien gewonnen hat. Auf DVD sind erschienen Donizettis LE DUC D'ALBE im Label Opera Rara sowie Verdis FALSTAFF aus der Metropolitan Opera bei Decca.
Schedule