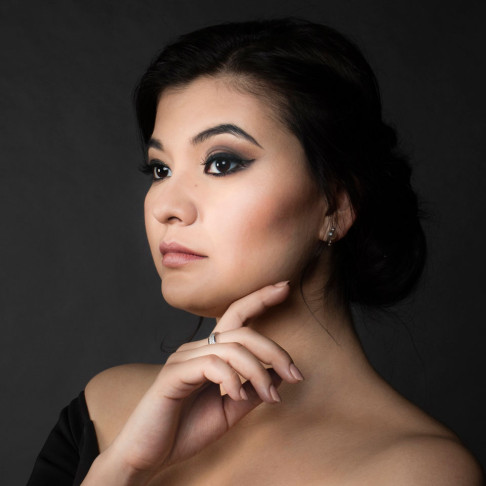 Aigul Akhmetshina
© Andrey Uspensky
Die russische Mezzosopranistin Aigul Akhmetshina war Mitglied des prestigeträchtigen Jette Parker Young Artists Programme am Royal Opera House von Beginn der Saison 2017/2018 an, wo sie Aufsehen erregte mit Rollendebüts wie Carmen, Preziosilla / LA FORZA DEL DESTINO, Flora / LA TRAVIATA, Mercédès / CARMEN, der Partie der Carmen in LA TRAGÉDIE DE CARMEN sowie als Sonjetka / LADY MACBETH OF MTSENSK. Sie gestaltete die Titelpartie in Rossinis LA CENERENTOLA sowie Maddalena / RIGOLETTO für das Opéra de Baugé Festival in Frankreich. Die Saison 2019/2020 führte sie u. a. an die Deutsche Oper Berlin, das Teatro Real in Madrid, die Wexford Festival Opera und die Israeli Opera.

Auf dem Konzertpodium gab sie u. a. WEST SIDE STORY mit der Accademia di Santa Cecilia in Rom unter Leitung von Antonio Pappano, gab Konzerte mit dem Russischen Nationalorchester unter Wladimir Teodorowitsch Spiwakow, dem London Philharmonic Orchestra in der Royal Festival Hall, interpretierte Dvoráks "Stabat mater" mit dem Niederländischen Radiophilharmonieorchester, mit dem Bournemouth Symphony Orchestra in Bath Abbey, mit dem Orchester des Staatstheaters Klagenfurt im Rahmen des Carinthischen Sommer-Festivals.

Zu ihren künftigen Engagements zählen u. a. die Titelpartie in CARMEN, Rosina / IL BARBIERE DI SIVIGLIA, Charlotte / WERTHER am Royal Opera House Covent Garden in London, Angelina / LA CENERENTOLA und Carmen am Teatro Real in Madrid, Maddalena / RIGOLETTO an der Metropolitan Opera New York, Rosina / IL BARBIERE DI SIVIGLIA an der Opéra national de Paris, Elisabetta / MARIA STUARDA an der Dutch National Opera, Carmen an der Deutschen Oper Berlin sowie Olga / EUGEN ONEGIN an der San Francisco Opera. Außerdem gastiert sie an der Wiener Staatsoper, der Bayerischen Staatsoper, dem Glyndebourne Festival, dem Opernhaus Zürich, am Gran Teatre del Liceu und am Theater an der Wien.

Zu ihren weiteren Gastauftritten in jüngster Zeit zählen u. a. Carmen und Rosina / IL BARBIERE DI SIVIGLIA an der Deutschen Oper Berlin, Polina / PIQUE DAME bei den Festspielen in Baden-Baden, Fenena / NABUCCO an der Staatsoper Hamburg, Rosina / IL BARBIERE DI SIVIGLIA am Opernhaus Zürich, Orlofsky / DIE FLEDERMAUS am New National Theatre in Tokyo, Varvara / KATYA KABANOVA im Rahmen des Glyndebourne Festivals, Polina / PIQUE DAME am Teatro di San Carlo in Neapel sowie Dulcinée / DON QUICHOTTE beim Wexford Opera Festival

Sie ist Preisträgerin zahlreicher Wettbewerbe, darunter der Grand Prix des International Hans Gabor Belvedere Singing Competition, sie gewann den dritten Preis der Sonora International Opera Competition Francisco Araiza, die Bronzemedaille der Youth Delphic Games in Russland, den Talented Youth Support Award der russischen Föderation sowie den ersten Preis der Shtokolov Vocal Competition in St. Petersburg.

Sie studierte am Konservatorium in Ufa bei Nailya Yusupova und ist Mitglied der International Musicians' Union of the Interregional Shalyapin Centre. Sie hat am Estate Stellare Festival in Italien teilgenommen und an Meisterklassen mit Ildar Abdrazakov, Barbara Frittoli und Delfo Menicucci.
Schedule
In performances like