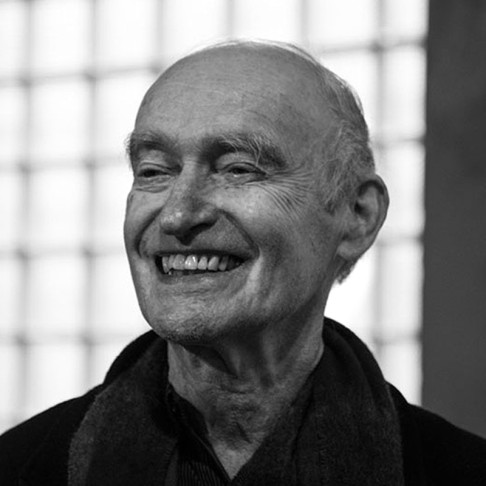 Christian Wolff
© Henrik Beck
Christian Wolff wurde 1934 in NIzza geboren, lebt aber seit 1941 in den USA. Er studierte Klavier bei Grete Sultan und für eine kurze Zeit Komposition bei John Cage. Während er als Komponist weitestgehend Autodidakt ist, erhielt er wichtige Impulse für seine kompositorische Entwicklung durch die Zusammenarbeit mit John Cage, Morton Feldman, David Tudor, Earle Brown, Frederic Rzewski und Cornelius Cardew. Ein wichtiges Element in seiner Musik ist ein Moment der Freiheit, das den Aufführenden im Moment der Aufführung und in ihrer Interaktion Räume für eine teilweise Mitgestaltung der Musik ermöglicht. Christian Wolffs Musik ist bei C.F. Peters, New York verlegt und ein Großteil von ihr liegt in Aufnahmen vor. Eine Reihe seiner Stücke wurde zudem beginnend mit dem Jahr 1953 von Merce Cunningham und der Cunningham Dance Company benutzt.

Wolff ist zudem als Performer und Improvisator aktiv und hat unter anderem mit Takehisa Kosugi, Steve Lacey, Keith Rowe, William Winant, Kui Dong, Larry Polansky und der Gruppe AMM zusammengearbeitet. Seine bis 1998 verfassten, gesammelten Schriften über Musik sind in dem Buch "Cues: Writings and Conversations" im Verlag der Kölner MusikTexte erschienen.

Wolff erhielt zahlreiche Preise und Auszeichnungen unter anderem von der American Academy and National Institute of Arts and Letters, dem DAAD Berlin, dem Asian Cultural Council, der Fromm Foundation, der Foundation for Contemporary Performance Arts (the John Cage award for music) und der Mellon Foundation. Er ist Mitglied der Akademie der Künste in Berlin und wurde mit der Ehrendoktorwürde des California Institute of the Arts ausgezeichnet. Nach einer akademischen Ausbildung als Klarinettist hat Wolff in Harvard als Dozent für Altphilologie gearbeitet. Von 1971 bis 1999 war er Professor für Altphilologie und Musik am Dartmouth College.
Schedule