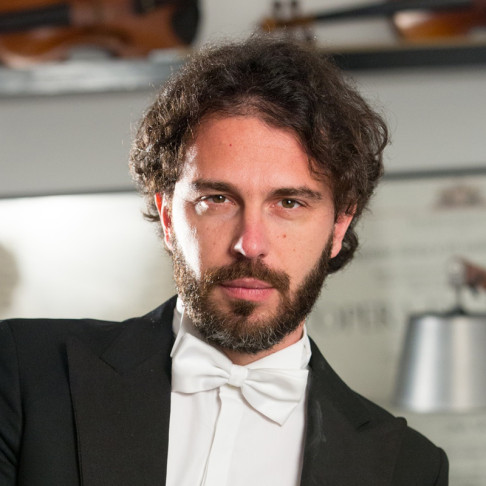 Francesco Lanzillotta
© Agentur
In Rom geboren, studierte Francesco Lanzillotta Dirigat bei Bruno Aprea am Konservatorium Santa Cecilia in Rom, Komposition bei Luciano Pelosi und Klavier bei Velia De Vita. Er besuchte Meisterkurse bei Harold Farberman und George Phelivanian.

Regelmäßig steht er den Orchestern bedeutender italienischer Opernhäuser vor, darunter das Teatro La Fenice di Venezia, das Teatro San Carlo di Napoli, das Teatro Verdi di Trieste, das Teatro Filarmonico di Verona und das Teatro Lirico di Cagliari. 2010 wurde er zum Principal Guest Conductor am Opernhaus von Varna in Bulgarien berufen, wo er Vorstellungsreihen von CAVALLERIA RUSTICANA, PAGLIACCI, LE NOZZE DI FIGARO, TOSCA, LA TRAVIATA, CARMEN und LA BOHEME leitete.

Auch auf dem Konzertpodium gastierte er bei renommierten Orchestern, so beim Orchestra Nazionale della RAI di Torino, beim Swiss Italian Orchestra, beim Orchestra I Pomeriggi Musicali in Mailand, beim Orchestra Haydn in Bozen, Filarmonica Toscanini in Parma, beim Orchestra Regionale Toscana in Florenz, beim Orchestra dei Giovani of Accademia Nazionale di Santa Cecilia in Rom, beim Orchestra of Teatro Filarmonico di Verona, beim Orchestra of Teatro San Carlo di Napoli, beim Orchestra of Teatro Verdi di Trieste, beim Gyeonggi Philharmonic Orchestra in Suwon (Korea) und beim Sofia Philharmonic Orchestra.

Während der Saison 2012/2013 gab er sein Debüt beim Orchestra Sinfonica della RAI di Torino sowie mit HISTOIRE DU SOLDAT und LA FUGA IN MASCHERA von Gaspare Spontini am Teatro San Carlo di Napoli, mit IL MAESTRO DI CAPPELLA an der Opéra de Nancy und mit Brittens THE LITTLE SWEEP beim Macerata Opera Festival. Nach einigen Gastdirigaten wurde er zur Saison 2014/2015 zum Chefdirigenten der Filarmonica Arturo Toscanini in Parma berufen. In diesem Amt wirkte er bis 2020.

Zu seinen jüngsten Engagements zählen u. a. LA BOHÈME in Treviso und Ferrara, LA TRAVIATA in Sassari, L'ITALIANA IN ALGERI in Verona, DON CHECCO in Neapel sowie IL MEDICO DEI PAZZI in Nancy und Venedig. 2015 dirigierte er beim Macerata Opera Festival RIGOLETTO und gab im Laufe der Saison 2016/17 seine Debüts u. a. beim Tokyo Philharmonic Orchestra, an der Opéra National de Montpellier, in Essen und beim Rossini-Festival in Pesaro mit TORVALDO E DORLISKA. 2018 gastierte er u. a. mit LUCIA DI LAMMERMOOR an der Opéra de Toulon sowie mit NABUCCO an der Deutschen Oper Berlin. 2018 gab Francesco Lanzillotta an der Semperoper Dresden sein Debüt am Pult der Sächsischen Staatskapelle mit einer Aufführungsserie von RIGOLETTO, in der Saison 2019/20 folgte dort IL VIAGGIO A REIMS. ANDREA CHENIER führte ihn nach Wien, L'ELISIR D'AMORE nach Rom, I BASTARDA nach Brüssel sowie LA BOHEME nach Neapel.

Mit großem Engagement setzt Francesco Lanzillotta sich für die Werke zeitgenössischer Komponisten ein, darunter Matteo D'Amico, Marcello Panni, Ennio Morricone, Ada Gentile, Carlo Galante, Michele Dall'Ongaro, Francesco Pennisi, Luis Bacalov, Luca Mosca und Giorgio Battistelli.
Schedule
Videos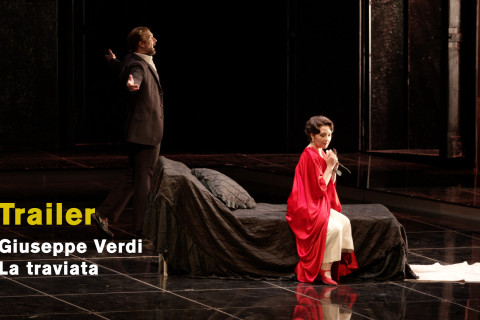 Video – 03:00 min.
Giuseppe Verdi: La Traviata [2023]