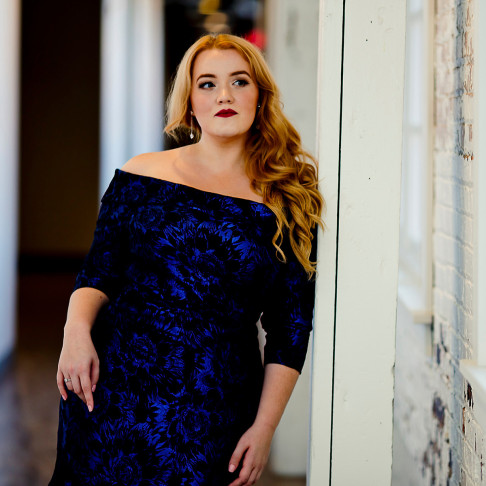 Maire Therese Carmack
© John Carnessali
Die amerikanische Mezzosopranistin Maire Therese Carmack wurde von Opera News für ihren "tiefen Mezzo und ihr vibrierendes, metallisches Timbre" (deep mezzo and vibrant metallic timbre) und dafür gelobt, dass sie "durch ihre bloße Präsenz die Aufmerksamkeit auf sich zieht" (taking focus by her very presence).

In der Spielzeit 2022/23 gab Maire Therese Carmack, die als Stipendiatin der Opera Foundation New York an der Bismarckstraße das Ensemble bereichert, ihr Europadebüt an der Deutschen Oper Berlin, wo sie die Saison in der Titelrolle von CARMEN auf dem Parkdeck eröffnete. Während ihrer einjährigen Tätigkeit an der Deutschen Oper Berlin wird sie zudem in RIGOLETTO als Giovanna und Maddalena zu erleben sein, als Dulcinée in DON QUICHOTTE, als 3. Dame in DIE ZAUBERFLÖTE, als Alice in LUCIA DI LAMMERMOOR, als Ein Musikant in MANON LESCAUT und als Der Missmut in ANTIKRIST. Darüber hinaus gastiert die junge Künstlerin an der Santa Fe Opera, dem Pittsburgh Symphony Orchestra und der Carnegie Hall.

In der Saison 2021/22 nahm Maire Therese Carmack am Santa Fe Opera Apprentice Artist Program teil und sang die Rolle der Mercédès in CARMEN und gab ihr Debüt in der Heinz Hall mit dem Pittsburgh Symphony Orchestra in Beethovens 9. Sinfonie.

Maire Therese Carmack ist Absolventin des Palm Beach Opera Bailey Apprentice Artist Program, des Glimmerglass Festival Young Artists Program und des Pittsburgh Opera Resident Artist Program. Zu ihren Rollen und Covern gehören Olga und Larina in EUGEN ONEGIN, Dorabella in COSÌ FAN TUTTE, Juno in SEMELE, Hexe und Gertrud in HÄNSEL UND GRETEL, Prinz Orlofsky in DIE FLEDERMAUS, Ottavia in L'INCORONAZIONE DI POPPEA, Marquise von Berkenfield in LA FILLE DU RÉGIMENT, Mercédès in CARMEN, La Zelatrice in SUOR ANGELICA, Flora in LA TRAVIATA, Berta in IL BARBIERE DI SIVIGLIA, Baroness Nica in Charlie Parkers YARDBIRD, Margaret Johnson in LIGHT IN THE PIAZZA und Celeste in SONGBIRD.

Als Beherrscherin des klassischen Repertoires und neuer Werke spielte sie die Rolle der Prima Donna in der Weltpremiere von Philip Blackburns multimedialer Hyperoper THE SUN PALACE, die als 60-minütiger Indie-Film in den New Yorker Anthology Film Archives uraufgeführt wurde. In Zusammenarbeit mit dem Pariser Komponisten Jean-Luc Lenoir präsentierte sie die amerikanische Erstaufführung von "Songs of the Hebrides": eine Sammlung gälischer Lieder von den Hebriden, arrangiert für Gesang und Ensemble.

Sie gewann den Minnesota District of the Metropolitan Opera Eric and Dominique Laffont Competition, gefolgt von einem Förderpreis in der Upper Midwest Region (2022). Sie ist Gewinnerin des Björn Eklund-Stipendiums der Opera Foundation (2022), Gewinnerin des Glenn and Ginger Flournoy Award im Mary J. Smith Singer of the Year Competition (2022), Gewinnerin des Florida District of the Laffont Competition, gefolgt vom Dritten Platz in der Gulf Coast Region (2020), Gewinnerin des Ersten Platzes der Rochester International Voice Competition (2019), Gewinnerin des Förderpreises der Gerda Lissner Foundation Lieder/Song Competition (2019), Finalistin der Opera Index Vocal Competition (2019), Halbfinalistin der Lotte Lenya Competition (2018) und Gewinnerin des Zweiten Platzes der Friends of Eastman Opera Aria Competition (2018). Maire Therese Carmack hat einen Bachelor of Arts in Philosophie und Musik von der University of Colorado, Colorado Springs, summa cum laude (2016) und einen Master of Music in Voice Performance and Literature von der Eastman School of Music, mit Auszeichnung (2018).
Schedule
Videos
Video – 01:17 min.
Arne Gieshoff und Franziska Angerer: Bär*in