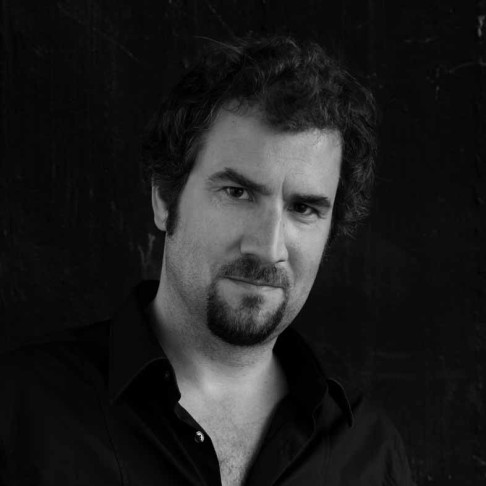 Roland Schwab
© Foto André Rival
Roland Schwab wuchs in München auf. Nach Studiensemestern in Physik und Germanistik begann er 1992 an der Hochschule für Musik und Darstellende Kunst in Hamburg das Studium der Musiktheater-Regie unter Prof. Götz Friedrich. Noch während des Studiums assistierte er bei Götz Friedrich, Harry Kupfer und Ruth Berghaus an der Deutschen Oper Berlin, der Hamburgischen Staatsoper und der Oper Zürich. 1997 brachte ihn ein Gastspiel ans Berliner Ensemble, wo er FRANK ALERT MEETS BRECHT inszenierte. Nach seinem Studium, das er mit Auszeichnung abschloss, war Roland Schwab von 1998 an als Assistent von Christine Mielitz am Meininger Theater (DER RING DES NIBELUNGEN), an welchem er erste Operninszenierungen schuf, die für überregionales Aufsehen sorgten (COSI FAN TUTTE, LE NOZZE DI FIGARO) und schließlich als Oberspielleiter wirkte. In den darauffolgenden Jahren war Roland Schwab an etlichen Bühnen im In- und Ausland tätig. Wichtige Arbeiten waren u. a. THE RAKE`S PROGRESS an der Oper Dortmund, GUILLAUME TELL am Saarländischen Staatstheater, OBERST CHABERT an der Oper Bonn, OTELLO am Aalto-Theater, AIDA an der Danish National Opera, ULENSPIEGEL am Internationalen Brucknerfest Linz sowie LOHENGRIN und DER ROSENKAVALIER in der Felsenreitschule Salzburg.

Besondere Beachtung fanden seine Arbeiten für die Deutsche Oper Berlin, MOZART-FRAGMENTE, TIEFLAND und DON GIOVANNI, weiterhin für die Bayerische Staatsoper MEFISTOFELE und zuletzt TRISTAN UND ISOLDE an den Bayreuther Festspielen.

Für seine Inszenierungen erhielt Roland Schwab mehrfache Nominierungen in den Kritikerumfragen der "Opernwelt" und der "Deutschen Bühne".
Schedule
In performances like
Videos
Video –
Wolfgang Amadeus Mozart: Don Giovanni
Video – 05:04 min.
Don Giovanni – The Making-Of
Video – 01:47 min.
Eugen D'Albert: Tiefland