Johan Reuter … A place of serenity for my soul: cycling through Copenhagen
Baritone Johan Reuter winds down by cycling through the Danish capital, discovering new things about his home city as he goes
At the moment my preferred way of getting to my favourite spot by bicycle is via the Refshaleøen peninsula just across from the city's eastern waterfront. It's not so much the place itself as the riding around and taking in the environment that I love. When I set off on my bike, I'm totally in the moment, totally focused, no cell-phone distractions, not thinking about anything other than the here and now. I've been exploring my home town by bike for years now, always seeing things with fresh eyes. I was born and bred here, so obviously I'm not discovering the place as a newbie would. I'm more interested in the way the city's changing and evolving.
That's why I get a kick out of Refshaleøen, because of the new development that's been going up here for some years now. This area used to cut off abruptly at a big metal gate, on the other side of which you had the navy facility and the huge workshops of the Burmeister & Wain docks, which at one point made up Copenhagen's biggest employer. When Burmeister folded, the industrial zone opened up to the general public and a programme of refurbishment got going. You could say I've watched all this happening pedalling past on my bike, especially since the new opera house opened nearby and I'm often in the vicinity for my work. I've watched new tenants moving into old buildings, dilapidated hulks having new life breathed into them, warehouses being repurposed as artists' studios, etc. I've seen the creative economy, start-ups, the trades setting up here, even yacht clubs.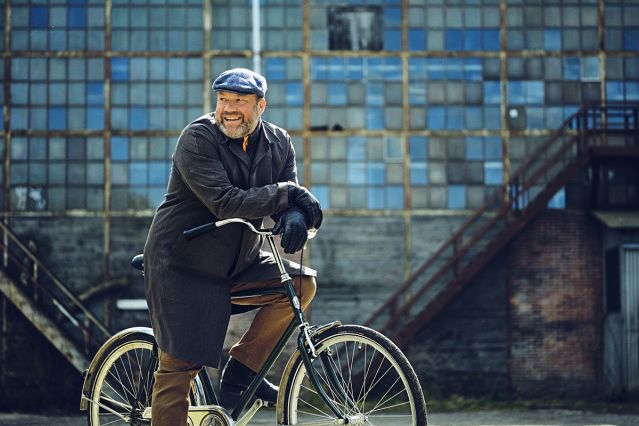 Johan Reuter on the Refshaleøen peninsula in Copenhagen. The former docklands building in the background has slowly filled up with studios and workshops © Emil Lyders
A bicycle is the ideal means of transport for checking out what's going on and mulling it all over. My thoughts keep rough pace with the speed at which I cycle by the various buildings. I guess the reason I'm so used to it is that I don't have a driving licence anyway. When I'm pedalling along, I'm imagining how it's all going to end up. The studios will eventually be displaced by more profitable real estate projects. The first residential complexes are already going up at one end. If you look closely enough, any given city is telling the story of its own evolution. I often find myself wondering what a particular building used to look like or why a street traces the route it does. This is how I get my respite – by riding around on my bike, keeping my eyes open and my mind inquisitive. I understand why some people walk the same route every day, but on my bike I avoid routine. I want to see new stuff.
When I'm on my bike, I leave all the music, the opera, the roles I'm singing behind me. For me, riding my bike means taking mental and physical time out from my day-to-day life. The reason it works so well is that the action of cycling requires exactly the right amount of concentration. Your mind can wander to a certain extent, but not too much or it gets dangerous. Which means I need a bike that puts minimum demands on me.  No gears, no fancy frills; just some pedals and brakes.
Refshaleøen is pretty in its own right, too, by the way. It lies right on the Øresund, the narrow channel separating Denmark and Sweden. From the shore you look out across the water towards Malmö somewhere over the horizon. I never pause to enjoy the view, though.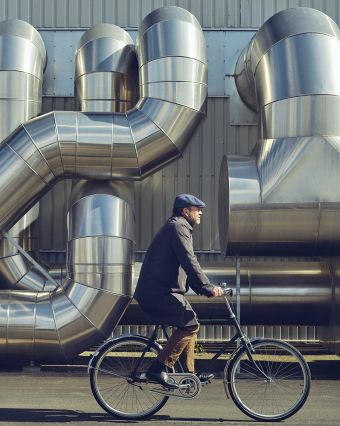 Johan Reuter feels most at home on the fringes of the city. Riding by on his bike, he has witnessed the changing face of Copenhagen © Emil Lyders
About 20 minutes away by bike is the concert hall of Danish Radio, which is where I'm currently practising the role of Amfortas for a concert performance of Wagner's PARSIFAL. Couldn't be much more different to my role as Hans Sachs in THE MASTERSINGERS OF NUREMBERG at the Deutsche Oper Berlin. It's amazing to think that those two works were written by the same man.
Sachs is fascinating. His world view is not clear-cut. Of all the stars in Wagner's firmament, he's the one with the greatest capacity for self-analysis. As a Meistersinger, he adheres to the rules and is proud of his proficiency. Yet he sees the potential in young Walther von Stolzing. He's aware that he himself won't be the one to break the art mould, and the same goes for love: obviously he's in love with Eva, but unlike Beckmesser he acknowledges that he can't have her, so he acts strategically, using the levers of power available to him. As a singer, you have to convey all this scheming, which is the nice thing about the part and what makes it so challenging. And it's a big part, too! I'm so looking forward to stepping onstage in Berlin, looking out at the audience and thinking: We're going to be spending a lot of time together this evening.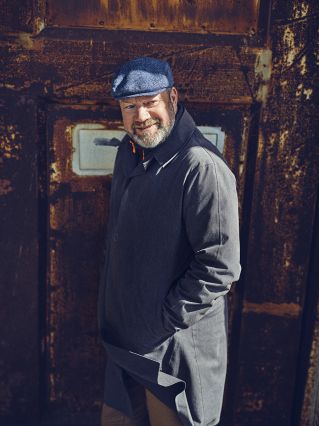 Johan Reuter © Emil Lyders