A place of serenity for my soul … Annabelle Mandeng
Annabelle Mandeng is an actor and compere. In Mozart's THE ABDUCTION FROM THE SERAGLIO she sings the role of Bassa Selim. Here she relates how a basketball came to feature on the opera stage.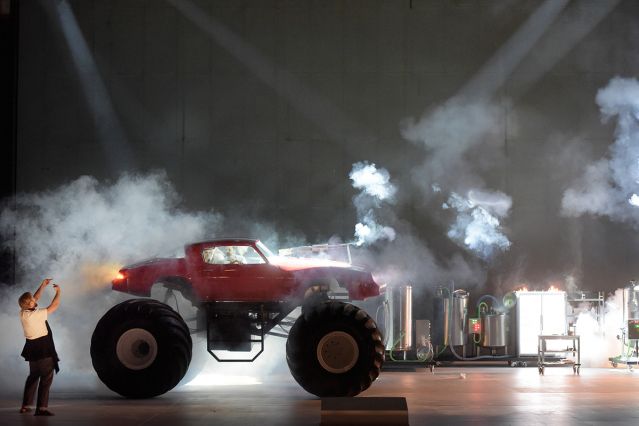 Die Entführung aus dem Serail
Foto:
The Abduction from the Seraglio
A musical comedy in three acts by Wolfgang Amadeus Mozart; Libretto by Christoph Friedrich Bretzner, adapted by Gottlieb Stephanie the Younger. New by Rodrigo García
Conductor: Daniel Carter
Director: Rodrigo García
With Annabelle Mandeng, Flurina Stucki, Georgina Melville, Michael Kim, Matthew Grills, Patrick Guetti et al.
7, 20, 25 November 2021
My place of serenity is within my own head. And to get there I do sports, by which I mean physical activity in the open air. Jogging (or skiing) is all about focusing on your immediate surroundings and your own body. I've got to concentrate, otherwise I'll injure myself. And the act of concentrating puts me in touch with my depths.
My boyfriend gave me a picture once, a cartoon of two little men facing one another. One guy has a tangle of technicoloured lines rising up from his head. The other one goes: "Woah, what's going on there?" and the first man says: "Oh, those are just my thoughts". That's why I need the exercise. I'm always on the go mentally and I need the combination of games and getting tired to enable me to switch off. If I get the balance right, then I can let go.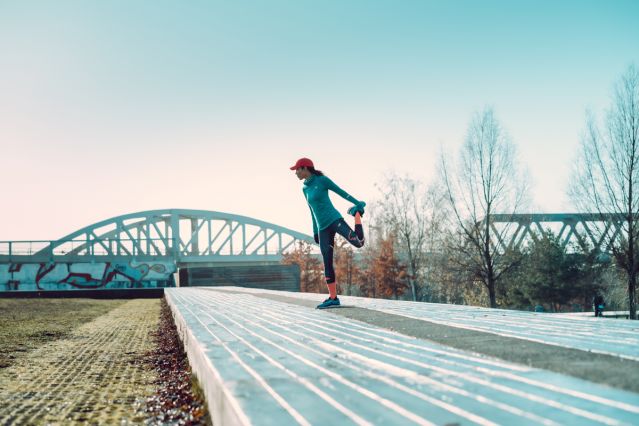 Annabelle Mandeng exercising in Gleisdreieck park. Four to six times a week she does a strenuous workout as a way of letting off mental steam © Jonas Holthaus
Four to six times a week I go running or follow a fitness routine at home. Funnily enough, when I'm working out, I wear outfits that are almost identical to what my character wears at the Deutsche Oper Berlin. In THE ABDUCTION FROM THE SERAGLIO I play Bassa Selim, the Pasha, who's holding Konstanze, her maid and a servant captive in his harem. The director, Rodrigo García, made my character female, so I was playing a kind of super-athlete-cum-drug czarina. I have clear memories of the reaction we got from the live audience back in 2016. It was a controversial production and I can understand why. I'm don't think all the people in the audience knew what to make of the images that García was presenting. They didn't know the references – which must have been pretty annoying.
For instance, there's a scene where Osmin, the harem overseer, fails once again in his attempt to smarm up to Blonde. The two of them stick their heads through a wall and assume the guise of the Coyote and Road Runner from the Warner Bros cartoon. I thought the idea was great, because the coyote, too, is forever chasing and never catching. But when I talked to people afterwards, I was surprised that hardly anyone had understood the reference. The entire opera is set up like a cartoon strip, with scenes that are stark and bold - yet very contrastive in juxtaposition, so the effect is of three cartoons in one. But each scene makes perfect sense on its own. I noticed in rehearsals that even without music it's quite clear what's going on – and you can't always say that of opera. Another thing I noticed was García's way of working. He's a theatre man and has tried out a lot of stuff – which wasn't easy for the singers, who need a structure they can rely on, for solid, musical reasons. But I know this way from my work in theatre and I found what he was trying to do plausible.
One morning we were onstage, a black, rather forbidding cube, open at the back and sides and at the top – darkness, depth, possibilities… We were doing the harem scene where I'm trying to seduce Konstanze. The set was finished, a mass of blue, billowing cushiony curves to represent a swimming pool. Rodrigo comes up to me, screws up his eyes and says: "Do you play basketball?"
I've been doing sport since I was three years old and my mother had me join a club. My father was an economist from Cameroon and my mother taught. She was involved with a string of projects abroad as a specialist and we were often abroad, sometimes for years at a time. For the three years prior to my A levels we lived in Lahore, Pakistan. I attended the American international high school.
I was captain of all the teams: volleyball, grass hockey, basketball. We competed in tournaments against the American schools in Delhi, Karachi, Islamabad, Quetta. "Yep," I said. "Basketball? Not a problem." The next day we started blocking the new scene, with Bassa Selim dancing, playing and dribbling the ball around Konstanze. Obviously my fitness stands me in good stead. Coordinating ball, movement and dialogue is tricky. If you're taking notes, you'll see that I only dribble the ball twice, because it makes a racket and is pretty risky. Which is why most of the ball work is airborne, me juggling, swirling the ball round my hips – a brainwave of Donald Runnicles, the conductor.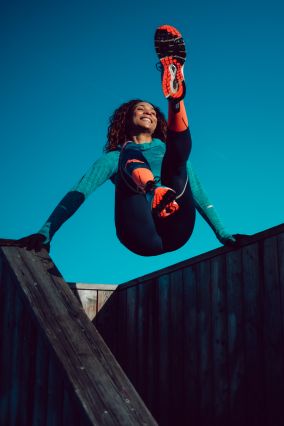 Annabelle Mandeng has been a player of sports since the age of three, and it hasn't harmed her opera. As Bassa Selim she can be found playing basketball © Jonas Holthaus
I like my role. Bassa Selim is the only character who evolves in the course of the opera; the others keep desiring the same thing and half of them get what they wish for, but Bassa Selim does a volte-face. The story ends happily in a final monologue from Bassa Selim, in which she acknowledges that she'll never win Konstanze's heart. Then she releases her. And in so doing she finds peace, finds herself, finds her place in the world. Everything fits.