Libretto #2 (2022)
Attilio Glaser … My private place of peace: The Spontan Coffee in the Moabit district of Berlin
Attilio Glaser finds respite in a Berlin café. Sipping an excellent cup of coffee against a backdrop of easy-listening music, the tenor prepares for a season of Verdi, Wagner and Mozart
My favourite place for reflection is the Spontan Coffee in Berlin Moabit. I was introduced to it by my Australian friend and colleague Derek Welton when I arrived in Berlin seven years ago, and I've been coming back ever since, sometimes with friends but usually on my own. The entrance is beside the glass frontage and when you come in, you're basically right next to the bar and you can order your first coffee right away – and the coffee's truly gorgeous.
Purists are going to pooh-pooh it, but here they don't just take an order for an americano or espresso; they also ask you if you want it fruity or nutty or with a hint of chocolate or what have you, because their beans are from different regions and roasted in various ways and to varying extents. Light roasts have been the rage for a while now. They're mellower and fruitier and retain more of the bean taste. People who analyse the nuances of a comestible other than wine often come over as a bit up themselves. But coffee lovers can spend time identifying subtle differences in taste just like wine connoisseurs – without pretending to be an expert or getting snobby about it. I just love trying out new roasts and gradually finding out which coffee is best for me in such and such a situation.
Attilio Glaser at the entrance to Spontan Coffee. Visible on the counter, right, is the centrepiece of the café: a hand-made Italian filter coffee machine © Max Zerrahn
A good coffee is definitely one of the ingredients that help me attain a serene state of mind, but it's not the main event. I've got a filter coffee machine at home and I, too, can rustle up a delicious cup with a bit of care, so why do I end up in this place so often? And what's the attraction of cafés anyway? If you ask me, it's the mix of laid-back busying about to a background of unobtrusive music, in the company of other people, which I find calming. It's a strange thing to say, but I find it easier to relax in a café than at home. I'm most at ease sitting at a window with one eye on what's going on at the counter while also being connected to the neighbourhood outside, with my thoughts and gaze wandering there too. It's an approach I use when I'm soaking in the atmosphere of a new location. If my work takes me to an unfamiliar town, I get a feel for the place via its cafés, sitting at the window, people-watching.
This is the kind of setting where I do a lot of preparing for my roles. At this window, for example, I learnt my lines for the Duke of Mantua in RIGOLETTO, the role I'm singing at the Deutsche Oper Berlin in November. I often come here with the sheet music and lyrics. I read and make notes, going through the score over and over again. The ambient music and the noise of the coffee machine are not a barrier to that; in my head is only the bit of the opera I'm focusing on. I have no set way of memorising my lines. It may sound a bit naff, but it's become a pretty important part of my work routine. I go to the Spontan so as not to lose hold of the enjoyment I get out of swotting.
When I'm sitting here on my own and not having to converse, I'm still engaging with a public space. My clothes are probably a little more thought-through than what I wear in my flat. You could say I assume a role the moment I leave the house. It may be that the public setting and the presence of other people help me to get to grips with roles that are normally far removed from my own reality. Because aside from the musical aspect our profession is also about homing in on a character's needs, motives and feelings so that we can truly inhabit a role.
I love the process of getting under the skin of a whole range of characters and taking on roles whose nature and demands are starkly different from one another. Next season at the Deutsche Oper Berlin, besides Verdi, I'll be involved in works by Wagner and Mozart, among others. You still meet people who think that it's somehow bad to try to combine works by those composers, that the supposedly heavy German fach is at variance with the lighter Italian and the two are mutually exclusive. My response is that it's precisely this variation that does it for me; I'm always getting something from the one, some kind of take-away, that feeds into my approach to the other work. Obviously some works are milestones in my career as a tenor: getting my first-ever LOHENGRIN gig is one of those red-letter occasions, and I simply can't wait. And LOHENGRIN's a case in point, because you realise there's not that much daylight between some of the operatic traditions. There's something youthful, even Italian, about the tenor part written by Wagner - and some of my experience with RIGOLETTO rubs off on that.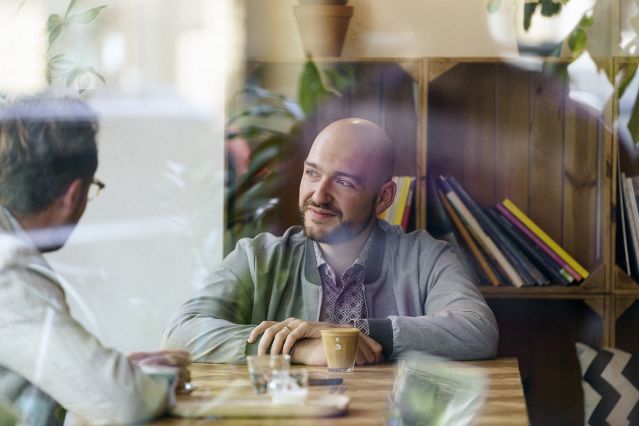 Glaser watching street goings-on from the café. Here he can ruminate and reflect - or just savour a flat white © Max Zerrahn