Sara Jakubiak: A place of serenity for my soul – Spreepromenade
Soprano Sara Jakubiak sings the title role in FRANCESCA DA RIMINI. On the bank of the Spree river she introduces us to Francesca.
My favourite private place in Berlin is the path along the Spree in the centre of the old town. I went for a walk here on my very first day in the city. I'd sold my furniture in Frankfurt and loaded up a rental van with the rest of my stuff. When I arrived in Berlin in 2018 I wasn't yet fixed up with my own place to live. I just had a little room where I stashed my few bits and pieces, some favourite coffee cups, a few bits of art, family photos. So I went out and headed for the river to get a feel for the city. I grew up in Michigan, northern US, wedged in by the Great Lakes, so I'm very much in my element around water and I gravitate to it. So there I was, walking along the Spree, dog tired, and yet there was this feeling within me that I'd made it. I bought a pistachio ice cream and I was happy. I've been coming back here ever since.
I live in Charlottenburg now, on Savignyplatz, but it's only a few minutes by S-Bahn to Hackescher Markt. I head off along the bank or over to Museum Island across the bridge by the cathedral. Usually I'm on my own, listening to recordings of someone singing the part I'm learning. I find it easier to memorise the words and melodies when I'm walking. Plus, when I'm on the move with my headphones on, it's almost like I'm strolling in the company of the character I'm singing.
At the moment I've got Francesca in my head, the title role in Zandonai's FRANCESCA DA RIMINI. Francesca is being married off to Gianciotto, but her family figures she might try and get out of it because he's so ugly. So instead of Gianciotto they send his hot brother, Paolo, with the marriage contract. Francesca and Paolo fall in love, but then she realises it was a trick and she's actually meant to wed the brother. Francesca stays true to her newfound love, but there's no happy ending: the third brother, Malatestino, betrays the lovers and they perish at the end. I have Francesca in my mind's eye when I'm sauntering along the Spree. She's got this expression fit to pierce the depths of any ocean.
I once had the opportunity to dive in a submarine to bottom of the Pacific. It was out of this world. The water was heavy and powerful and the surface of the sea floor stretched away, so beautiful. I see Francesca as having the same kind of aura as the sea. And funnily enough this opera has a lot of references to water: one of her first lines is »My soul flows like water«. Later she sings: »Peace in this sea / - so savage yesterday / and like a pearl today - / give me peace!« For me, peace is the at the core of Francesca's message.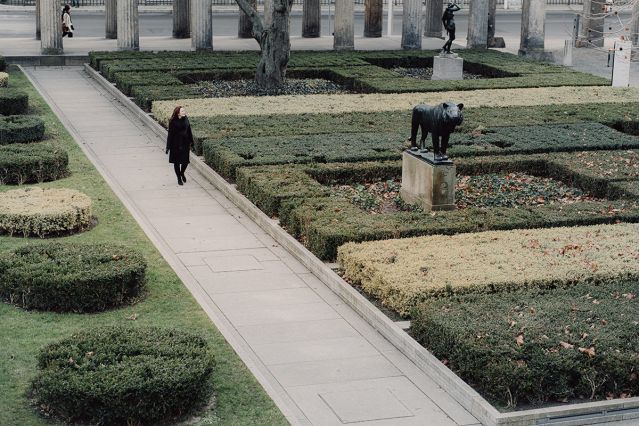 Sara Jakubiak in the Kolonnadenhof of the Alte Nationalgalerie. August Gaul's lion statue reminds her of her title role in FRANCESCA DA RIMINI © Jonas Holthaus
I really identify with her desire for peace, so much so that I can't help relating it to my own life. Last year we were all being battered by tornados, plus I was one of many people hit hard by the pandemic and I was worrying about the future of our art and my career – and also the future of my country, the US, what with the Black Lives Matter protests, the death toll, the presidency.
I cross the Spree with Francesca to Museum Island. I want to show her the lion statue in front of the Alte Nationalgalerie. I heard a lion roar in Oklahoma Zoo once. Even though the enclosure was far away, the growl and roar pierced me to the marrow. Francesca has the strength of a lion, too. She's so brave, standing up to everything as she does. She's staring into the abyss.
It's the kind of bravery I need when I'm staring into my own abyss – which I'm always having to do, whenever I go out on stage. But when I pluck up the courage, my abyss turns out to be full of colours and not dark at all. That may be because I see notes in terms of colours. It's at its most intensive when I'm singing live with a large cast. I'm dying to see Francesca's colours. I'm guessing she'll be shimmering in the colours of water, maybe a deep blue.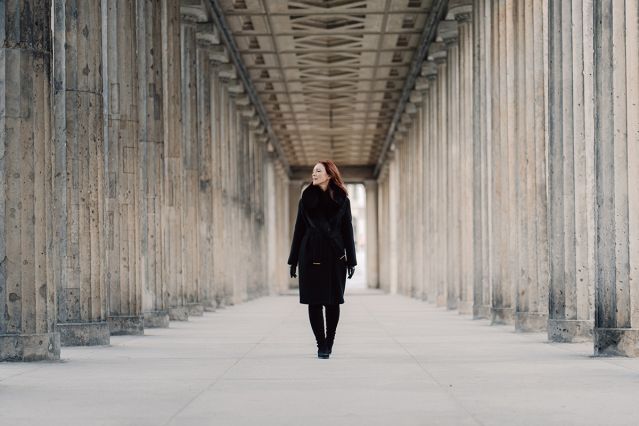 Reminiscent of a stage set: the colonnades on Museum Island - a regular backdrop for Sara Jakubiak on her walks along the banks of the Spree © Jonas Holthaus
Francesca reminds me of Heliane, which was a role I had the pleasure of singing a few years back at the Deutsche Oper Berlin – the title character in Korngold's THE MIRACLE OF HELIANE. Both women are in terrible predicaments. They are challenging the forces of darkness yet still bold enough to walk into the light. They are not scared of living life to the full. A funny thing happened when I was singing Heliane: all my senses seemed to melt into each other and I felt my body vibrating right down to the tips of my fingers. I want to have that with Francesca, too – an instant of perfect peace.