Michail Marmarinos … A place of serenity for my soul: Elefsina, Greece
Director Michail Marmarinos shows us round the sacred heart of Ancient Greece, a source of inspiration that also nourished the music revolutions of Jani Christou
The place where I can go to really get in touch with my depths is Elefsina, twenty kilometres to the west of Athens. It's not somewhere that most people would immediately think of as beautiful, but the significance of the location is huge and it's all out of sight, buried under several millennia of history. Elefsina is a port across the water from the island of Salamis, home of Ajax, one of the heroes of the Trojan war. The town was also the birthplace of Aeschylus and has a small museum and an important archaeological site. But more than all that, Elefsina was at the core of the Eleusinian Mysteries, Eleusis being the Ancient Greek precursor of Elefsina. All of Athens's poets, philosophers and politicians including Aeschylus, Plato, Sophocles and Eurypides were all initiated into the rites and practices of their respective fields by a sacred cult of high priests. And the tradition was continued beyond the Golden Age, with Roman rulers of the likes of Hadrian and Marcus Aurelius being instructed in the Mysteries.
This enigmatic location was then smothered under a carpet of refineries, steelworks and cement factories as heavy industry boomed. Later, in the latter part of the 20th century, the plant were abandoned in the process of deindustrialisation happening across Europe. Factory hulks remain as a testimony to modern-day boom and bust.
First a place of holy rites, then an industrial port, soon a European Capital of Culture. Michail Marmarinos earths himself in Elefsina © Nikos Nikolopoulos
And then suddenly Elefsina, this jumble of opposites, gets named as a 2023 European Capital of Culture. I'm the arts consultant heading up the work being done to uncover the buried paths and forgotten tales. The ancient initiation rites involved characters like Dionysos, Persephone and Demeter and they were symbolised by a sheaf of wheat, which remains the town's symbol to this day. The countryside around Elefsina was dominated by fields of wheat and there was an annual procession through the wheat fields ending in a nine-day festival at Elefsina. Details of what the rite entailed have not been handed down (revealing them was punishable by death), but it's common knowledge that »kykeon«, a psychodelic concoction, was drunk. The sacred thoroughfare from Athens to Elefsina still exists - I've actually cycled it with my kids. The aim is to walk the route as a way of launching the project.
If I'm honest, I have no idea why I'm drawn to Elefsina in the way I am. It's actually quite weird, considering some of locations you find yourself in, even though industrial ruins can be attractive in their own way. There's a graveyard for ships: you've got rusting wrecks dotting the harbour like dead whales. Strange islands rising from the surface of the bay. There's an ancient open-air theatre as well. We call it »Dog Teeth« because it's got rocks sticking up out of the ground like canines. I like to sit on one of the rocks and just relax and let the atmosphere of the place creep up on me - the hum of the town and the distant motorway floating up the hillside; down below the silence of the stone, which a team of people heaved into position thousands of years ago. All this takes me back – and wherever it takes me back, it also puts me back in touch with myself. Elefsina is a transcendental place, outside of time. Different ages interweave. The moment you step foot here and open up your senses, you feel it.
Few composers have been as adept as Jani Christou in fusing body and sound. In his scores he sketches the subtlest movements of his singers, actors and musicians. He also dedicated one of his most complex works to this very location: »Mysterion« was written here and is about what it might be like to dwell on the other side of time. That work has no direct relation to the pieces we're putting on at the Deutsche Oper Berlin, but it does almost feel as if they, too, are closely linked to Elefsina, timeless Elefsina.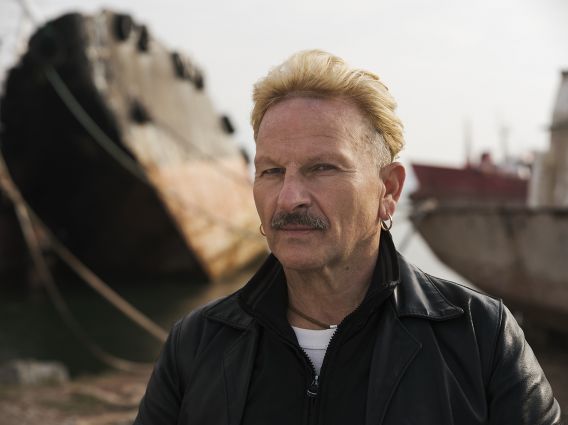 Marmarinos was friends with the children of Jani Christou, the composer. He has now produced a tribute to that icon of the New Music scene © Nikos Nikolopoulos
I was a boy when Christou died in 1971. In later years I and his children were close friends. We went to college together and shared lodgings. His daughter Sandra once showed me a box filled with notes and sketches and around 130 ideas for works. I realised instantly that this cluster of sketches, writings and compositions constituted the fusion of drama and music – musical theatre in its purest form. We teamed up with the Munich Biennale and the Deutsche Oper Berlin and selected 30 of the fragments, which we then asked six composers to arrange. We'll all be meeting up in Berlin in January to rehearse the resulting works. So the notes will be manifested in art form after fifty years spent lying in a box.
We'll be trying to let them flower, and we'll be transplanting the seedlings in venues thousands of kilometres from Elefsina and Jani Christou's place of residence. Quite an adventure!