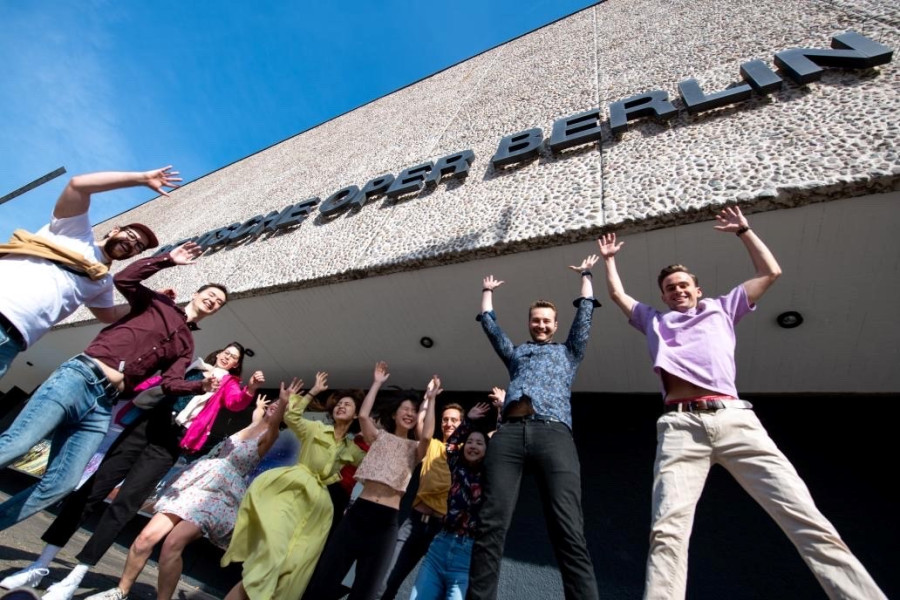 Akademist*innen des Orchesters
© Georg Roither
Chamber Music I: Academists' Concert
Chamber music in an unconventional atmosphere
Information on the piece
The young musicians of the Deutsche Oper Berlin introduce themselves
approx. 2 hours / one interval
Cast
Violin

Violin

Violin

Violin

Violin

Viola

Viola

Violoncello

Violoncello

Double bass

Trumpet

Trumpet

Horn

Trombone

Trombone

Tuba

Harp

Piano

Programme creation

Programme creation

Programme creation
Cast
Violin

Violin

Violin

Violin

Violin

Viola

Viola

Violoncello

Violoncello

Double bass

Trumpet

Trumpet

Horn

Trombone

Trombone

Tuba

Harp

Piano

Programme creation

Programme creation

Programme creation
About the performance
This season, the Academists' Concert will once again kick of the chamber music concert series in the Tischlerei. The young newcomers to the Orchestra Academy present themselves with a diverse programme. At the centre is the 1st movement from Schubert's String Quintet, about which the famous music critic Joachim Kaiser once said: "With words no human being can unravel the sounding mystery of this work". Written barely a hundred years later, Arnold Bax's Quintet for Harp and Strings transports us to the idyll of Irish landscapes and the myths hidden therein that captivated the English composer for the rest of his life.

From Giovanni Bottesini's "Gran Duo Concertante", in which violin and double bass enter into a virtuoso dialogue, to the solemn tones of Viktor Vladimirovich Ewald's wind quintet, the whole spectrum of chamber music timbres comes to the fore. Daniel Schnyder's "The Island" and Steven Verhelst's "Devil's Waltz" are two compositions from 2010 that show in very different ways how tonal music can be rewritten.

***

With their chamber music series, the musicians of the Deutsche Oper Berlin Orchestra fulfil a wish: inspired by productions from the opera programme, they put together concert programmes with works that are close to their hearts. The concerts take place in the stage sets of the respective current Tischlerei production.

Arnold Bax [1883 - 1953]
Quintet for harp with strings

Daniel Schnyder [*1961]
from "Zoom in"
IV The Island

Franz Schubert [1797 - 1828]
String Quintet in C major op. post. 163, D 956
1st movement: Allegro ma non troppo

Giovanni Bottesini [1821 - 1889]
Gran Duo Concertante for violin, double bass and piano

Steven Verhelst [*1981]
Devil's Waltz

Victor Vladimirovich Ewald [1860 - 1935]
Brass Quintet No. 1 in B flat minor