What moves me
Struggling to hit the right note
Andrej Koroliov aims for maximum focus and even goes on a diet when composing a piece of music – and the work he is currently working on for the Tischlerei is no different. World premiere: September 2021 … Andrej Koroliov on his method of writing music.
When I'm composing, I'm constantly mentally talking through the pros and cons. If I write a few notes and they don't give me a buzz, I don't just cross them out; I set down my thoughts in complete sentences, on paper, about why I don't like them. For example: »Bars 20-24: don't yet like – only a gut feeling as yet – What's the problem? Which aspects of the music are not good?« My dissatisfaction early on is never more than a hunch, but that doesn't mean I can just let it go; gut feelings lead to bad places and bad things. So I start pondering and I may discover an element of the rhythm that's an irritant or surplus to requirements. Or the instrumentation is wrong or there's repetition where there doesn't have to be any.
I'm old school and write music down on staff paper. I write the notes and then more sentences of reflection on what I've just composed. And so on. Composition is a dialectic process, philosophical, almost religious. There comes a point when it takes on a life of its own. The notes acquire an inner logic and their sequencing can't be disputed. From then on the composer is increasingly irrelevant. Composition means self-effacement. The 'I' has to disappear.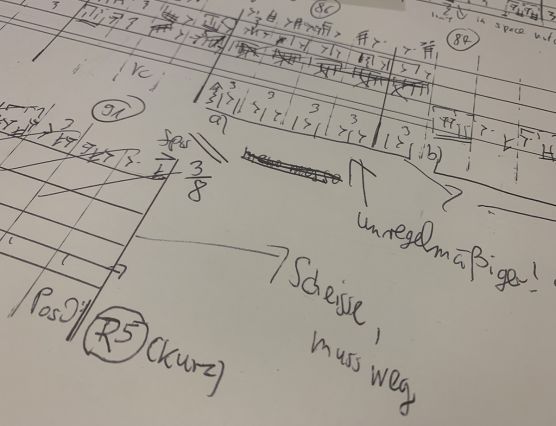 The struggle with notes is apparent from the thoughts jotted by Koroliov on the sheet music of his latest composition. © Andrej Koroliov
My new chamber opera is about averting one's gaze out of fear, about moral courage and how it can crumble and fall. Delicate themes like that often fail onstage. Using Franz Kafka's The Passers-By as source material, author Gerhild Steinbuch has written a disturbing, jolting text that explores the same subject and employs a lot of repetition. As a composer, I'm forced to treat it as if I were learning a language from scratch. The libretto is quite prescriptive, so I've been learning the text by heart and immersing myself in it.
Then I try to get in touch with the music. It's like I have to address each note and each instrument head-on and say »hello«. The piece has four singers, an actress and a small ensemble consisting of two low strings, piano, trombone and a saxophonist, whom director Theresa von Halle also deploys as an actress. The music uses repetitions that shift and alter in tiny increments. First and foremost, however, the music aims to touch, engage, challenge and irritate the audience.
When I sit down to compose, I have to make some kind of personal gesture that says that change is taking place or a process is being kick-started. It might be a diet – like the one I'm on at the moment, where I'm avoiding sugar, flour and alcohol – or physical exercise or even something really way-out. You have to keep trying to find what is useful in that particular chapter of your life and be flexible rather than dogmatic. It's only ever about the work at hand, not about me and my body or ego. If I knew it would help, I'd even restrict myself to a diet of bockwurst. As a rule, I have to be in a good place creatively. When the going gets tough, we tend to tighten up and develop a carapace, but as an artist I want to stay permeable.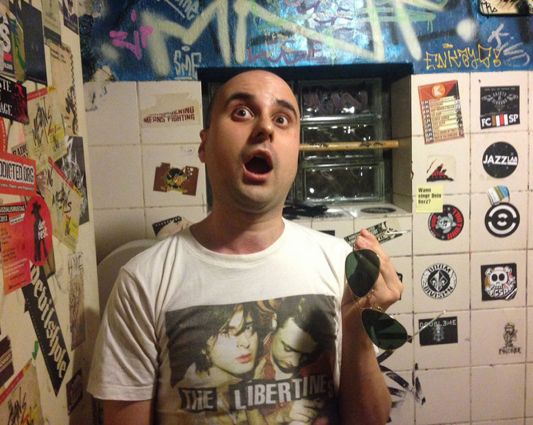 Hamburger composer and pianist Andrej Koroliov. He is currently a stipendiary living and working at the Villa Massimo in Rome © Andrej Koroliov
With composition you're essentially relearning the process with every new work. In his day Joseph Haydn could be working simultaneously on six symphonies, all of which shared a particular style. Nowadays we basically have to reinvent our musical language every time we compose a new work. I am absolutely convinced of the power of music to move and affect people. We have to let »music« back in. It's risky and involves nothing less than a backward-looking hostility towards projecting an image. Musicians shouldn't be stars; they should be humble and believe in what they're doing and trust in their vision. To move people with your music, you first have to be moved by it yourself.
I'm not daunted anymore by the risk of failure. I'm a fan of Hamburg SV, which is painful, even awful at times, but you just have to keep going, like in life. Being disillusioned again and again is bigger than football; it's art in all its manifestations. And if you look at it in that way, it's becomes amazing again. That's how I see music: scaled up to mythological dimensions.