Ghosts in the machine
In ZEROTH LAW human voices meet machine-made music when an orchestra of robots rubs shoulders with the RIAS Kammerchor live on stage
How can we ensure that artificial intelligence remains subordinate to human beings? In 1942, a mere three years before the end of the Second World War, a young writer was reflecting on the interaction between people and robots. He suspected that if, sometime in the distant future, machines were to exist that could solve problems on their own, they might also be able to turn against us. Isaac Asimov came up with three laws, written into their programmes, that restricted robots to serving and protecting human beings. All three laws were predicated on the 'zeroth' law, which stipulated that robots shall prioritise the wellbeing of humankind over that of the individual.
ZEROTH LAW is set in an age when humans have entrusted all decision-making to robots and the world is run on a wholly technocratic basis. However, this co-existent relationship is marred by one thing: machines think very long-term; actions that cause problems and appear to be mistakes will eventually turn out to be in the interests of humanity in the long run. In Maciej Śledziecki's words: »It's a moral and philosophical problem that goes to the core of the question concerning the relationship between AI and society.« As Gamut Inc he and Marion Wörle build acoustic music-making machines that are controlled live by computers.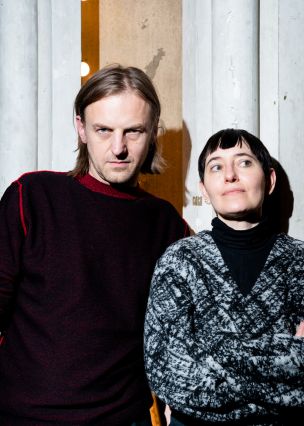 Śledziecki and Wörle have been building remote-controlled musical devices for over a decade. A regular source of inspiration is science-fiction literature from the 1920s © Max Zerrahn
For ZEROTH LAW the pair have tapped into the robot orchestra of the Logos Foundation, using not only remote-controlled organs, wind instruments and glockenspiele but also quirky creations of their own such as a spring that generates metallic percussion noises.
The robot orchestra will be appearing live with the RIAS Kammerchor for the first time in the Tischlerei. It's an encounter between two polar opposites: on the one hand the precision and almost unlimited virtuosity of automatised sound generators; on the other hand the human voice – organic, direct and individual. Gamut Inc transpose the compositional strategies of their machines to the Choir, which begins to mediate as a kind of humano-mechanical hybrid. Wörle recalls that »the first rehearsal we did with the Choir was quite an experience. You're always trying to imagine what the music you're writing is going to sound like, but then you find yourself in front of this company of singers and it's just awesome.« In the Tischlerei the audience will have its own chance to be awestruck – and to reflect with Gamut Inc on the relationship between man and machine.
Aside from being a musician himself, author Tilman Mühlenberg is a journalist and editor of the magazine produced by the Deutsche Oper Berlin